Export an Inspera Question Set to PDF
A Question Set PDF might be needed for:
Peer review or Observed User Testing: Random Pull needs to be turned off so all of the questions in the assessment will be included for reviewing/testing.
Library PDF copy of exam: Random Pull can remain unchanged as only one assessment version needs to be submitted  (this should be confirmed with your school). Keep a copy of the sample exam for yourself so you know which questions have been shared with the Library 
Exporting a Question Set to PDF
Log in to Inspera Assessment (https://uqi.inspera.com/admin)
Select Question Sets from the Author drop-down menu

Click on the relevant Question Set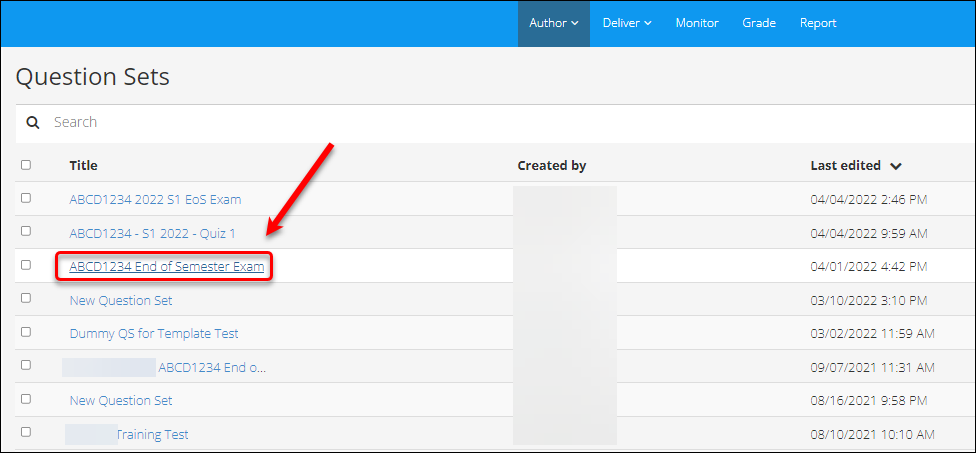 Click on Edit on the Section with Random Pull 
Note: If only one assessment version is required, Random Pull can remain on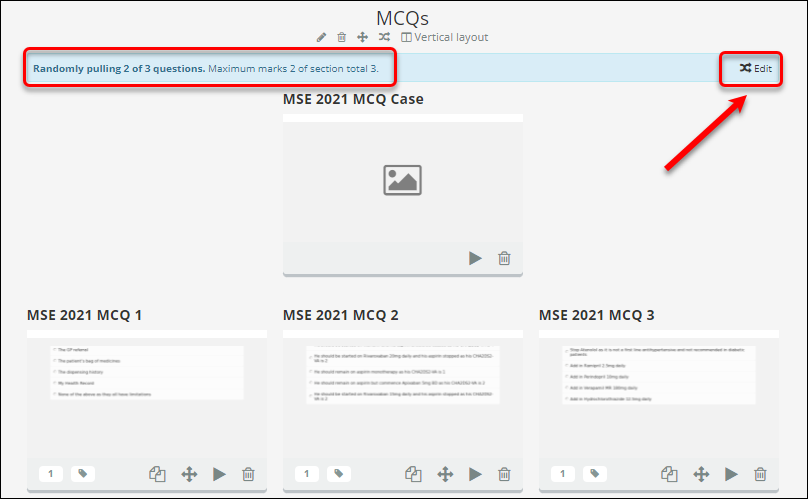 Select No randomization, pull or selection from section
Click on the Done button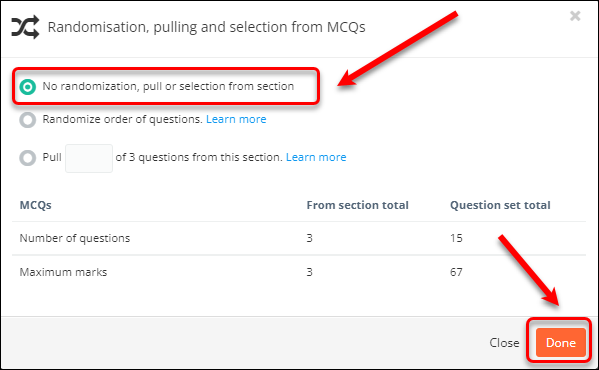 Tip: Make a note of the sections with the Random Pull being turned off as you will need turn these back on later.
Repeat the steps to turn off the Random Pull setting in other Sections if required.
Click on the print icon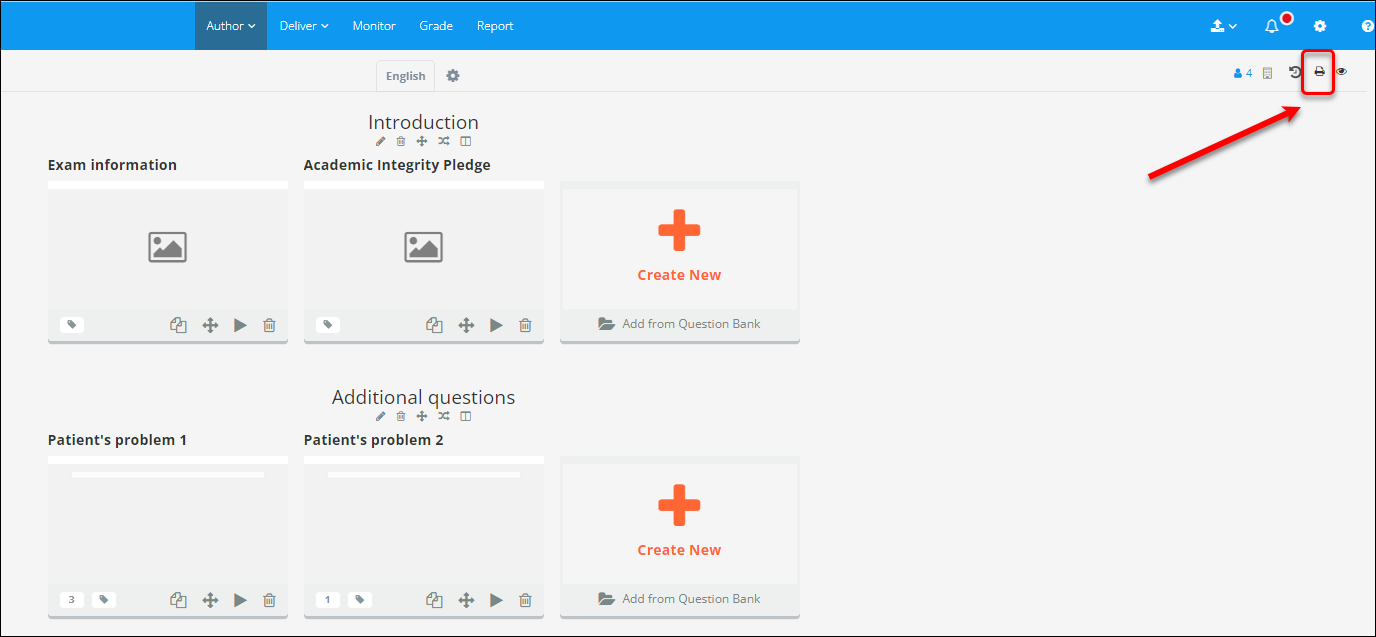 Click on the Settings button to expand it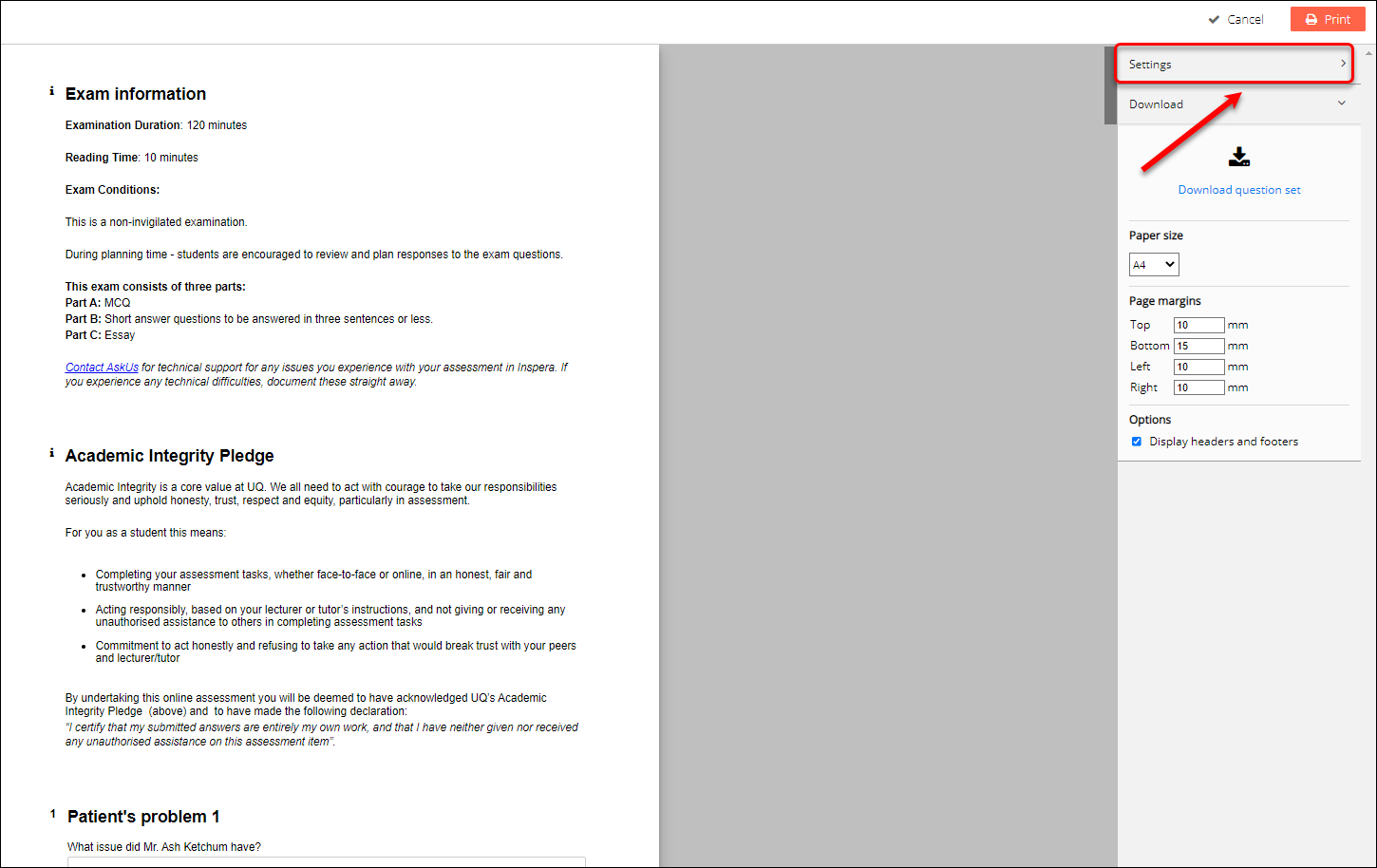 The Settings panel will be displayed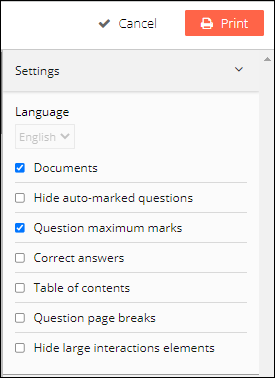 Adjust the settings as needed:
Documents: Include the non-marked "Document" question types that are part of the assessment.
Question maximum marks: Display the highest possible number of marks under each question.
Correct answers: Include the correct answer as set by the author on automatically-marked questions. This should not be enabled on exams you submit to the library. Exported files showing correct answers should be handled with the utmost care and only stored in secure locations.
Table of contents: Include a table of contents of questions at the beginning of the Question Set.
Question page breaks: Each question starts on a new page instead of directly after the previous question.
Hide large interactions elements: The text field will be hidden in certain question types such as Essay, Upload Assignment and Programming.
Click on the download icon to save a pdf copy of the question set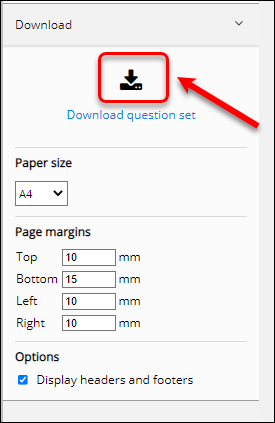 Tip: Paper size, margin and header/footer can be adjusted as required.
Click on the Download now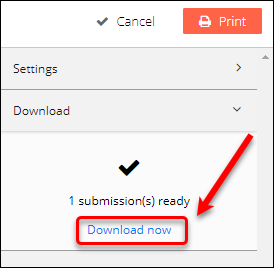 Note:
If Question Set contains file attachments (e.g., an mp3 file that you uploaded to a question in Inspera), the PDF will be bundled with the file attachments in a ZIP archive. 
Content that is embedded from external sources (like YouTube or SoundCloud) will not be exported.
The PDF can be converted to a Word document to enable track changes and comment (open the file in Adobe Acrobat Pro and choose File > Export To > Microsoft Word > Word Document)
Click Cancel to return to the Question Set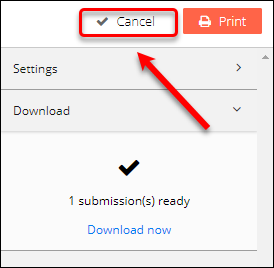 Re-enable any Random Pull settings you disabled earlier by clicking the Randomise icon beneath the relevant section titles.