Columns that Cannot be Deleted
Orphaned columns
Orphaned columns occur when you delete an entire assignment folder without first deleting the specific assignment contained in that folder. This applies to Turnitin assignments only.
Warning: Once a column has been orphaned, it is not possible to remove this column from the grade centre.  Instead, you will need to follow this guide to ensure that it does not interfere with any Grade Centre calculations and is hidden from both students and instructors.
Note: To avoid producing orphaned columns that cannot be removed from the Grade Centre you will need to delete the actual assignment (not the folder containing the assignment).  The assignment may be there due to a course copy from a previous course offering. 
Refer to Delete a Turnitin assignment guide.
​Hiding columns that cannot be deleted
If you have any orphaned columns that resulted from not deleting the individual assignment, you will only be able hide them and will be unable to delete them.
Note: If you do not want these columns to be copied for the next course copy, you will need to specify that you do not want to copy across the Grade Centre and Assignments for your next course copy request.  You will be required to re-deploy any Quizzes, Tests and/or Assignments as they will not be copied over.
From the Control Panel select Grade Centre > Full Grade Centre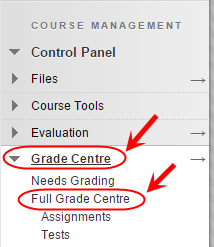 Click on the arrow button next to the column title (of the column that you are unable to delete).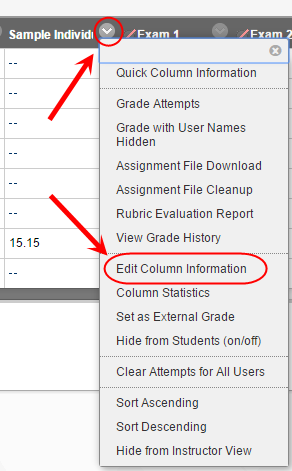 Select No Category from the category options drop down list.
Enter 0 as Points Possible.
Click on the cross button to remove any attached rubrics

From the Include this Column in Grade Centre Calculations radio buttons: Select No.
From the Show this Column to Students radio buttons: Select No.
From the Show Statistics (average and median) for this column to Students in My Grades radio buttons: Select No.
Click on the Submit button.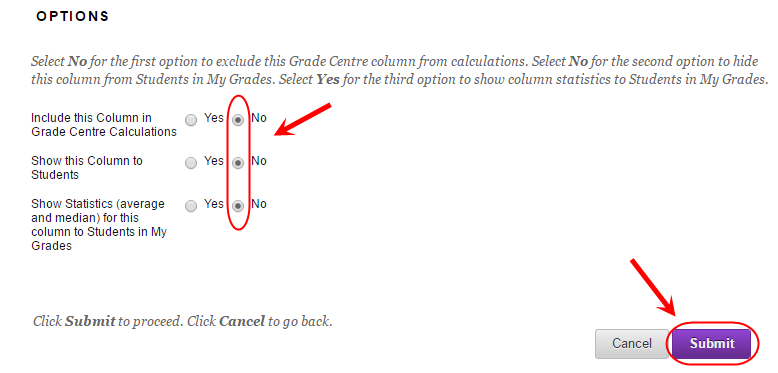 Click on the arrow button next to the column title (of the column that you have just edited).
Select Hide form Instructor View from the drop down menu.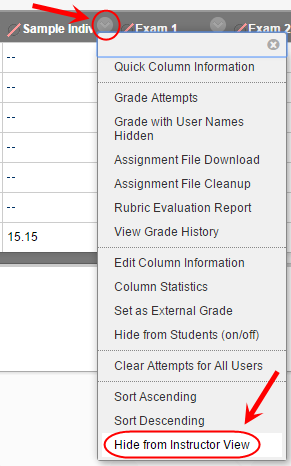 Note: You will still be able to locate any hidden columns through the Manage > Column Organisation menu option.
Refer to the Show, hide and change column order guide.