Create a Padlet
Visit padletuq.padlet.org
Click on the LOG IN WITH MICROSOFT button.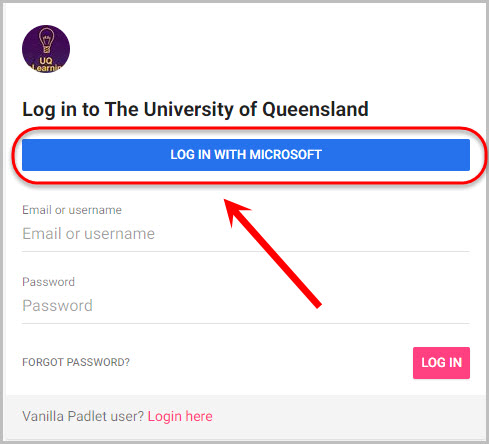 Enter your UQ email address.

Click on the Next button.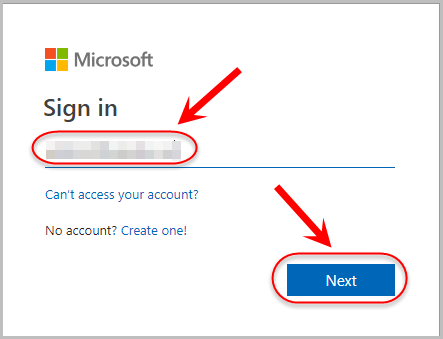 If prompted, sign in with your UQ login and password.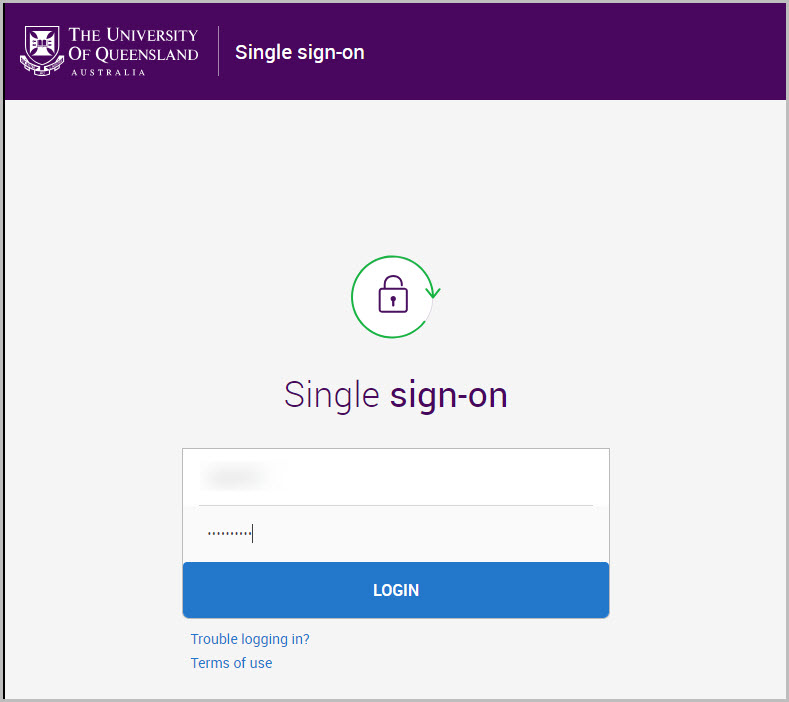 Your Padlet homepage will be displayed.
Click on the MAKE A PADLET button.
Click on the Select button to choose a template of your choice, depending on the activity.
Tip: Use the Shelf format for group assignments and remake the UQ Bird Group Task or Pokemon Group Task templates.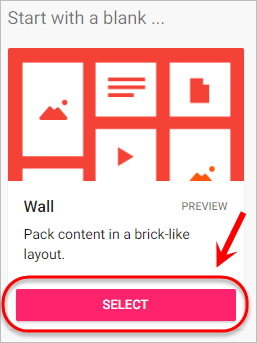 Wall

Canvas

Stream

Layout 
Packs content in a brick-like layout in no particular order.
Allows content to be placed anywhere, resized and connected to other content on the page.
Puts content in top-to-bottom or bottom-to-top order.
Ideal for

Moodboards
Pinboards
Bookmarking
File sharing

Brainstorming
Mind maps
Organisation charts
Flowcharts

Blog posts
Websites
Lessons
Assignments
Reports

Example
View an Example
View an Example
View an Example
 

Grid

Shelf

Backchannel

Layout
Arranges content in rows of boxes in a particular order.
Organises content into a series of columns with a heading.
A messaging environment displayed in a top-to-bottom discussion order.
Ideal For

Digital storytelling
Storyboarding
Noticeboards

Group work
Sharing ideas
Assignments
Reports

Discussions
Sharing ideas
Brainstorming
Blog posts

Example
View an Example
View an Example
View an Example
The Modify sidebar will automatically appear.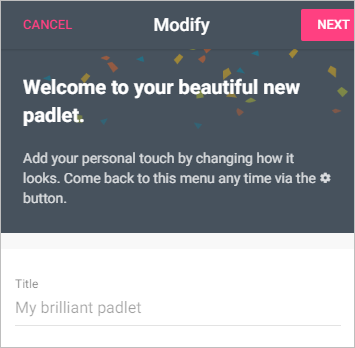 Modify the Padlet Settings
Enter a title and description for your Padlet.
Tip: Include the question or topic for students to discuss as the title and instructions on how to participate in discussion as the description.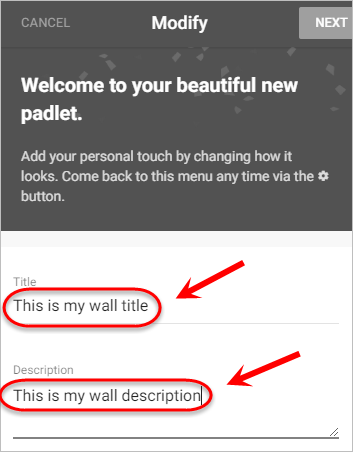 Select a simple Wallpaper, so the yellow tick appears.
Click on the MORE button to view other wallpaper options.
Select either the Doctor Light or Dark Knight theme, so the yellow tick appears.
Ensure the Alps font style is selected, so the yellow tick appears.
Select an Icon, so the yellow tick appears.
Click on the MORE button to view other icon options.
Turn on Attribution if you would like author names above each post.
Note: Author names will only appear if students login via their Office365 account to access the Padlet. 
Refer to the student guides on how to Access PadletUQ on a Smart Device and Access PadletUQ on a Computer.
Select FIRST for New post position if you would like new posts to appear first.
Turn on Profanity filter if you would like common swear words to be displayed as emojis.
Turn on Comments if you would like users to comment on other posts.
Turn on Reactions if you would like users to be able to Like, Vote, Star or Grade posts, ensuring the selected option has a yellow tick.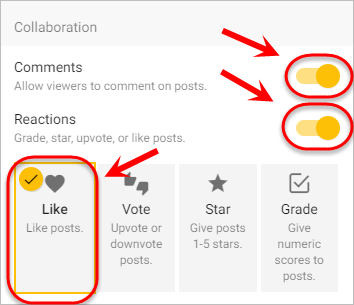 | | | | | |
| --- | --- | --- | --- | --- |
|   | | | | |
| Ideal For | Liking a post to show positive feelings. | Voting a post to show agreement or disagreement. | Rating a post based on a 1-5 star rating to show quality. | Grading a post based on a numeric score to show quality. |
| Example | View an Example | View an Example | View an Example | View an Example |
Insert a maximum of three Tags to make your Padlet easier to search for, such as course code, semester/year and topic.
Insert a short and simple Address for your Padlet which will become part of the link you distribute. 
Tip: Use your course code as the Padlet address and reuse the same Padlet each week after exporting/deleting the content. Refer to the guide Exporting and Reusing a Padlet for more information.
Click on the NEXT button to complete the process.
People & Privacy Settings
Privacy Settings
The two recommended settings are Secret or Organisation Wide. 
Secret (recommended setting): This settings allows students to access the Padlet via a link without logging into Office 365. However students remain anonymous.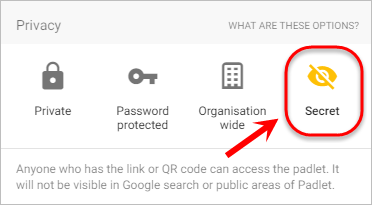 Organisation wide: This setting forces students to login to their UQ account before being able to join the Padlet.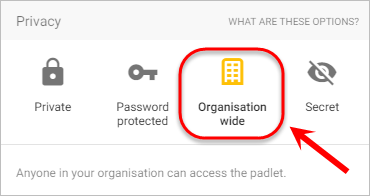 Add Contributors
Enter the email addresses of any contributors for collaboration purposes (contributors can be other teaching staff). 
Contributors have the same access rights as you and will be able to delete student posts as well as change any of the settings.
Note: It is not recommended that you add students as contributors but you can share the link through Blackboard.

Advanced Settings
It is recommended that both Remake and Moderation options are turned off.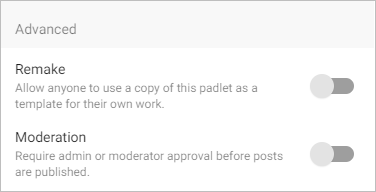 Save Your Settings
Click on the NEXT button to create your Padlet.
Click on the START POSTING button to create your first post.