Video Guide
Mark a Test and View Test Results (YouTube, 3m 18s)
Overview
Tests that do not contain instructor marked questions (short answer, essay and file response) are automatically marked and the mark stored in Grade Centre. A column for the test is automatically created in Grade Centre when the test is deployed (refer Deploy a test guide).
Access the Grade Centre
From the Control Panel select Grade Centre > Full Grade Centre.
View Results
The student results are available in the appropriate test column.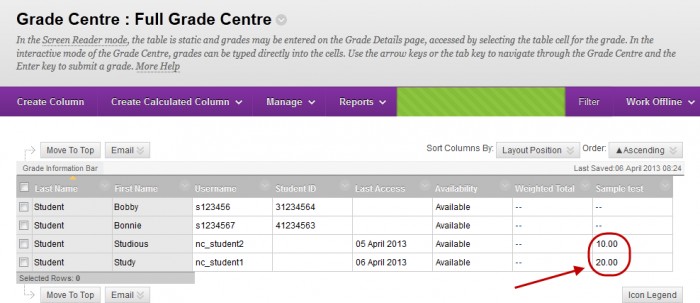 View individual student results
Hover over the required student's mark.
Click on the arrow button.
Select Attempt from the drop down list.​​

View the results of the student's attempt.
Browse to the next student using the previous and next buttons at the top right of the page OR using the Jump to… button.