eLearning Systems and Tools
Order your Semester 2 course site now
Request your Learn.UQ (Blackboard) course site now for Semester 2, 2020 by:
Using the Course/Organisation Site Request Form located under the 'Staff' tab in Learn.UQ. This form also allows you to request a copy of course content from a previous semester.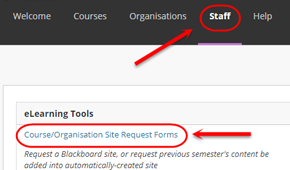 OR
Publishing your Electronic Course Profile (ECP) for a blank course template to be created automatically within 48 hours. For content to be copied, request a 'copy' through the Staff tab mentioned in the previous step.
For step-by-step instructions, refer to the Course requests guide.
Course Insights - new features
New features will be available in Course Insights from O-Week onwards. Staff will be able to: access Course Insights via a link in the course menu; use the new filter for parent and child courses; assign additional roles to allow for wider access; keep track of all emails sent from the tool.
Course banners
Learn.UQ (Blackboard) allows course coordinators to add a banner image to the top of each the course's entry point page. Banners can be used to personalise courses and they allow students to quickly identify the course they are in. You can either generate an online banner or design a custom banner using Adobe InDesign. 
Do you have examples of outstanding student videos?
We are seeking examples of outstanding student video assessment submissions to include on our Video Assessment Showcase (UQ login required) web page featuring examples of video assessment tasks and actual student video submissions. Additionally, students explain how they produced the video (often using a phone) and provide practical advice to other students. 
UQ ePortfolio system – Sem 1, 2021
The UQ ePortfolio system allows students to digitally showcase their work and skills, helping them understand and communicate their employability. The system facilitates the tracking of student learning and development at the course and program level, as well as supporting collaborative, multi-modal and reflective assessment practices. If you are a program lead or course coordinator interested in using this system in Semester 1, 2021, submit a Request to meet by 31 July.
H5P Interactive Content – early adopter support
In Semester 2, the H5P pilot will be expanded. This open-source online toolbox of activities allows staff to create and share interactive content in courses. To join the early adopter program, please email elearningadvisors@uq.edu.au.
Online teaching and assessment
Disrupted assessment options
This document provides advice on options that course coordinators can consider if their students' assessment was disrupted in Semester 1 2020.
Top 5 Finalising grades tips
Reminder: check out our Top 5 tips for finalising grades. 
Control the release of results
During marking or moderation, you may not be ready for students to see their results. To control the release of results, refer to step-by-step guides for Turnitin, Blackboard assignments and Tests. Note: both the individual tool settings and the Grade Centre column settings ('Hide from Students' on/off) need to be carefully set.
Feature resources
New exam resources
New guides have been created to assist staff to view and sort late submissions and submit a test attempt that is in progress on behalf of a student.
Employability - Digital Essentials module
The Employability module introduces students to creating a professional online presence, ePortfolio and online networking. It is designed to be embedded into courses so students can find the information they need, when they need it. For more information, please refer to the Digital Essentials webpage.
Finalise results
Watch this video (YouTube, 8m 43s) for a step-by-step walk-through of how to finalise your results using the Grade Centre.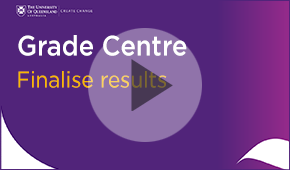 Funding and recognition
UQ Award – Above and Beyond in 2020
Do you know a colleague who has achieved remarkable things with their students this semester? Nominations for the Above and Beyond in 2020 are open now until 4 September. This one-off award scheme seeks to recognise and acknowledge the remarkable achievements of UQ staff pivoting to support students' learning under unprecedented circumstances in Semester 1.
What's on
Kahoot! game-based learning platform workshop
The new Kahoot! workshop will demonstrate how we can use gamification to facilitate active learning in seminars, tutorials and online learning. Participants will learn how to design, produce and deliver games for group or individual competitions, as well as online individual challenges.

Friday 17 July, 10am–12pm (register)
eLearning training (self-paced)
eLearning workshops (face to face)
eLearning webinars
Webinars and online workshops
Communities of Practice
Teaching and learning support
eLearning advisors
Tailored advice on eLearning tools, including how to select and configure learning technologies. Book an appointment (via Zoom)
Other eLearning support
Log an eLearning tool support request
Organise a custom eLearning workshop for your faculty/school
COVID-19 support team
E italiS12020@uq.edu.au
P +61 (7) 344 31348
Book a 30-min consultation (via Zoom)
Learning designers
For faculty/school level support, please refer to the list of learning designers in your area.