Turnitin - Control the Release of Results
Students can view marks in two places:
The TurnItIn assignment submission link.
My Grades
To ensure students cannot view marks while marking is in progress:
Set the Post Date in TurnItIn.
Hide the assignment column in Grade Centre.
Set the Post Date
Hover over the assignment title and click the (arrow) button.
Select Edit from the drop down list.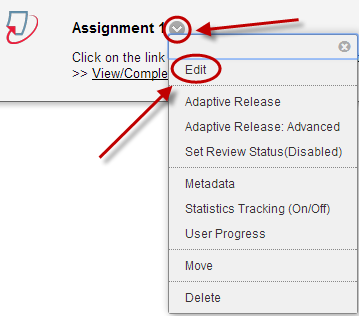 Set the Post Date (the date when marked assignments and grades are available to students in TurnItIn).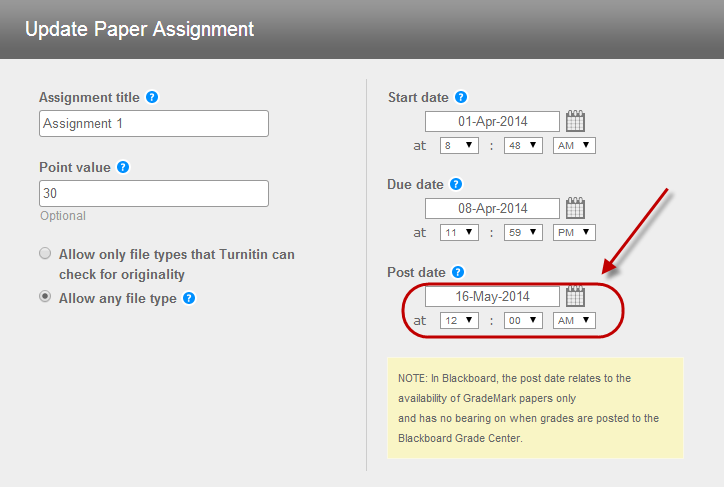 Note: Initially the Post Date should be set well after the due date to give plenty of time for marking to be completed.
Click on the plus button to open Optional Settings.
Select the Yes, Reveal grades to students only on post date? radio button.

Note: Change the Post Date if needed, when the marking has been finalised.
Tip: Set yourself a reminder to change the Post Date in your calendar for when you think you will have completed the marking.
Hiding the Grade Centre column
From the Control Panel select Grade Centre > Full Grade Centre.
Click on the arrow button next to the assignment column heading.
Select Hide from Students (on/off) from the drop down list.
The column will display a circle with red line icon when it is hidden.
Repeat the above step to unhide the column so students can view their marks through My Grades when the marking is complete.