eLearning Systems and Tools
Order your Semester 2 course site now
You can request your Learn.UQ (Blackboard) course site for Semester 2, 2020 now!

1. Use the online Course/Organisation Site Request Form located on the Staff tab in Learn.UQ. This form also allows you to request a copy of course content from a previous semester.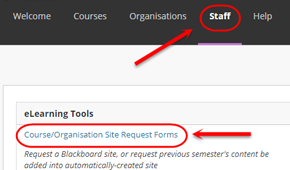 OR
2. Publish your Electronic Course Profile (ECP) for a blank course template to be created automatically within 48 hours. For content to be copied, request a 'copy' through the Staff tab mentioned in the previous step.
For step-by-step instructions, refer to the Course requests guide.
Learn.UQ Late Submissions Finder
The new Learn.UQ Late Submissions Finder allows you to identify any students who submitted their document upload exam after a set time period. For step-by-step instructions on how to use this tool, refer to the Find late submissions for document upload exams guide.
Student support on exam day
Students should direct any issues they encounter on exam day to AskUs. A central examination support team has been established to closely monitor and respond to events. The team consists of staff from central Examinations, ITaLI, ITS, and AskUs.
H5P Interactive Content - early adopter support
In Semester 2, the H5P pilot will be expanded. This open-source online toolbox of activities allows staff to create and share interactive content in courses. To join the early adopter program, please email elearningadvisors@uq.edu.au.
Top 5 Finalising grades tips
As Semester 1 starts to come to an end, why not check out our Top 5 tips for finalising grades.
Online teaching and assessment
Tips for online delivery of large-scale pracs
Hear how School of Biomedical Sciences lecturers Dr Judit Kibedi and Tracey Langfield adapted their Physiology and Anatomy practical classes when faced with the unexpected shift to online learning. Watch the video (YouTube 7m 18s) 
Digital Literacy Project survey
The Digital Literacy Project (DLP) aims to engage and integrate digital literacy skills within teaching and learning across multiple disciplines at UQ.

The DLP team is seeking feedback on the relevance of digital literacy and engagement with UQ Library's Digital Essentials modules through a survey for academics and a survey for learning designers.
Feature resources
Teaching in Semester 2, 2020 – guidance and support 
How can we support student connection, engagement and learning in Semester 2? Based on the Mid-semester 1 survey results and a range of student and staff feedback, we have updated the Teaching guidance with a Teaching support guide for Semester 2. We have also updated advice for assessment in Semester 2. For all recent updates, view the list on the Communications page or contact ITaLI for personalised support.
Resource for students – Digital citizenship
The Digital Citizenship module (part of the Digital Essentials series) introduces students to online safety and wellbeing, appropriate online behaviour and their digital footprint. It is designed to be embedded into courses so students can find the information they need, when they need it.
Funding and recognition
UQ teaching awards – EOIs open
Expressions of interest (EOIs) for the UQ teaching awards are now open until Friday 7 August. The UQ teaching awards acknowledge excellence in learning and teaching by recognising staff through three award programs (self-nomination is permitted):
What's on
Webinar series – What's working? Join the conversations
In these 1-hour Zoom webinars, hear from UQ academics/colleagues and have your say about What's working? in teaching and learning.
eLearning workshops (self-paced)
eLearning workshops (face to face)
Webinars and online workshops
Communities of Practice
Teaching and learning support
eLearning advisors
Tailored advice on eLearning tools, including how to select and configure learning technologies. Book an appointment (via Zoom)
Other eLearning support
Log an eLearning tool support request
Organise a custom eLearning workshop for your faculty/school
COVID-19 support team
E italiS12020@uq.edu.au
P +61 (7) 344 31348
Book a 30-min consultation (via Zoom)
Learning designers
For faculty/school level support, please refer to the list of learning designers in your area.