eLearning Systems and Tools
Document upload exams - Student video
This instructional video (YouTube 1m 30s) guides students through downloading a question paper from a Blackboard Test and submitting it to either a Turnitin assignment or Blackboard assignment. Please direct your students to this video if you use this assessment approach.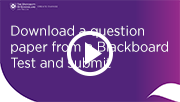 Exam security update - Blackboard Tests
To improve exam security, access to Blackboard Tests has been updated so Tests is only editable by Instructors. Staff with the Teaching Assistant role are still able to mark tests. If required, refer to the Change a user's role in a course guide.
Renew your lecture content for Semester 2
In response to student feedback, the University is keen to provide up-to-date learning content wherever possible or have old recordings tidied up. For information on pre-recorded video options, refer to the Desktop recording options comparison guide. If you need a personal tutorial on desktop recording, book an appointment with an eLearning Adviser.
Desktop recording production assistance
The ITaLI Educational Media Production team can help you produce online lectures and other teaching resources using desktop recording. Priority will be given to staff having difficulties due to poor home internet connections. The team also provides advice on filming and editing practicals using smartphones. To request assistance, email cdd-media@exchange.uq.edu.au (subject: Desktop recording or Smartphone recording).
New self-paced Turnitin online workshop
A new self-paced online version of our Turnitin online workshop has been designed to support staff in developing knowledge, skills and confidence in using Turnitin.
UQ ePortfolio system - Semester 1, 2021
The UQ ePortfolio system allows students to digitally showcase their work and skills, helping them understand and communicate their employability. The system facilitates the tracking of student learning and development at the course and program level, as well as supporting collaborative, multi-modal and reflective assessment practices. If you are a program lead or course coordinator interested in using this system in Semester 1, 2021, submit a Request to meet by 31 July.
Online teaching and assessment
Preparing for Semester 2, 2020
ITaLI offers a range of support services (PDF) to help you prepare for Semester 2, 2020 course online delivery. To express interest in these services, please complete a request for support form.
Assessment policy updates
A summary of approved assessment policy and Examinations procedure updates is available in the COVID-19-related adjustments to policy document. 
Course Online Experience survey and workshops
Are you involved with creating or re-creating online courses here at UQ? Want to be involved in what the future of course online experience looks like? Get involved by visiting the Course Online Experience website (UQ login required).
Feature resource
Resource for students – Accessibility and study hacks
The Accessibility and study hacks module (part of the Digital Essentials series) introduces students to creating accessible content and productivity tools for study and life. It is designed to be embedded into courses so students can find the information they need, when they need it.
What's on
What's working? Practicals, labs and work-integrated learning online
Join us for the next What's working? conversation about practicals, labs and work-integrated learning online.
ITaLI webinars provide an opportunity for professional learning conversations and collegiality across our faculties. Register to attend and share your experiences.
UQ Workplace, Diversity and Inclusion (WDI) focus groups
The UQ WDI team is interested in hearing feedback and experiences from our culturally and linguistically diverse staff. Help shape the inaugural Cultural Inclusion Council's action items and sign up to attend a focus group.
eLearning training (self-paced)
Webinars and online workshops
Communities of Practice
Teaching and learning support
eLearning advisers
Tailored advice on eLearning tools, including how to select and configure learning technologies. Book an appointment (via Zoom)
Other eLearning support
Log an eLearning tool support request
Organise a custom eLearning workshop for your faculty/school
COVID-19 support team
E italiS12020@uq.edu.au
P +61 (7) 344 31348
Book a 30-min consultation (via Zoom)
Learning designers
For faculty/school level support, please refer to the list of learning designers in your area.