eLearning Systems and Tools
Mandatory Zoom update required by 30 May
From 30 May 2020, all staff and students must use Zoom version 5.0 or above as part of a mandatory upgrade. After 30 May, you will not be able to host or join a meeting or teaching session if you are not using version 5.0 or above. 

This new version of Zoom provides enhanced security as well as additional features including the ability to: 
report a user who is potentially misusing the platform
'enable waiting room' – hosts may now turn this on whilst their meeting is already in progress
lock a meeting when all participants have arrived
remove participants.
Configure Zoom to publish automatically to Echo360
Zoom is now configured to automatically upload recordings to your personal Echo360 media library. Coordinators can edit both the recording and the transcript from within Echo360 and then publish to their course. Students will get access to time-synced notes and discussion, bookmarks, and automatically generated transcripts. Refer to the Publishing a Zoom recording to Echo360 guide.
Preparing for online exams
We have added instructional videos on how to add student adjustments for school-based exams. For more information, refer to the Blackboard Test - Non-invigilated Exams and Document Upload - Non-invigilated Exams guides. Book an appointment with an eLearning Advisor if you need support selecting and configuring technologies for online exams.
New Echo360 Transcript Editor
To support students impacted by COVID-19, the University decided to enable machine-generated transcripts for Echo360 lecture recordings. Echo now includes transcript editor allowing staff to edit transcripts directly through Echo360 instead of downloading the file in order to make changes. For step-by-step instructions, refer to the Edit an Echo360 video transcript guide.
eLearning tip: How do students submit a video assignment? 
Kaltura media makes video assignments easy for both staff and students. This short video (YouTube 2m 49s) guides students through the process of uploading their video to My Media and submitting the assignment.
Refer to step-by-step instructions on how students submit their video assignments using Kaltura media.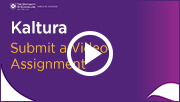 Removing blank recordings from courses
To reduce unnecessary blank recordings in courses, please advise your School Timetabling Coordinator if your scheduled on-campus recordings can be ceased. School Timetabling Coordinators have received a list of scheduled activities from Timetable Services.
Grades security: check the history of mark changes
Grade Centre history records all changes made to marks during the semester. At the end of the semester, you can use the View Grades History tool to produce a report that shows all changes and comments, to confirm validity and check for errors. For step-by-step instructions refer to guides on Grades security, Edit a mark and record a reason and View Grade History report.
Course Insights
Course Insights, UQ's own course-level learning analytics dashboard is now available to all course coordinators via Learn.UQ. The Student section allows staff to view engagement and assessment information about an individual student alongside cohort data.

Would you like to have your say for further development of Course Insights? Get involved with dashboard enhancements by attending a Course Insights co-design workshop:
Online teaching and assessment
Preparing for Semester 2 delivery
ITaLI and UQ2U have developed expanded support services to help academics prepare themselves and their courses for Sem 2 delivery. If you need help with specific issues, or if you would like to use the COVID-19 disruption as an opportunity to review your course, we are here to help!

Contact us and one of our learning designers will reach out to better understand your course needs and connect you to the right support.

For more information, download ITaLI T&L support services (PDF), UQ2U Sem 2 options (PDF) and visit the COVID-19 Teaching Guidance website.
Virtual and Augmented Reality survey
Are you using or researching Virtual or Augmented Reality at UQ? The Faculty of Business, Economics and Law wants to find out more on what's currently being used across teaching, learning, research and student recruitment. 
Feature resource
Resource for students – Working with Data module
The Working with Data module introduces students to data sources, cleaning data, data analysis and presenting data. It is designed to be embedded into courses so students can find the information they need; when they need it. For more information, please refer to the Digital Essentials web page.
What's on
eLearning training (self-paced)
Webinars and online workshops
Communities of Practice
Teaching and learning support
eLearning advisors
Tailored advice on eLearning tools, including how to select and configure technologies for online exams. Book an appointment (via Zoom)
Other eLearning support
Log an eLearning tool support request
Organise a custom eLearning workshop for your faculty/school
COVID-19 support team
E italiS12020@uq.edu.au
P +61 (7) 344 31348
Book a 30-min consultation (via Zoom)
Learning designers
For faculty/school level support, please refer to the list of learning designers in your area.