Monday 2 December
Staff Digital Experience Survey
What is your digital experience like? Please tell us in the UQ Staff Digital Experience Survey. This is a chance for you to share your experience with digital technologies for teaching. The results will help us determine the support needed to integrate technologies into teaching across the University. Please complete the survey so we can design services that support you and the teaching you deliver.
eAssessment Pilot EOI
The eAssessment Project is currently seeking Expressions of Interest (EOI) from staff to pilot the preferred eAssessment solution. In Semester 1, 2020 the eAssessment solution will be piloted with a number of small courses, with larger courses piloted in Semester 2. For further information, email the eAssessment Project team at eassessment@uq.edu.au. If you are interested in joining the pilot, please complete the Expression of Interest form.
Early Bird eLearning Solutions Service Appointments
The ITaLI eLearning team are offering one-on-one consultations through the eLearning Solutions Service (ELSS) to help staff prepare for Semester 1, 2020. For a description of what is offered and to book an appointment, visit the eLearning Solutions Service website.
Student Video Assessment Examples
Have you seen outstanding student video assessment suitable for a UQ video assessment showcase page? We would like to provide examples of video assessment to help staff and students understand how it can be implemented in courses. Examples achieved with straightforward production methods are particularly sought after. If you know of any student videos that might be suitable for the showcase (with appropriate permissions), please email elearningadvisors@uq.edu.au.
Order your Semester 1 course sites now
You can request your Learn.UQ (Blackboard) course sites for Semester 1, 2020 now!

1. Use the online Course/Organisation Site Request Form located on the Staff tab in Learn.UQ. This form also allows you to request a copy of course content from a previous semester.

OR
2. Publish your Electronic Course Profile (ECP) for a blank course template to be created automatically within 48 hours. For content to be copied, request a 'copy' through the Staff tab mentioned in the previous step.
For step-by-step instructions, refer to the guide on Course Requests.
UQ ePortfolio system - Semester 2, 2020
The UQ ePortfolio system allows students to digitally showcase their work and skills, helping them understand and communicate their employability. The system facilitates tracking student learning and development at a course and program level over time, as well as supporting collaborative, multimodal and reflective assessment practices.
We are currently engaging with program leads and course coordinators interested in using the ePortfolio system for the first time from the start of Semester 2, 2020. To request a meeting to discuss the potential of implementing the ePortfolio system in your course or program, go to the UQ ePortfolio tool page and submit a "Request to Meet" by 21 February, 2020.
Echo360 Personal Capture Decommission
The desktop recording system, Echo360 Personal Capture, will be decommissioned by the vendor on 15 January, 2020 however, you will still be able to use the software until this date. We recommend Kaltura Capture as an alternative desktop recording option. For more information, refer to the Decommission of Echo360 Personal Capture project page. 

Peer Assessment tool options
Group Peer Assessment tool (GPAT)
The Learn.UQ Group Peer Assessment tool can be used to allow students to evaluate individual contributions of group members to a group project. This tool can be used formatively to identify dysfunctional groups early in a project and to trigger appropriate support strategies. For additional information, refer to the Group Peer Assessment tool page.
If you would like a personal tutorial on Turnitin PeerMark or the Group Peer Assessment tool, please visit the eLearning Solutions Service appointments page to book a session with an eLearning Advisor. For more information on the eLearning Solutions Service, visit the eLearning Solutions Service webpage.
Course Site Design Tips - Weekly structure
There should be one Learning Resource folder per week or module which includes all relevant content. It should be titled with the week number and a description of the topic. As well as providing an overview of the course, it also reduces the time it takes students to find resources.
View the video regarding course guidelines around weekly structure (YouTube, 2m 28s).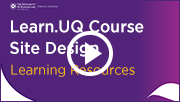 Video Case Study
Watch the video case study to see how Debbie Jeffery uses UQpoll to engage students in her lectures (YouTube, 1m 59s).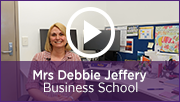 Are you making the most of Grade Centre?
You can improve the management and security of your grades by eliminating or limiting the use of spreadsheets. Grade Centre can efficiently record assessment results throughout the semester and be used to calculate final grades. Using Grade Centre offers the additional benefit of built-in security with the logging and monitoring of data. This enhanced security has been an important part of investigations and resolving mistakes. Grade Centre functionality includes:
Results are automatically transferred from Turnitin, Blackboard assignments, Tests, ePortfolio, Kaltura Video Quizzes and Discussion Boards.
Manual entry columns and rubrics allow coordinators to record results from hard copy assessment tasks, exams and oral presentations.
MCQ exam results can be uploaded from the output of machine-marked papers.
Non-standard calculations can be performed using the spreadsheet download and upload capability.
Final grades can be calculated using Total and Weighted columns.
Grading Schema can be used to determine the allocation of grades 1 - 7.
Migration of final grades to SI-net in the correct format can be performed using the SI-net merge tool (downloads Grade Centre marks to a spreadsheet in the correct format for SI-net upload) or the Upload Grades to SI-net function (directly uploads final marks to SI-net from Grade Centre).
Results are automatically returned to students via the My Grades tool. 
 For additional information, refer to the Grade Centre tool page. 

Echo360 Active Learning Platform Deployment
Active Learning Platform (ALP) is new functionality available in UQ's lecture recording system, Echo360. ALP provides a range of functionality to facilitate in-class engagement and participation. Currently additional resources are being developed to support course coordinators implement Echo360 ALP.  For more information, please refer to the Echo360 ALP Deployment project page.

ITaLI eLearning Workshops
The ITaLI eLearning team are offering a range of professional development workshops to support staff in implementing Technology Enhanced Learning during 2019. For a description of each workshop, dates and to register, visit the Staff Development / Teaching and Learning Technologies site.
Online workshops include:
Upcoming face-to-face workshops include:
Turnitin, 10:00am - 12:00pm, 5 December, St Lucia
Learn.UQ: Quizzes, Tests and Exams, 9:30am - 12:00pm, 11 December, St Lucia
Echo360 Active Learning Platform, 10:00am - 12:00pm, 12 December, St Lucia
ITaLI Teaching and Learning Workshops
Custom eLearning Workshops
Custom workshops on centrally supported eLearning tools are available on request for faculties and schools. Email elearningadvisors@uq.edu.au with the subject line Custom Workshop to schedule one of our teaching and learning workshops at a convenient time.
eLearning Solutions Service
The eLearning Solutions Service offers one-on-one consultations to course teaching staff on the integration of eLearning tools into their courses. The service currently supports a range of eLearning tools, all of which can be found on the eLearning Solutions Service webpage. All eLearning Educational Advisors have either a BEd or GradDipEd. Staff can nominate for the eLearning Solutions Service by booking via the appointments webpage to organise an individual consultation at your office.
Request Support
To receive a quick response to your eLearning support request, log a job with eLearning Support using help@learn.uq.edu.au. Alternatively, you may use the Request Support button available inside Learn.UQ.
To enable a timely response please be sure to include as much information as possible with your request.