Monday 15 July
Make your Course Sites and ECP Available to Students this Week
Learn.UQ (Blackboard) course sites and Electronic Course Profiles (ECPs) need to be available to students at least one week before the first teaching activity. Learn.UQ course sites need to contain at least a welcome message at that point. Remaining online course requirements should be met by the time of the first teaching activity. For more information, please refer to the UQ policies on course profiles and minimum course presence.
It is the course coordinator's responsibility to make their course(s) available to students. To activate a course, use the following instructions.
Course Menu > Learning Resources > Click on the Red Lock icon (top right) > a Grey Unlocked icon will be displayed to show the course is available to students. For step-by-step instructions, refer to the Make a Course Available guide. 
Echo360 Active Learning Platform - Getting Started
The Active Learning Platform (ALP) provides a range of functionality to facilitate class engagement and participation. For step-by-step instructions, refer to the new Getting Started with Echo360 ALP Interactive Presentations guide. To complement this guide, a new student Participating in Interactive Presentations guide has also been developed.
If you would like a personal tutorial on Echo360 ALP, please visit the eLearning Solutions Service appointments page to book a session with an eLearning Advisor. For more information on the eLearning Solutions Service, visit the eLearning Solutions Service webpage.
Do you teach using VR/AR/MR? 
If you teach using Virtual Reality, Augmented Reality or Mixed Reality technologies you are invited to share your experience at Teaching and Learning Week Monday 28 October - Friday 1 November 2019. Please submit your EOI by Thursday 1 August.
Mirroring 360 Screen Sharing App
Mirroring360 is a wireless presentation tool that allows you to display screens from a variety of smart devices in all teaching spaces across UQ. Mirroring360 provides the flexibility of wireless presentation. Students can also participate and access Mirroring360 by entering a Mirroring ID or using a QR code. For more information, refer to the Screen Sharing tool page. 
Course Site Design Exemplar
Access the Course Site Design Exemplar to use as the basis for the Learn.UQ Basic workshop training courses and the student Introductions to Learn.UQ (Blackboard) workshop training courses. The exemplar provides an example of how to structure your course in preparation for the semester.
Course Site Design - Self-Assessment Tool
Use this short online Self-Assessment Tool to receive customised suggestions to improve your Learn.UQ (Blackboard) course site design, plus guidance on how to implement them. These changes will help your students to find resources on Learn.UQ. 
eLearning Solutions Service
The eLearning Solutions Service offers one-on-one consultations to course teaching staff on the integration of eLearning tools into their courses. The service currently supports a range of eLearning tools, all of which can be found on the eLearning Solutions Service webpage. All eLearning Educational Advisors have either a BEd or GradDipEd. Staff can nominate for the eLearning Solutions Service by booking via the appointments webpage to organise an individual consultation at your office.

Virtual Classroom (Zoom)
Watch the video case study to see how Dr Marion Tower uses Zoom to provide students with a virtual classroom option, communicate with overseas PhD students and facilitate seminars with industry partners in remote locations (YouTube, 2m 55s).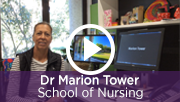 Top 7 Learn.UQ Course Site Design Tips
 Use the Standard Menu
The standard menu is already in the Learn.UQ (Blackboard) template and has an optimised structure. It's also consistent across all courses so it is much faster and easier for students to use.
video (YouTube, 54s)
 Welcome
Create a site banner and provide a friendly announcement message to welcome students to your course to increase their level of engagement with the content.
video (YouTube, 54s)
 Course Staff
Provide details and photos of all teaching team members. The Course Coordinator should always be at the top together with reasons for students to contact them. This allows students to recognise members of the team and to know who to contact with questions.
video (YouTube, 58s)
 Course Help
This is the first place that students will go to find help. Instead of recreating content, provide references to your course's ECP and links to School, Faculty and UQ resources. It should ensure consistency of communication and policy and answer a wide range of common student questions.
video (YouTube, 1m 12s)
 Weekly Structure
There should be one Learning Resource folder per week or module which includes all relevant content. It should be titled with the week number and a description of the topic. As well as providing an overview of the course, it also reduces the time it takes students to find resources.
video (YouTube, 2m 28s)
 Assessment Folders
Put all of the information and resources associated with an assessment item, including a submission link and instructions, into one folder with exactly the same title as in the ECP. This provides clarity for students on the requirements for the item and the submission process.
video (YouTube, 1m 58s)
 Publish Promptly
Check and publish your ECP and make sure your site is available in Orientation Week to help students prepare for the commencement of your course.
Refer to the Learn.UQ Course Site Design guide for more detailed instruction.
Study Success - Digital Essentials Module
The Study Success module introduces students to Library resources and facilities, including IT, spaces and opening hours. It is designed to be embedded into courses so students can find the information they need, when they need it. For more information, please refer to the Digital Essentials webpage.

Grade Security Tips
The use of a central system such as Learn.UQ (Blackboard) Grade Centre improves the security of student grades compared to spreadsheets, because of features like logging, and activity monitoring. There are also a number of practical strategies you can employ to improve grades management and security as follows:
1. Follow general computer security guidelines such as using strong passwords.
2. Record reasons for any changes made to marks or grades.
3. Review the history of mark changes, to identify potential manipulations and errors before transferring grades to SI-net.
For additional information, refer to the Grades Security webpage.

H5P (Interactive Learning Activities) Pilot
H5P is an open source online toolbox of activities that provides an easy way to create small interactive learning objects. These objects can be inserted into courses to provide students with engaging content. Learning Designers in schools and faculties are currently piloting the tool in Semester 2 courses. For more information, please refer to the H5P Pilot project page.
Learn.UQ Upgrade Successful - New Look
Learn.UQ (Blackboard) maintenance was successfully carried out during the mid-Semester break. The upgrade was required to meet contractual obligations for supportability and security. The upgrade has also provided an updated look and feel for all course sites. For further information, refer to the Learn.UQ (Blackboard) Upgrade project page.

ITaLI eLearning Workshops
The ITaLI eLearning team are offering a range of professional development workshops to support staff in implementing Technology Enhanced Learning during 2019. For a description of each workshop, dates and to register, visit the Staff Development / Teaching and Learning Technologies site. 
Online workshops include:
Upcoming face-to-face workshops include:
Custom eLearning Workshops
Custom workshops on centrally supported eLearning tools are available on request for faculties and schools. Email elearningtraining@uq.edu.au with the subject line Custom Workshop to schedule one of our teaching and learning workshops at a convenient time.
ITaLI Teaching and Learning Workshops
Request Support
To receive a quick response to your eLearning support request, log a job with eLearning Support using help@learn.uq.edu.au. Alternatively, you may use the Request Support button available inside Learn.UQ.
To enable a timely response please be sure to include as much information as possible with your request.