Make your course sites and course profiles available to students this week
Course coordinators must make Learn.UQ (Blackboard) course site(s) and course profile(s) available to students at least one week before the first teaching activity, as outlined in the Course design policy. Course sites must contain at least a welcome message. The remaining online course requirements should be met by the first teaching activity.
Recording live oral and practical assessment
Live oral or practical assessment items worth 20 per cent or more must be recorded and retained for re-marking purposes, as per the Assessment procedure. A guide is available on how to record these assessments using Zoom cloud recordings and securely store them in an Echo360 collection.
Assess handwritten assessments with Gradescope
Gradescope facilitates the marking of handwritten assessments such as mathematics, chemistry and physics. It can also be used for marking computer software and multiple choice questions bubble sheets. View the guides or book a consultation to find out more. 
Opportunity to enhance UQ's lecture recording policy
UQ is reviewing the Recording of teaching policy. Please provide feedback in an anonymous short survey to let us know what is working well and how we can improve.
Policy adjustments for Semester 2
Please be advised there are several COVID-19 temporary policy variations that have been removed for the commencement of Semester 2, in alignment with the relaxation of Queensland Government easing of restrictions.
The most notable change is the removal of the relaxation of supporting medical documentation requirements. Students will once again be required to provide medical documentation to support applications for an assessment extension or a deferred examination on medical grounds.
View temporary policy adjustments information >>
Podcast – Learning through 'trench warfare' and wicked problems: students as proper consultants with real world business clients
In the latest episode of HigherEd Heroes, Al and Seb talk to Dr Sarel Gronum (UQ Business School), whose master's degree students get thrown into proper, several week-long consultancy projects with real business clients. Besides the challenge of building this flagship course and how he had to fine-tune his own teaching role within it, Sarel talks about the centrality of ambiguity and 'trench warfare' for student learning.
Professor Tracey Bunda appointed to influential higher education board
Congratulations to Professor Tracey Bunda, Academic Director of UQ's Aboriginal and Torres Strait Islander Studies Unit, on her appointment to the Australasian Strategic Advisory Board of Advance HE.
Ready to Tutor Week (26–28 July)
Ready to Tutor Week is a program of activities designed to help tutors prepare for tutoring in the upcoming semester.
Ready to Teach Week recordings
Thank you to everyone involved in Ready to Teach Week. The event saw over 500 attendees and included over 56 presenters across 23 sessions, most of which were recorded and are now available to watch online.
Top 7 Learn.UQ course site design tips
As we approach Semester 2, check out our Top 7 Learn.UQ course site design tips.
Turnitin marking transfer issue from Semester 1
Turnitin have advised the mark transfer issue encountered during Semester 1 has been resolved. An automated script will also run during Semester 2 to check mark transfers. Staff are asked to maintain vigilance and report any issues promptly to help@elearning.uq.edu.au.
Automatically publish lecture recordings from Zoom to Echo360 
Teaching staff are asked to ensure Zoom recordings are published automatically to Echo360 as Zoom cloud recordings are only a temporary storage service.
Create accessible content
The Library has created a guide on how to make your content accessible and why it is important to remove barriers with inclusive universal design.
Update your Zoom client
As new features (including advanced polling) have been added to Zoom, staff and students are encouraged to update their Zoom client. The Virtual Classroom PowerPoint template has also been updated to include a reminder to update Zoom and contains the latest reaction icons. 
Course Insights - How well do you know your cohort?
Course Insights, UQ's own course-level learning analytics dashboard, is available to all course coordinators via Learn.UQ. The Enrolment section provides demographic information to inform teaching strategies. 
Icebreakers with PadletUQ
Icebreakers are an excellent way to promote student interactions and to develop personal connections early in the semester, which is particularly important in blended and online courses.
Interactive online learning experiences with H5P
See how Associate Professor Allison Mandrusiak uses H5P in her physiotherapy courses to convert pre-covid practical experiences into rich, interactive online activities (YouTube, 2m 24s).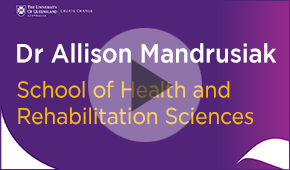 What's on
eLearning training (self-paced)
eLearning webinars (Zoom)
View all eLearning workshops and webinars >>
Other events and courses
Communities of Practice
Teaching and learning support
eLearning support
For technical support with central eLearning tools, email eLearning support.
eLearning Advisers
For tailored advice by qualified teachers on using eLearning tools, including how to select and configure learning technologies. Book a Zoom consultation with an eLearning adviser.
Workshops
Self-paced online workshops are available for a variety of systems and tools. eLearning advisers are available to deliver custom workshops in your school or faculty. Organise a custom workshop.
Teaching support
ITaLI staff are available to offer pedagogical advice. Please contact itali@uq.edu.au or book a 30-min Zoom consultation.
Learning designers
For faculty/school-level support, please refer to the list of learning designers in your area.