Upcoming events
Ready to Teach Week (11-14 July)
Registrations are open for Ready to Teach Week. Join ITaLI for a week of activities designed to help you prepare course materials for the upcoming semester.
View the program and register >>
Ready to Tutor Week (26-28 July)
Ready to Tutor Week is a program of activities designed to help tutors prepare for tutoring in the upcoming semester.
Increase student engagement with RiPPLE
Learn how to use RiPPLE to increase student engagement by having students create their own learning resources, share them with their peers and receive peer feedback.
Facilitate active learning with H5P "The Chase"
The eLearning Team are seeking Course Coordinators who are willing to be early adopters of H5P's "The Chase" in Semester 2, 2022. "The Chase" allows students to answer a series of formative questions in an engaging format similar to Kahoot! If you would like to join the early adopter program, please email elearningadvisers@uq.edu.au where we will make contact with you on how to best implement it into your teaching.
Grades and marking
Assess handwritten assessment with Gradescope
Gradescope facilitates the marking of handwritten assessments such as math, chemistry and physics, but can also be used for marking computer software. Register for a workshop or book a consultation to find out more. 
Recording exam results in Grade Centre
Using Grade Centre is an opportunity to enhance grade management and security compared to use of spreadsheets. This is outlined in the PPL 3.10.02 Assessment guidelines. Grade Centre has built-in logging and monitoring of data which has been an important part of resolving mistakes in the past. Check out the guides for tips to efficiently record your exam results in Grade Centre
Top 7 tips for finalising grades
As we approach Semester 1 end, check out our Top 7 tips for finalising grades. 
Direct upload of MCQs
Do you have auto-marked MCQs in your final exam? If so, you can directly upload marked MCQ test results to Grade Centre. The following video guides you through how to upload paper-based MCQ test results to Grade Centre using the provided results spreadsheet.
Watch the video (YouTube, 8m 12s) >>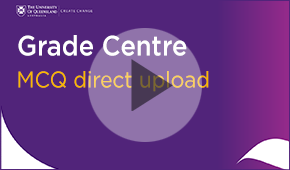 Check the history of mark changes
Grade Centre logs a record of all changes made to marks during the semester. At the end of the semester, use the View Grade History tool to produce a report showing all changes and comments, confirm the validity and check for errors.
Approaching the second half of a year-long course?
If you are approaching the second half of a year-long course, you may have to submit a new course site request and ask for a merge to avoid your lecture recordings automatically being moved into a new Learn.UQ course site.
Order your Semester 2 site(s) now
Learn how to order your Learn.UQ (Blackboard) and UQ Extend sites in preparation for Semester 2.
See the course requests guide >>
Academic Integrity Module maintenance
The student Academic Integrity Modules will be unavailable during critical maintenance from midnight on Monday 11 July and will be available again at 9 am on Monday 18 July.
Working with files - Digital Essentials
The Working with files module (part of Digital Essentials) introduces students to file storage, file naming, backing up work and metadata. It is designed to be embedded into courses so students can find the information they need, when they need it.
What's on
eLearning webinars (Zoom)
eLearning workshops (Face-to-face)
Other workshops and information sessions

Communities of Practice
Teaching and learning support
eLearning support
For technical support with central eLearning tools, email eLearning support.
eLearning advisers
For tailored advice by qualified teachers on using eLearning tools, including how to select and configure learning technologies. Book a Zoom consultation with an eLearning adviser.
Workshops
eLearning advisers are available to deliver custom workshops in your school or faculty. Organise a custom workshop.
Teaching support
ITaLI staff are available to offer pedagogical advice. Please contact itali@uq.edu.au or book a 30-min Zoom consultation.
Learning designers
For faculty/school level support, please refer to the list of learning designers in your area.