Introducing multi-factor authentication for students
UQ is introducing multi-factor authentication (MFA) for students through a staged rollout in September and October 2022. The MFA functionality will be the same for students as it is for staff, with most expected to use the Duo app on a smartphone. Where this is not possible, alternate options are available.
Improve student engagement in Zoom sessions
Improve your student engagement in Zoom sessions with Advanced polling and the improved Zoom Whiteboards. Book an eLearning Adviser consultation for personalised assistance.
GradeScope bubble sheets
GradeScope has the functionality to automatically mark bubble sheets scanned using a standard UQ printer. The tool provides detailed exam statistics and question analysis. GradeScope bubble sheets are an alternative option from the ITS marking service for central exams. View the guide or book a consultation to find out more.
Open Course Scheme
Each semester, the Open Course Scheme (OCS) provides opportunities for staff to attend and observe a class from a selection of courses that are made 'open' to UQ staff.
See the list of courses and book your spot >>
Student Academic Integrity Module
The University strongly recommends that course coordinators encourage students to complete the compulsory Academic Integrity Modules (AIM) before submitting their first assessment task. The modules cover the concept of academic integrity and how students can maintain the highest standards in their own work.
Interim-class student feedback
To foster feedback culture, UQ is promoting the adoption of eLearning tools for 'interim-class student feedback' to substitute the previous 'check-in survey'. This will enable you to check in with your students, receive timely feedback and implement evidence-based changes that will make a difference to the current cohort before their course finishes.
Podcast – Integrating regular practical, self-experiential and collaborative spaces into your courses
In the latest episode of HigherEd Heroes, Dr Seb Kaempf (usually one of the podcast co-hosts) turns interviewee to share how he integrates regular, 3-hour long practical, self-experiential spaces (called MediaLabs) into his course to deepen student learning. It's about enabling students to get their hands dirty, to collaborate, research, discuss and ultimately learn through practice.
Ready to Teach Week recording: Boosting belonging
The Boosting belonging: student and staff perspectives session during Ready to Teach Week received a great deal of positive feedback from attendees. If you missed it, you can now watch the video (YouTube, 1h 30m) to hear from UQ students and staff about what a sense of belonging means to them and the impact it can have.
How can we enhance UQ's lecture recording policy?
UQ is reviewing its lecture recording policy. Please complete the anonymous survey to let us know what is working well and how we can improve.
Support for teachers
Active learning tools
UQ's active learning tools can be used to engage students and promote deeper understanding in both online and face-to-face sessions. The centrally-supported active learning tools include PadletUQ, UQ Active Learn (UQpoll, UQwordcloud and UQwordstream) and Zoom chat, reactions, whiteboards, polling and quizzes.
See the Active learning tools guide >>
Group Peer Assessment
The Learn.UQ Group Peer Assessment tool allows students to evaluate individual contributions of group members to a group project. This tool can be used formatively to identify dysfunctional groups early in a project and to trigger appropriate support strategies.
See the Group Peer Assessment guide >>
Are you making the most of Grade Centre? 
Grade Centre can be used to efficiently record assessment results and calculate final grades. By eliminating or limiting the use of spreadsheets, you can also improve the management and security of your grades.
Course Insights – easily contact groups of students
Course Insights, UQ's own course-level learning analytics dashboard, is available to all course coordinators via Learn.UQ. The Students section allows staff to identify disengaged students according to set criteria and contact them via email.
Monitor student progress across assessment tasks
Professor Blake McKimmie shares his tips for using Course Insights to determine how particular cohorts of students are performing across each assessment task (YouTube, 1m 38s).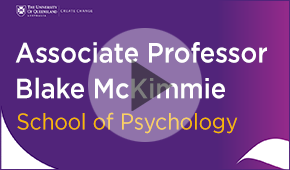 View Grade Centre by tutorial, seminar and practical groups
Smart Views allow you to easily filter your Grade Centre to speed up the entry of marks and checking of student submissions. This video (YouTube, 2m 19s) shows you how to use Smart Views for your contact, tutorial, practical or seminar groups.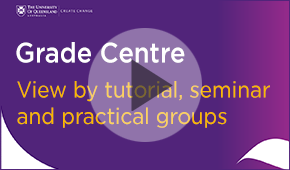 What's on
eLearning training (self-paced)
eLearning webinars (Zoom)
View all eLearning workshops and webinars >>
Other events and courses
Communities of Practice
Teaching and learning support
eLearning support
For technical support with central eLearning tools, email eLearning support.
eLearning Advisers
For tailored advice by qualified teachers on using eLearning tools, including how to select and configure learning technologies. Book a Zoom consultation with an eLearning adviser.
Workshops
Self-paced online workshops are available for a variety of systems and tools. eLearning advisers are available to deliver custom workshops in your school or faculty. Organise a custom workshop.
Teaching support
ITaLI staff are available to offer pedagogical advice. Please contact itali@uq.edu.au or book a 30-min Zoom consultation..
Teaching career development support
ITaLI staff can provide help on developing your career and achieving recognition for your teaching practice. Please contact itali@uq.edu.au or book a 15-min Zoom consultation.
Learning designers
For faculty/school-level support, please refer to the list of learning designers in your area.