Blackboard Instructor app
Support for the Blackboard Instructor app ends in September 2022. The Blackboard app and the Blackboard Instructor app are being consolidated into a single app for both instructors and students. Any staff wishing to continue using the app should download and use the updated Blackboard app.
File upload indicator
An upload indicator has been added to the most common Learn.UQ areas where users upload files. The upload indicator will be displayed after the user clicks on the 'Submit' button on the following pages: 
Assignment submission 
Content item 
Discussion board thread or reply.
Course Insights – contact students based on assessment data
Course Insights, UQ's own course-level learning analytics dashboard, is available to all course coordinators via Learn.UQ. The Assessment section allows staff to view students' academic performance and the Course Insights filter can identify students who do not perform well in an assessment task so staff can contact them to provide additional instruction or support.
UQ Higher Ed Debate Series
ITaLI and the UQ Union are hosting a new series of debates around controversial topics in higher education. Upcoming debate topics include That we should abolish SECaTs (31 August) and That we should implement 48-hour automatic extensions (26 September). Staff and students are welcome to attend – registration is free and includes pizza.
Staff Academic Integrity Module (SAIM)
The Staff Academic Integrity Module (SAIM) has been redeveloped to reflect the progress that has been made by the Academic Integrity Working Party and UQ's response to existing and emerging threats to academic integrity. All academic and professional staff are encouraged to complete this module which will be recognised in Workday.
Ready to Teach Week: how the Library can help you create better resources
The Library provides training, support material and services to assist staff with creating and checking the accessibility of resources for all students. If you missed the Library resources session during Ready to Teach Week, you can now watch the recording (YouTube, 26m 4s).
Support for teachers
Lecture recordings – are students watching? 
Analytics on student engagement with lecture recordings are available. Staff now have access to information on the number of views of individual recordings and a breakdown of individual student engagement with all available recordings.
Turnitin assignment creation
Are you creating a Turnitin assignment this semester? This guide will walk you through the process of setting up a Turnitin assignment for the submission of text-based assignments (i.e. PDF, Word and PowerPoint files).
Online assignment submission and marking 
Online assignment tools facilitate efficient and reliable assignment submission for students and marking for teaching staff. Assignments are immediately available to teaching staff for marking and, once marked, are quickly available to students for reflection.
Grades security tip: secure your computer
Secure student grades by manually locking your UQ computer when you leave your desk or office.
Custom workshops for teaching staff, tutors and professional staff
Custom workshops on centrally supported eLearning tools are available by request for faculties, schools and individual courses. Sessions are delivered via Zoom or face-to-face.
Learn more and book a workshop >>
Communicate and collaborate online – Digital Essentials 
The Communicate and collaborate online module (part of Digital Essentials) introduces students to discussion forums, email etiquette and collaboration tools for group assignments. It is designed to be embedded into courses so students are provided with timely information as they need it.
Course site design tips – assessment 
The Teaching and Learning Committee endorsed course design guidelines recommending that each individual assessment has its own folder in the Assessment area of the course site. The first item in the folder should be the submission link, followed by the relevant student instructions.
Inspera end-of-semester exam
See how Dr Georgina Clutterbuck used Inspera Assessment to run the end-of-semester exam in her third year physiotherapy course (YouTube, 3m 34s).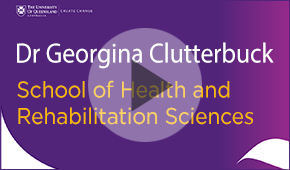 What's on
eLearning training (self-paced)
eLearning webinars (Zoom)
View all eLearning workshops and webinars >>
Other workshops and information sessions
Communities of Practice
External events
Teaching and learning support
eLearning support
For technical support with central eLearning tools, email eLearning support.
eLearning advisers
For tailored advice by qualified teachers on using eLearning tools, including how to select and configure learning technologies. Book a Zoom consultation with an eLearning adviser.
Workshops
Self-paced online workshops are available for a variety of systems and tools. eLearning advisers are available to deliver custom workshops in your school or faculty. Organise a custom workshop.
Teaching support
ITaLI staff are available to offer pedagogical advice. Please contact itali@uq.edu.au or book a 30-min Zoom consultation.
Teaching career development support
ITaLI staff can provide help on developing your career and achieving recognition for your teaching practice. Please contact itali@uq.edu.au or book a 15-min Zoom consultation.
Learning designers
For faculty/school level support, please refer to the list of learning designers in your area.