Student Multi-Factor Authentication
UQ is serious about protecting student and staff privacy, continuing this commitment through enabling Multi-Factor Authentication (MFA) for students throughout Semester 2 2022. For most, this is done using the Duo Mobile app on a smartphone. Where this is not possible, alternatives are available.
Please register school-based exams
Course Coordinators planning to run school-based exams need to please register key information, to make it possible for The Library to provide student support. Students sitting these exams outside official exam periods may otherwise be without support.
SECaT action items
A reminder to Course Coordinators that all ECP data should be finalised by Friday 2 September. After this date, the Evaluations Team will use ECP data to create SECaT surveys. Any course with a listed Course Coordinator in the ECP will result in a SECaT course survey. Any teacher listed in a 'Lecturer' or 'Associate Lecturer' role in the ECP will result in a SECaT teaching survey.
Interim-class student feedback
To foster feedback culture, UQ is promoting the adoption of eLearning tools for 'interim-class student feedback' as a replacement for the previous 'check-in survey'. This will enable Course Coordinators to check in with students, receive timely feedback and implement evidence-based changes that will make a difference to the current cohort before their course finishes.
Academic Integrity Modules (AIM) for students
The University strongly recommends that course coordinators encourage students to complete the compulsory Academic Integrity Modules (AIM) before submitting their first assessment task. The modules explain to students the concept of academic integrity and how to maintain the highest standards in their own work.
Marking handwritten assignments with Gradescope
Associate Professor Hassan Khosravi describes how he uses Gradescope to improve the efficiency of marking handwritten assignments and exams.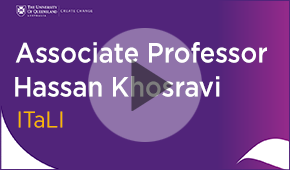 Control the release of results
During marking or moderation, you may not be ready for students to see their results. To control the release of results from Turnitin, Blackboard assignments and tests you need to carefully set both the individual tool settings and the Grade Centre column settings (hide from students on/off).
Choosing the Right Tool - Digital Essentials module
The Choosing the right tool module helps students to find tools for specific tasks and comparing similar tools to find the best match. It is designed to be embedded into courses so students can find the information when they need it.
Learn more about the module >>
Course Insights – How engaged are your students?
Course Insights is UQ's own course-level learning analytics dashboard, available to all course coordinators via Learn.UQ. The Engagement section provides staff with information about student engagement in Learn.UQ and UQ Extend and identifies disengaged students to contact prior to the census date.
Turnitin tips
Turnitin assignment creation process
A new video has been created to walk staff through the process of setting up a Turnitin assignment for the submission of text-based assignments (i.e. PDF, Word, and PowerPoint files), including rubric options and recommended settings.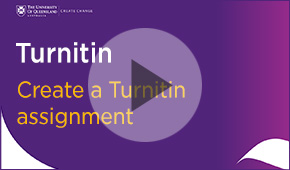 Interpreting a Turnitin Similarity Report
The Turnitin Similarity Report compares submissions with web content, previously submitted assignments and journals. Turnitin conducted an Interpreting a Turnitin Similarity Report webcast (42m 28s) with Senior Lecturer Dr Ann Rogerson at the University of Wollongong to assist academics with understanding the reports. 
Reminder: Open Course Scheme
The Open Course Scheme (OCS) provides opportunities for staff to attend and observe a class from a selection of courses that are made 'open' to UQ staff.
See the list of courses and book your spot >>
What's on
eLearning training (self-paced)
eLearning webinars (Zoom)
View all eLearning workshops and webinars >>
Other events and courses
Communities of Practice
External events
Teaching and learning support
eLearning support
For technical support with central eLearning tools, email eLearning support.
eLearning Advisers
For tailored advice by qualified teachers on using eLearning tools, including how to select and configure learning technologies. Book a Zoom consultation with an eLearning adviser.
Workshops
Self-paced online workshops are available for a variety of systems and tools. eLearning advisers are available to deliver custom workshops in your school or faculty. Organise a custom workshop.
Teaching support
ITaLI staff are available to offer pedagogical advice. Please contact itali@uq.edu.au or book a 30-min Zoom consultation.
Teaching career development support
ITaLI staff can provide help on developing your career and achieving recognition for your teaching practice. Please contact itali@uq.edu.au or book a 15-min Zoom consultation.
Learning designers
For faculty/school-level support, please refer to the list of learning designers in your area.