Create a Zoom Meeting Area in your Learn.UQ Course Site
Create a Zoom Meeting Area
Navigate to desired location within your Learn.UQ course site where you wish to place the Zoom Meeting Area.
Hover over Tools > More Tools and select Zoom from the drop-down menu.
Enter a Link Name (e.g. Online Tutorials).
Add a description in the Text textbox outlining what Zoom will be used for (i.e. Click on the above link to access the Online Tutorials via Zoom). 
Click on the Submit button.

Click and drag the Zoom Meeting Area link directly below the Lecture Recordings link in the Learning Resources folder.
Video Walkthrough
Schedule a Zoom Meeting
Click on the Zoom Meeting Area link in your Learn.UQ course.
Zoom will launch automatically within Learn.UQ.

Click on the Schedule a New Meeting button to schedule a single or recurring Zoom meeting within your Learn.UQ Course.
Note: Any meetings scheduled through the Zoom Meeting Area will have a unique ID based on your course. 

Enter a title in the Topic textbox (i.e. Weekly Online Tutorials).
Select a time and date for the meeting. 
Select a duration for the meeting.
Optionally, select the Reccurring meeting checkbox and the appropriate settings.

Select the off radio button for both  Host and Participant video to ensure all webcams are off when the meeting begins.
Select Both in the audio options to allow students to join via both telephone and computer audio.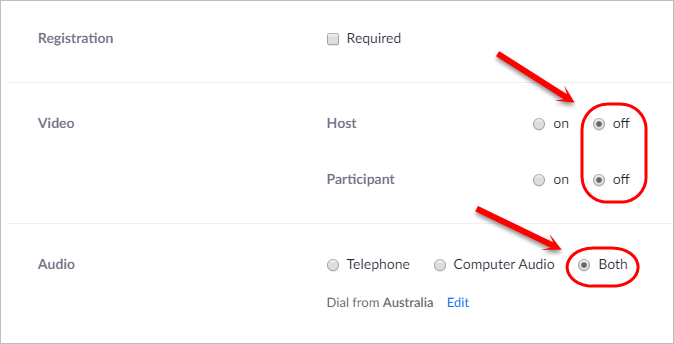 Check the Enable join before host checkbox to allow students to enter the meeting prior to the host.
Check the Mute participants upon entry checkbox to ensure students' microphones are off when they join the meeting.
Optionally, check the Record the meeting automatically checkbox and select In the cloud to automatically record the meeting. 
Click on the Save button.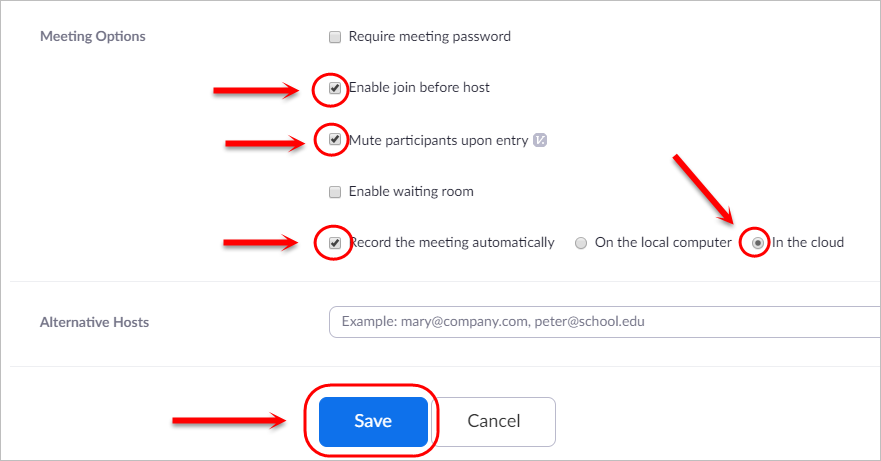 The meetings will then be scheduled and can be access through the Zoom meeting link in your Learn.UQ course.
Note: Students will only be able to view any Zoom meetings you create within your Learn.UQ course using this method. Any other meetings scheduled separately through the Zoom application or web interface will not appear in this list for students.