Monday 6 May
New ePortfolio External Assessor Guide
A new UQ specific text and video Quick Start Guide for External Assessors is now available. The guide provides step-by-step instructions on how external assessors can access student evaluations and provide feedback. Note, a link to this guide is included in all emails to external assessors.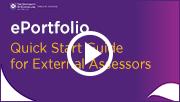 Active Learning Platform (ALP) Pilot - Volunteers Needed
Volunteers are needed to pilot training resources and support services for new functionality now available in Echo360, UQ's lecture recording system. The Active Learning Platform (ALP) provides a range of functionality to facilitate class engagement and participation. For example, you can add polls and open-ended questions to lecture slides uploaded to the system, which students can respond to in real-time during a lecture using their own smart devices. For more information, please refer to the Echo360 ALP Deployment project page. 
All pilot volunteers will be provided with technical and implementation support from an eLearning Advisor. If you are interested in volunteering for the Active Learning Platform (ALP) pilot, please email elearningtraining@uq.edu.au.
Learning Analytics Dashboard Pilot - Volunteers Needed
Teacher Insights is a course-level academic facing learning analytics dashboard that provides information on student cohort demographics, online engagement and assessment results. Teacher Insights is currently being piloted in UQ2U courses. The ITaLI Learning Analytics team will continue to develop and pilot this tool during Semester 2 with the deployment of the tool to all courses planned for 2020. If you would like to participate in the Teacher Insights dashboard pilot in Semester 2, 2019, please email learninganalytics@uq.edu.au.
In the following video, Mr Carl Sherwood discusses how he uses Teacher Insights to inform his teaching. For more information, refer to the Teacher Insights tool page (YouTube, 2m 55s).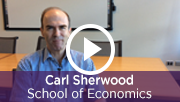 Digital Essentials Online Student Training Modules
The Digital and Assignment Essentials modules are designed to be embedded into courses so students can find the information they need, when they need it. It would be beneficial to direct students to explore the Working with data (data sources, cleaning data, data analysis, presenting data) and Writing for the web (writing for online audiences, producing online content) modules this week. For more information, please refer to the Digital Essentials web page. Library staff are readily available to assist you.
Learn.UQ Upgrade 2019
The Learn.UQ (Blackboard) upgrade for 2019 will occur on 6, 7, 8 July (Sat/Sun/Mon) where Monday will hopefully not be required. Upgrades are contractual requirements for supportability and security. Upgrades also provide important new functionality. For further information, refer to the Blackboard (Learn.UQ) Upgrade project page.

Do not implement Force Completion on Tests
Enabling "Force Completion" in a test's settings causes premature submission whenever a student's internet connection is interrupted. Coordinators are reminded not to use this setting. Guides with recommended settings are available for different types of tests. For step-by-step instructions, refer to the Formative test (quiz), Non-invigilated Summative test or Invigilated Summative test guides.
Do not use Delegated Grading on Blackboard Assignments
Due to known issues with the Delegated Grading feature, it is not a recommended setting for Blackboard assignments. For step-by-step instructions, refer to the Create an Assignment - Individual and Create an Assignment - Group guides.
Student guide to viewing and downloading results 
Students can experience difficulties in accessing their grades and viewing feedback once this information has been released. For step-by-step instructions, refer students to the View and download your Blackboard results, View Turnitin originality report and marks and ePortfolio Reviewing Results guides on the Library website.

Record reasons for mark changes
The Learn.UQ (Blackboard) Grade Centre allows you to add a comment when you change a mark. These comments are then included in the Grade History which you can view at the end of semester to confirm validity and check for errors before transferring your grades to SI-net. 
The video below provides a walkthrough of how to edit a mark and record a reason (YouTube, 2m 22s).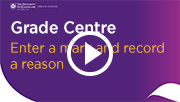 ITaLI eLearning Workshops
The eLearning team are offering a range of professional development workshops to support staff in implementing Technology Enhanced Learning during 2019. For a description of each workshop, dates and to register, visit the Staff Development / Teaching and Learning Technologies site. 
Upcoming workshops include:
ITaLI Teaching and Learning Workshops
eLearning Solutions Service
The eLearning Solutions Service offers one-on-one consultations to course coordinators on the integration of eLearning tools into their courses. The service currently supports a range of eLearning tools, all of which can be found on the eLearning Solutions Service webpage. All eLearning Educational Advisors have either a BEd or GradDipEd. Staff can nominate for the eLearning Solutions Service by booking via the appointments webpage to organise an individual consultation at your office.
Request Support
To receive a quick response to your eLearning support request, log a job with eLearning Support using help@learn.uq.edu.au. Alternatively, you may use the Request Support button available inside Learn.UQ.
To enable a timely response please be sure to include as much information as possible with your request.