eLearning systems and tools
Ready to Teach Week (2–4 February) – program now available
Get ready to teach in 2021 with three days dedicated to focused and structured online and in-person activities. This event is designed by staff from across UQ to support you to prepare engaging online and on-campus classes, enhance your assessment and get your course site and administration in shape.
Computer generated captions for Kaltura videos
Captioning is a simple way to improve the accessibility of your video content and is recommended when you upload new videos. Research indicates captioning is especially useful for English as a Second Language (ESL) students, but also effective for all students. While accuracy is typically around 80%, you can edit captions to improve accuracy or add information. If you are recording to a script, the script can also be uploaded. Students have the option to display captions when watching the video.
Online mini lectures
Kaltura Capture allows you to produce online lectures that include screen recordings, narration, webcam videos and formative quizzes. This can free up your lecture time for a high-value active learning experience. For a one-on-one tutorial on Kaltura Capture, visit the eLearning Solutions Service web page and book an appointment with an eLearning Adviser.
Visit the Kaltura Capture tool page >>
UQ ePortfolio system
Are you looking to design flexible assessment tasks to support students' preferences and capabilities? Interested in linking coursework to employability development? UQ's ePortfolio system allows student-driven assessment and provides flexible rubric design. With mapping capabilities to a desired outcome framework, students can track their development over time. 
Online teaching and assessment
Kahoot! quizzes
Learn how Dr Sara Herke (School of Mathematics and Physics) uses Kahoot! quizzes to energise students and calibrate learning.
Watch the video (YouTube, 4m 33s)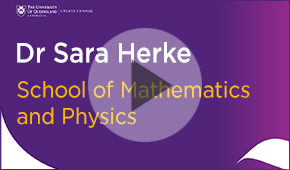 Featured resources
Learn.UQ course site design
Watch this video (YouTube, 3m 57s) to understand the main features of UQ's course site design guidelines.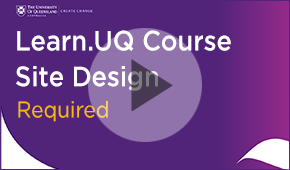 Top 7 Learn.UQ course site design tips
As we approach Semester 1, check out our Top 7 Learn.UQ course site design tips.
Grade security tips
Compared to spreadsheets, the use of a central system – such as Learn.UQ (Blackboard) Grade Centre – improves the security of students grades thanks to features such as logging and activity monitoring. You can improve grades management and security by applying the following guidelines:
Follow general computer security guidelines such as using strong passwords.
Record reasons for any changes made to marks or grades.
Review the history of marked changes to identify potential manipulations and errors before transferring grades to SI-net.
Visit the Grades security web page >>
What is your (cyber and data safety) New Year's resolution?
The beginning of the year can be a time to reflect and improve – even for cyber and data safety. This article outlines five simple resolutions you can make to help protect you, your family and UQ.
What's on
Setting up for a successful semester workshop
Ensure your semester is successful by setting up a few key items for effective course management. This workshop is aimed at those new to teaching at UQ and is held before Electronic Course Profiles (ECPs) are due.
Course Insights co-design workshops
A new series of Course Insights co-design workshops is being offered throughout January and February. Register for a workshop or book an appointment with the Learning Analytics team.
eLearning training (self-paced)
eLearning webinars
eLearning face-to-face workshops
Webinars and workshops
Teaching and learning support
eLearning support
For technical advice on central eLearning tools, log an eLearning tool support request.
eLearning advice
For tailored advice by qualified teachers on using eLearning tools, including how to select and configure learning technologies, book a consultation with an eLearning Adviser.
Workshops
eLearning Advisers are available to deliver custom workshops for your school or faculty. Organise a custom workshop.
Teaching support
For personalised teaching advice and support from ITaLI staff, contact itali@uq.edu.au or book a 30-min Zoom consultation.
Learning design
For faculty/school level support, please refer to the list of learning designers in your area.