Kaltura Capture - Adding Captions
Adding Captions
Kaltura Capture allows you to add captions to recordings via My Media once it has been uploaded.
Login to Learn.UQ (Blackboard)
Select the My Media link.
Select the video link or thumbnail that you would like to order captions for.
Select Actions, then Order Captions.
Ensure Source Media Language is English.
Select Order Captions.
Once ordered, you can check on the status of the Caption Request by selecting the Refresh list: CLICK HERE to see all Caption Requests for this media link. The Status displays what stage of the Caption Request is currently at.
.
The video's Status will display as COMPLETE once enough time has elapsed and the refresh link is clicked.
Note: Longer video's Caption Request might take longer to process.
Editing Captions
After captions have been ordered, it is recommended you watch the video to see if the captions are accurate. In the event they are not, you can edit them.
In My Media, select the video link or thumbnail that you would like to edit captions for.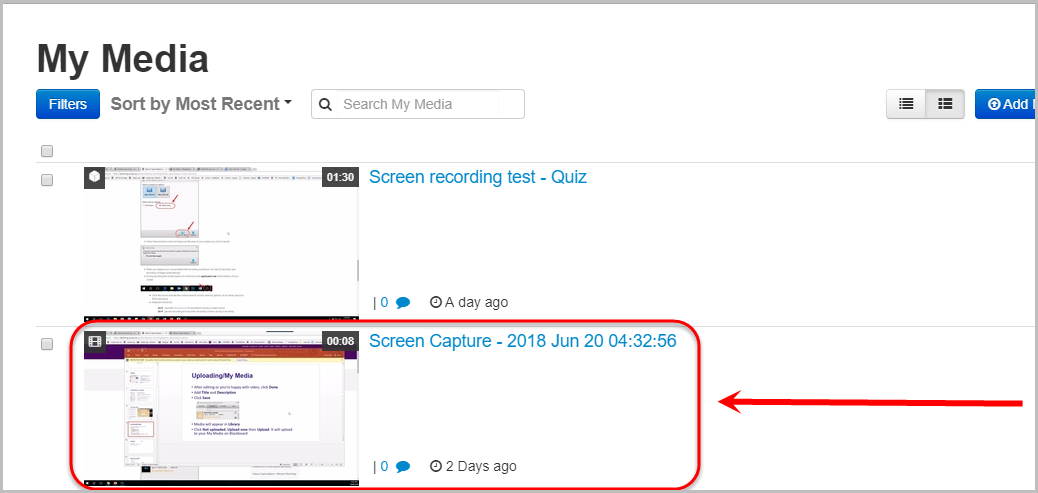 Select Actions, then Caption Requests.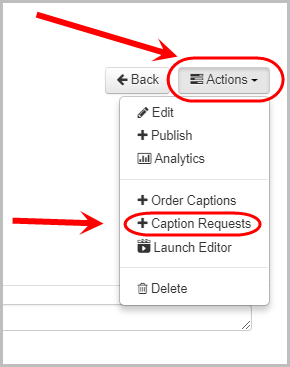 Select Edit.

In the new screen, the section on the left displays the caption box in the order it appears in the video. Select a box to turn it yellow and a timestamp will appear on where it appears in the video.
​Note: Doing so will show a preview of that section in the video preview.

In the middle section, you can edit the captions to make it more accurate by highlighting the text and amending it.
Note: This will also show the duration of the captioned section in the green bar.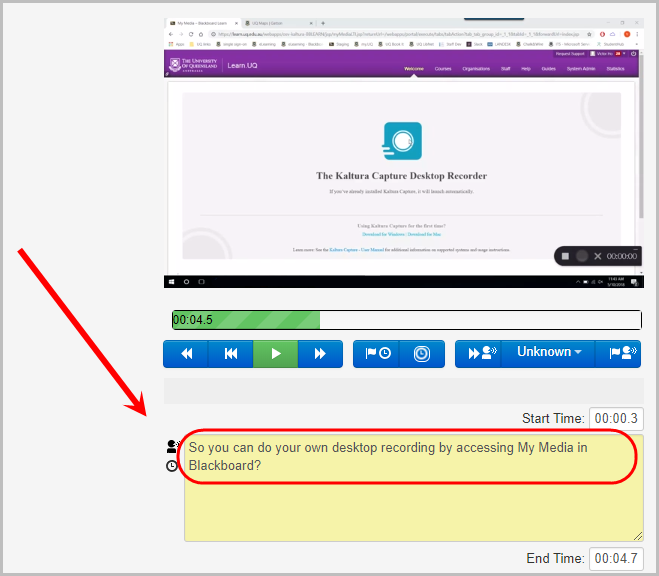 After amending a caption, it is recommended that you Save your work.
​

Once all captions have been amended, select Approve.

Tip: Watch the video again to ensure captions are accurate.
Upload Manually-Created Script
Access My Media via Blackboard.
Select the video that you would like to upload the manuallty-created script for.
Note: Do not select the Edit button as it does not include the function to add captions.
Select Actions, then Edit.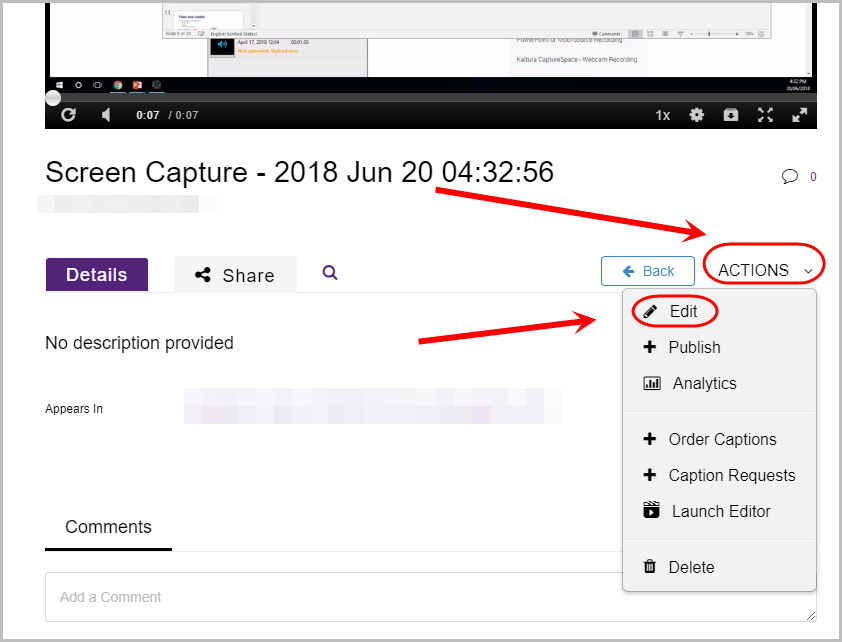 Select Captions then the Upload captions file button.

In Select a file:, select the Browse… button.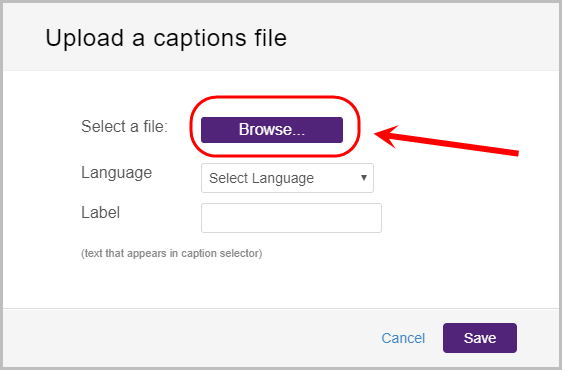 Select the required file then select Open.
Note: The required file must be in SRT format.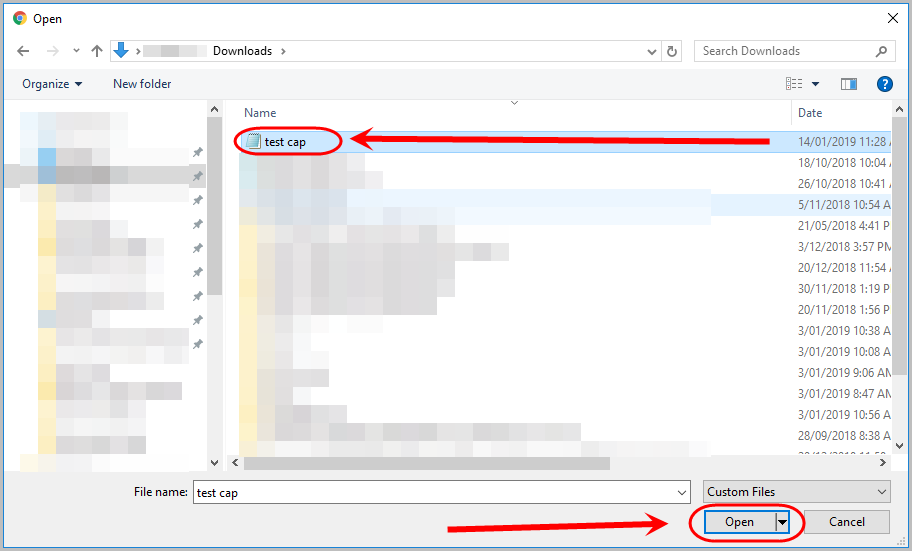 Select English from the Language drop-down menu.
In Label, type in the name of the transcript.
Select Save.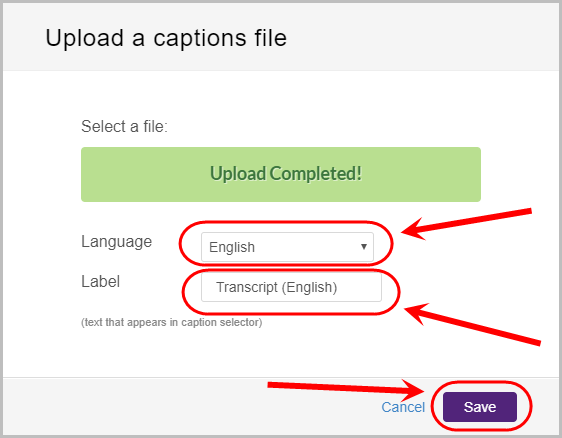 .Once uploaded, the caption information is now visible along with the Actions:

Set as Default: Select if there are more than one caption files from the list and that caption will appear as the default.

Note: The default caption will have a black tick under Actions.

Edit: Select if you would like to edit the caption file.

Note: If changes were made, the save icon under Actions needs to be selected.

Delete: Select if you would like to delete the captions file.
Download: Select if you would like to download the captions file as an SRT file.