Learn.UQ upgrade complete
The migration from Learn.UQ (Blackboard) to Blackboard Learn SaaS by the ITS Enterprise Support Operations and ITaLI eLearning Systems and Support teams is complete. We appreciate your patience while the teams continue testing and work to resolve potential issues.
Visit the upgrade project web page >>
New Text Editor
With the upgrade, the Text Editor's display and options have changed to streamline the entering of information.
2021 eLearning workshops
The eLearning team are offering a range of practical workshops on eLearning tools during 2021. Details of each workshop, including dates and registration, are available on the Staff Development website.
Custom workshops for teaching staff, tutors and professional staff
Custom workshops on centrally supported eLearning tools are available by request for faculties, schools and individual courses. Sessions are delivered via Zoom. Contact elearningadvisers@uq.edu.au with details of the preferred date, time and approximate numbers.
Order your Semester 1 course site now
Request your Learn.UQ (Blackboard) course site now for Semester 1, 2021 by:
Using the Course/Organisation Site Request Form located under the 'Staff' tab in Learn.UQ. This form also allows you to request a copy of course content from a previous semester.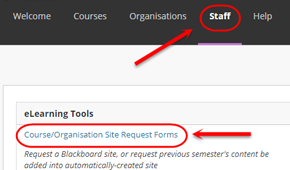 OR
Publishing your Electronic Course Profile (ECP) for a blank course template to be created automatically within 48 hours. For content to be copied, request a 'copy' through the Staff tab mentioned in the previous step.
Step-by-step instructions are available in the Course requests guide.
See the Course requests guide >>
Top 7 Learn.UQ course site design tips
As we approach Semester 1, why not familiarise yourself with our Top 7 tips for Learn.UQ course site design?
Learn.UQ course site design
Watch this video (YouTube 3m, 57s) to learn about the main features of UQ's course site design guidelines.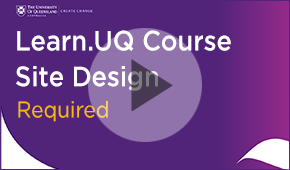 Grade Centre
Grade Centre allows you to record and view marks from online tests, Turnitin assignments, Blackboard assignments, Discussion Boards and the UQ ePortfolio system. When you create an assessment item in Blackboard, a column will be automatically created.
View Grades management tools >>
UQ ePortfolio system - Semester 2, 2021
The UQ ePortfolio system allows students to digitally showcase their work and skills, helping them understand and communicate their employability. The system facilitates the tracking of student learning and development at the course and program level, as well as supporting collaborative, multi-modal and reflective assessment practices.
What's on
eLearning training (self-paced)
eLearning webinars
eLearning face-to-face workshops
ITaLI webinars and workshops
Teaching and learning support
eLearning support
For technical support with central eLearning tools, email UQ eLearning support. 
eLearning advisers
For tailored advice by qualified teachers on using eLearning tools, including how to select and configure learning technologies. Book a Zoom consultation with an eLearning adviser. 
Workshops
eLearning advisers are available to deliver custom workshops in your school or faculty. Organise a custom workshop.
Learning designers
For faculty/school level support, please refer to the list of learning designers in your area.