Tuesday 12 June
Order your Semester 2 courses now
You can request your Learn.UQ course for Semester 2, 2018 now!

1. Use the online Site Request form located on the Staff tab in Learn.UQ. This form also allows you to request a copy of course content from a previous semester.

OR
2. Publish your Electronic Course Profile (ECP) for a blank course template to be created automatically within 48 hours. For content to be copied, request a 'copy' through the Staff tab mentioned above.
For step-by-step instructions refer to the guide on Course Requests.
Kaltura Video Storage Management
To accommodate increased usage of Kaltura video assessment submissions, a process will shortly be implemented to delete old and unused video content. Content which is greater than 12 months old and never published will be deleted, as well as content which is greater than 4 years old and not played in the previous 2 years. Content owners will receive 2 personalised email warnings with links to the content. This will give owners the opportunity to download content to personal devices. For more information, visit the Kaltura Video Storage project page.
Lecture Recordings - Decommissioning of legacy system
Following the successful migration to the new cloud based lecture recording system, the legacy system will be decommissioned on 16 December, 2018. This means that if you would like to keep material that was recorded in Semester 2 2017 or earlier, it is important these files are downloaded before November and uploaded to the new system if required. To do so, follow the instructions available on the eLearning webpage. 
Please note that following the decommissioning, available recorded material will remain accessible to staff and students in the Learn.UQ course archive system to meet availability requirements.
If you are using desktop recording (PCAP) you will also need to update your recording software to upload to the cloud system. If your recording was dual screen and you want to keep both screens, please contact help@learn.uq.edu.au. 
UQ ePortfolio system - Semester 1, 2019
The UQ ePortfolio system allows students to digitally showcase their work, helping them understand and communicate their employability. The system facilitates tracking student learning and development at course and program level, over time, as well as supporting collaborative, multimodal and reflective assessment practices.
The project team is currently engaging with program leads and course coordinators interested in using the ePortfolio system from the start of Semester 1, 2019 and Semester 2, 2019. To request a meeting to discuss potentials for your course or program, go to the UQ ePortfolio tool page, and choose Request to Meet. Requests for using UQ ePortfolio in Semester 1, 2019 close 20 July.

Finalise results
Watch the video below for a step-by-step walkthrough of how to finalise your results using the Grade Centre. Watch video (8m 40s).
Top 5 Finalising grades tips
Tip 1: Check column settings - Points possible
In Grade Centre check the Points Possible setting for each assessment column is set to the item total i.e. not zero. For step-by-step instructions refer to the guide Create Grade column.
Tip 2: Total and Weighted total columns
Calculated columns in Grade Centre can be used to calculate finalised results without the need of a spreadsheet. Ensure that you select No for the Calculate as Running Total setting, so cells without marks (i.e. no submission) are included in the calculation with the value of zero. For step-by-step instructions refer to the guides Total Column and Weighted Column.
Tip 3: Check history of mark changes
The Grade Centre logs a record of all changes made to marks during the semester. At the end of semester, you can use the View Grades History tool to produce a report that shows all changes and comments, to confirm validity and check for errors. For step-by-step instructions refer to the guide Grade History Report.
Tip 4: Grade Schema
In Grade Centre, a Grade Schema can be set up to automatically allocated 1-7 grades based on percentage boundaries. For step-by-step instructions refer to the guide Create a Grade Schema (1-7 grades).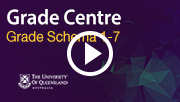 Tip 5: SI-net merge tool
Use the SI-net merge tool which allows you to download Grade Centre marks to a spreadsheet in the correct format for upload to SI-net. For step-by-step instructions refer to the guide Upload Grades to SI-net.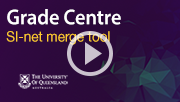 Direct upload of MCQ's
Do you have MCQ's in your final exam? If so, you can directly upload marked MCQ test results to Grade Centre. The video steps you through how to upload paper based MCQ test results to Grade Centre using the provided results spreadsheet. Watch video (8m 12s).

Control the release of marks
During marking or moderation, you may not be ready for students to see their results. To control the release of results from Turnitin, Blackboard Assignments and Tests you need to carefully set both the individual tool settings and the Grade Centre column settings (Hide from Students on/off). For step-by-step instructions refer to the guides on Turnitin, Blackboard assignments and Tests.

Blackboard Upgrade
Blackboard will be upgraded over the weekend of 7 and 8 July and will be unavailable for the duration. There will be some new features including an update of the maths editor, and improvements in accessibility. The Blackboard (Learn.UQ) Upgrade project page has more information.
Blackboard Staging Available
The Blackboard Staging environment is ready for end-user testing. Login using your UQ username and password to access any existing courses where you may try out some new features and test any common workflows. A summary of new features can be found on the Blackboard Upgrade project page. Please send any feedback or issue reports to help@learn.uq.edu.au.

eLearning Workshops
The eLearning team are offering a range of practical workshops on eLearning tools during 2018. For a description of each workshop, dates and to register, visit the Staff Development / Teaching and Learning Technologies site. Upcoming workshops include:
Learn.UQ: Quizzes, Tests and Exams, 9:30am - noon, 3 July, St Lucia
Learn.UQ Basics, 9:30am - noon, 4 July, St Lucia
Turnitin, 10:00am - noon, 5 July, St Lucia
ITaLI Workshops
Propel your teaching with professional development workshops
Setting Up for a Successful Semester
This course provides tips and tricks for how to best use Electronic Course Profiles (ECP) and the Learn.UQ site to minimise time spent on administration, as well as examples of implementing a communication strategy and managing student expectations. To register for the workshop on 18 June, please visit the Staff Development website.
Active Learning Symposium
The HASS Faculty Active Learning Pathways project (ALPP)'s Active Learning Symposium is where you can hear from about 15 active learning initiatives developed and implemented by academics from all Schools across the Faculty of Humanities and Social Sciences. To register for the 6 July symposium, please visit the Active Learning Pathways webpage.
Posters and Collaboration pitches for QUES 2018
Staff are invited to submit an Expression of Interest to share innovative teaching practice at the 2018 Queensland University Educators Showcase (QUES) which will be held at the University of the Sunshine Coast, Sippy Downs campus. The showcase celebrates and shares practice from teaching and learning university educators, and building networks across Queensland universities. To pitch a collaboration, visit QUES Call for Proposals while registration to the event can be found at the QUES registration page.
Upcoming ITaLI Masterclass
From learning lab to the classroom: Evidence-informed design for learning
Transforming research into teaching practice in a higher education context can be difficult. Join Associate Professor Jason Lodge (SLRC) in this Masterclass to learn about a design approach for evidence-based practice where blended learning delivery examples will be discussed. For more information, please visit the Teaching Masterclass page.
Request Support
To receive a quick response on your eLearning technical problem, log a job with the UQ Staff eLearning Helpdesk using help@learn.uq.edu.au. Alternatively, you may use the Request Support button available inside Learn.UQ.
To enable a timely response please be sure to include as much information as possible with your request.