Tuesday 1 May 
Try the Office Mix Replacement
Kaltura CaptureSpace is the recommended desktop recording software to replace Office Mix  which was recently retired by Microsoft. CaptureSpace allows you to produce videos which include voice-over-PowerPoint, screen recordings and webcam. Recordings are then available through My Media in Learn.UQ (Blackboard). For step-by-step instructions, refer to the guides on Desktop Recording.
Experience an ideal Learn.UQ Course Site
Can you imagine an ideal Learn.UQ (Blackboard) course with all the recommended guidelines implemented? Relax; now you don't have to. You can self-enrol in our model course site and immerse yourself in a best practice experience. Thanks to Dr Josephine Previte, UQ Business School, granting her permission and collaborating in the development, the model Blackboard course site is based on her second year marketing course in Consumer Behaviour. Enrol yourself today at Course Site Design Exemplar and see how it improves content accessibility for students.
A Site Licence for Padlet? 
UQ is considering the purchase of Padlet Backpack, a site licence for Padlet. Padlet allows students to submit images, videos, free text responses to an instructor's questions on a "virtual wall" (webpage). The site licence allows the creation of an unlimited number of "walls" and the uploading of larger file sizes then the free version. If you currently use Padlet, please provide feedback on how you use the software to improve teaching and learning in your course and if you support the purchase of a site licence. For courses where you are using Padlet please supply course codes and student numbers. Your feedback can be sent to elearningtraining@uq.edu.au.
2018 Learn.UQ upgrade Saturday 7 July - Sunday 8 July
The 2018 Blackboard upgrade has been approved for Saturday 7 July and Sunday 8 July. Blackboard will be unavailable on those days. These dates fall in the mid-semester vacation period, and are at the end of the Universities Australia common vacation week. This upgrade offers new features, as well as improvements to existing features. For further information refer to the Blackboard Upgrade project page.
Lecture Recordings - Decommissioning of legacy system
Following the successful migration to the new cloud based lecture recording system, the legacy system will be decommissioned on 16 December, 2018. This means that if you would like to keep material that was recorded in Semester 2 2017 or earlier, it is important that you download these files before November and upload to the new system if required. To do so please follow the instructions available on the eLearning web page. 
Please note that following the decommissioning, recorded material will remain accessible to staff and students in UQ Archive to meet availability requirements.
If you are using desktop recording (PCAP) you will also need to update your recording software to upload to the cloud system. If your recording was dual screen and you want to keep both screens, please contact help@learn.uq.edu.au. 

Do not implement Force Completion on Tests
It is recommend course coordinators DO NOT implement the Force Completion option in tests as the setting causes student tests to submit prematurely if their Internet connection drops out. Guides with recommended settings are available for different types of tests. Refer to the Formative test (quiz), Non-invigilated Summative test or Invigilated Summative test guides.
Do not use Delegated Grading on Blackboard Assignments
Due to known issues with Delegated Grading it is recommended that this feature is NOT used for Blackboard assignments. For step-by-step instructions, refer to the guides on Create an Assignment - Individual and Create an Assignment - Group.

Record reasons for mark changes
The Blackboard Grade Centre allows you to add a comment when you change a mark. These comments are then included in the Grade History which can be viewed at the end of semester to confirm validity and check for errors before transferring your grades to SI-net. For step-by-step instructions refer to the guide on Edit a mark and record a reason.
The video below provides a walkthrough of how to edit a mark and record a reason (2.22mins).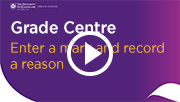 Learn.UQ Migration Resources
To support course coordinators to use the new Learn.UQ (Blackboard) template and course design guidelines, a number of resources are being produced. For more information, refer to the Learn.UQ Migration Resources project page.
Corporate Training Platform
eLearning Systems and Support are currently reviewing platform options for delivering online corporate and compliance training.  For more information, please refer to the Corporate Training Platform project page.

eLearning Workshops
The eLearning team are offering a range of practical workshops on eLearning tools during 2018.  For a description of each workshop, dates and to register, visit the Staff Development / Teaching and Learning Technologies site. Upcoming workshops include:
Custom Workshops for Teaching Staff, Tutors and Professional Staff
Custom workshops on centrally supported eLearning tools are available on request for faculties, schools and/or courses. Course coordinators need only book a meeting room and organise attendance, laptops are provided for the sessions. Contact elearningtraining@uq.edu.au with details of the preferred date, time, room booking and approximate numbers. Popular workshop options include:
Turnitin Online Marking for Tutors
Blackboard Group Assignments Online Marking for Tutors
ePortfolio Online Marking for Tutors
UQ Active Learning tools for Tutors
Learn.UQ Grade Centre
Register for ITaLI Teaching Toolkit Rummage
See what other UQ teachers are up to and find an innovative teaching tool or strategy to adopt at the Teaching Toolkit Rummage this Friday 4 May, 1-4pm. You can find the program of all presenters here. Please register here.
Request Support
To receive a quick response on your eLearning technical problem, log a job with the UQ Staff eLearning Helpdesk using help@learn.uq.edu.au. Alternatively, you may use the Request Support button available inside Learn.UQ.
To enable a timely response please be sure to include as much information as possible with your request.