15 May 2018
Course Site Design - New Resource
The new Learn.UQ template and course design guidelines were introduced this semester. The video below walks you through the main design features.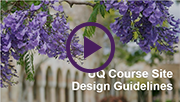 Kaltura Video Storage Management
To accommodate increased usage of Kaltura video assessment submissions, eLearning Systems and Support will shortly implement a process to delete old and unused video content. Content which is greater than 12 months old and never published will be deleted, as well as content which is greater than 4 years old and not played in the previous 4 years. Content owners will receive 2 personalised email warnings with links to the content.  This will allow the opportunity to download content to personal devices. For more information, please visit the Kaltura Video Storage web page.
2018 Learn.UQ upgrade Saturday 7 July - Sunday 8 July
The 2018 Blackboard upgrade has been approved for Saturday 7 July and Sunday 8 July. Blackboard will be unavailable on those days. These dates fall in the mid-semester vacation period and are at the end of the Universities Australia common vacation week. This upgrade offers new features, as well as improvements to existing features. For further information refer to the Blackboard Upgrade project page.
Lecture Recordings - Decommissioning of legacy system
Following the successful migration to the new cloud based lecture recording system, the legacy system will be decommissioned on 16 December, 2018. This means that if you would like to keep material that was recorded in Semester 2 2017 or earlier, it is important that you download these files before November and upload to the new system if required. To do so please follow the instructions available on the eLearning webpage. 
Please note that following the decommissioning, recorded material will remain accessible to staff and students in UQ Archive to meet availability requirements.
If you are using desktop recording (PCAP) you will also need to update your recording software to upload to the cloud system. If your recording was dual screen and you want to keep both screens, please contact help@learn.uq.edu.au. 

How do students submit a Video Assignment?
Kaltura media makes video assignments easy for both staff and students. This short video (1:48mins) will guide students through the process of uploading their video to My Media and submitting the assignment. You can send your students step by step instructions on how to submit their video assignments using Kaltura media available on the student website.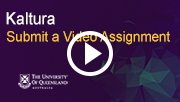 Record reasons for mark changes
The Blackboard Grade Centre allows you to add a comment when you change a mark. These comments are then included in the Grade History which can be viewed at the end of the semester to confirm validity and check for errors before transferring your grades to SI-net. For step-by-step instructions refer to the guide on Edit a mark and record a reason.
The video below provides a walkthrough of how to edit a mark and record a reason (2.22mins).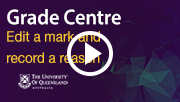 Corporate Training Platform 
The Expression of Interest process for the Corporate Training Platform is nearing completion, with submissions now closed.  The working party is reviewing the submissions and will attend product demonstrations by the vendors this week.  For more information, please visit the Corporate Training Platform project page.
Office Mix Migration
The Office Mix website was decommissioned on 1 May 2018 by Microsoft and the Office Mix Migration project is now complete. Kaltura CaptureSpace is the recommended desktop recording software to replace Office Mix. CaptureSpace allows you to produce videos which include voice-over-PowerPoint, screen recordings and webcam. Recordings are then available through My Media in Learn.UQ (Blackboard). For step-by-step instructions, refer to the guides on Desktop Recording.

eLearning Workshops
The eLearning team are offering a range of practical workshops on eLearning tools during 2018.  For a description of each workshop, dates and to register, visit the Staff Development / Teaching and Learning Technologies site. Upcoming workshops include:
Learn.UQ Basics, 9:30am - noon, 24 May, St Lucia
Turnitin, 10:00am - noon, 29 May, St Lucia
Learn.UQ Quizzes, Tests and Exams, 9:30am - noon, 31 May, St Lucia
ITaLI Workshops
ITaLI On-demand Workshops
ITaLI now offers customised workshops from the Teaching and Learning Workshop Series to schools and faculties on request. If you have a group of six participants (minimum) you're invited to put a request through your Head of School, Associate Dean (Academic), School T&L chair or Program Director to secure an in-house workshop at a negotiated time and location.
Courses available on request include:
Managing Work Integrated Learning (WIL) activities
Managing and Evaluating Teaching and Learning Projects
The Flipped Classroom
Social Media for Teaching and Learning
Assessment using Multiple Choice Questions
Enhancing Teaching with Learning Analytics
Request Support
To receive a quick response to your eLearning technical problem, log a job with the UQ Staff eLearning Helpdesk using help@learn.uq.edu.au. Alternatively, you may use the Request Support button available inside Learn.UQ.
To enable a timely response please be sure to include as much information as possible with your request.