All staff and students have a My Media area where they can:
upload video/audio files,
contribute videos/audio to the Course Gallery of courses they are members of, so that other course members may view/listen them (refer Course Gallery guide),
staff can contribute videos/audio to their Faculty Repository so they can be used by other staff members of their faculty,
create webcam recordings
create screen recordings
delete video and audio files.
All videos you upload to a Learn.UQ(Blackboard) course are automatically stored in your My Media area.
Videos/audio uploaded to My Media can be inserted into a Learn.UQ(Blackboard) course anywhere there is a Visual Textbox Editor (Announcements, Items, Discussion Board, Blogs, Journals, Wikis and Assignments) (refer Insert a Video using the Text Editor guide).
Videos can be uploaded to My Media can also be inserted into a Content Area (Learning Resources or Assessment) using the Content Menu. (refer Insert a Kaltura Video into a Content Area guide).
Note: To use Kaltura on campus you must be logged into the UQ Internet Quota System. i.e. Enter any external website address into your browser, enter your user name and password and click continue.
Access to My Media
Login to Learn.UQ (Blackboard).
Click on the My Media link.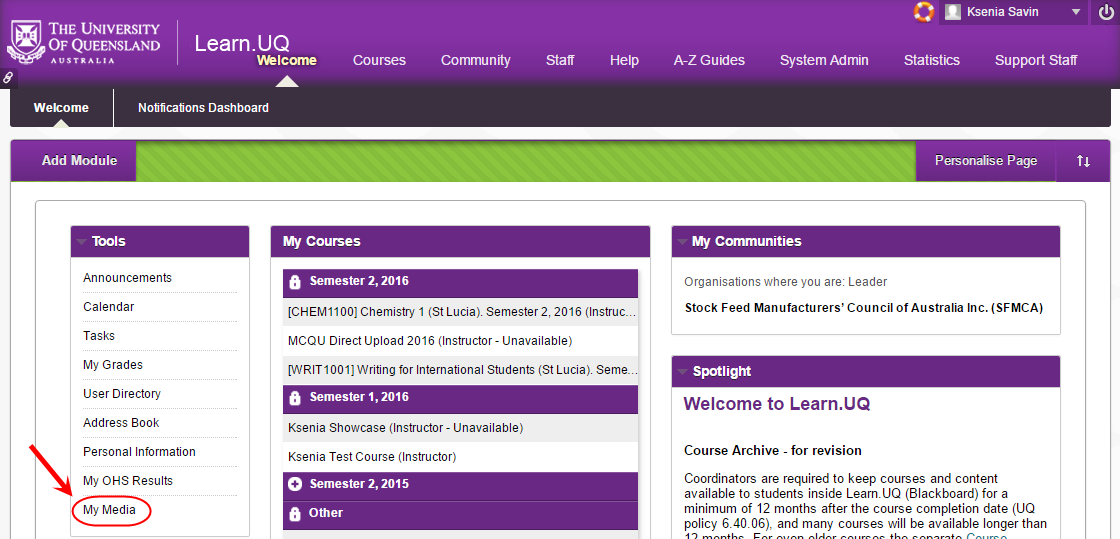 Upload a video
Click on the Add New button.
Select Media Upload from the drop down menu.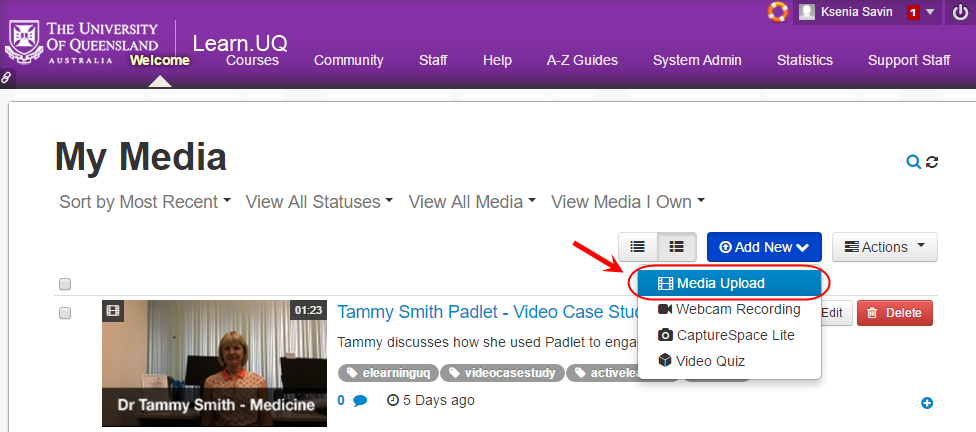 Click on the Choose a file to upload button.

Select and open the required video file.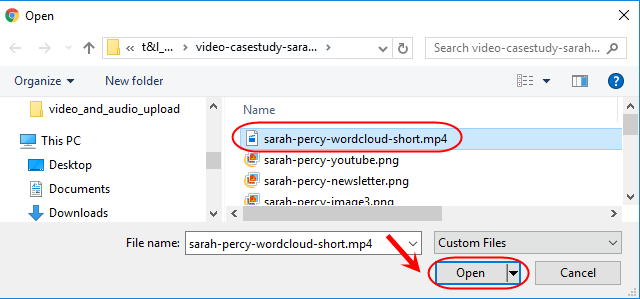 Fill out the details for your video, while the video file uploads.
Enter a relevant heading for your video in the Name textbox.
Optionally enter a description of your video in the Description textbox.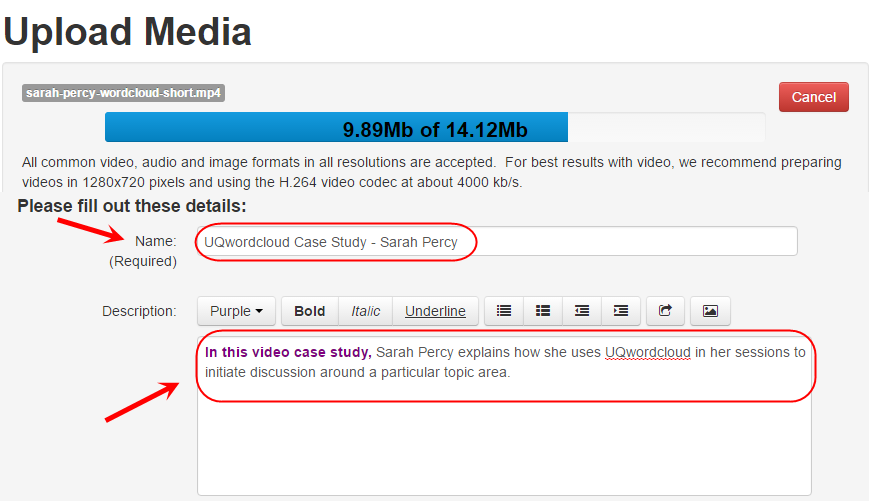 Adding identifier tags to your video
Note: It is recommended that all videos added to My Media have tags associated with them.  This enables better search functionality and is an efficient way of organising / categorising your videos.
Type any identifiers / catergories into the Tags textbox.  Include a tag for each: course code, year / semester offering, topic.
Example tags: POLS1201, S2_2016, video case study
Click on the tag name if you would like to create a new tag, or alternatively select one of the previously used tags from the drop down list.
New tag:


Contribute to Faculty Repository
Adding your video to the Faculty Repository gives other staff access to your video.
Optionally click on the Click to add required metadata for shared repository button.
Select the relevant Faculty/School(s) to add your video to the shared repository.

Wait for the video to upload.

Click on the Save button.
Note: You will need to save first, prior to publishing your video to a specific course gallery.

Publish your video to a Course Gallery
The Course Gallery of a course is a searchable and sortable display of all media content published to a course by either staff or students.  To include your video in a specific course, you will need to publish it to that particular course media gallery.
Select the Published radio button.
Check the relevant course code from the list.
Click on the Save button.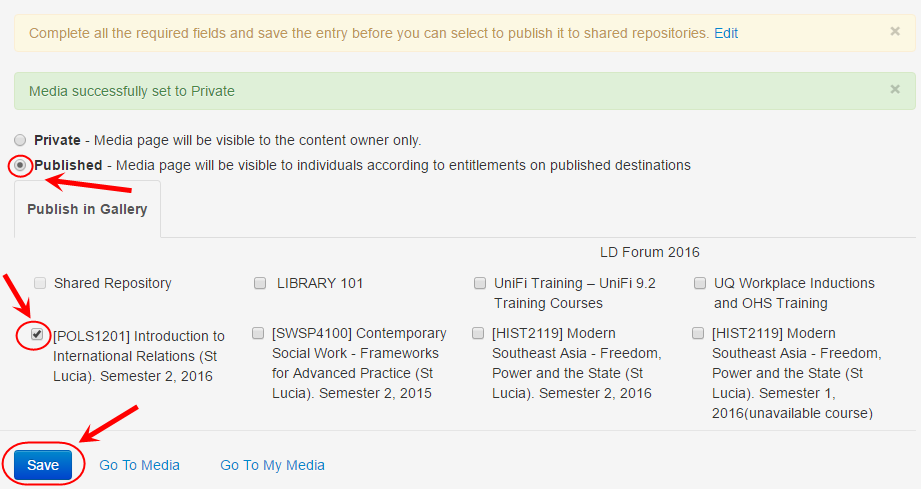 A confirmation message will be shown and your video will be published in the selected course media gallery.
Click on Go To My Media to return to My Media.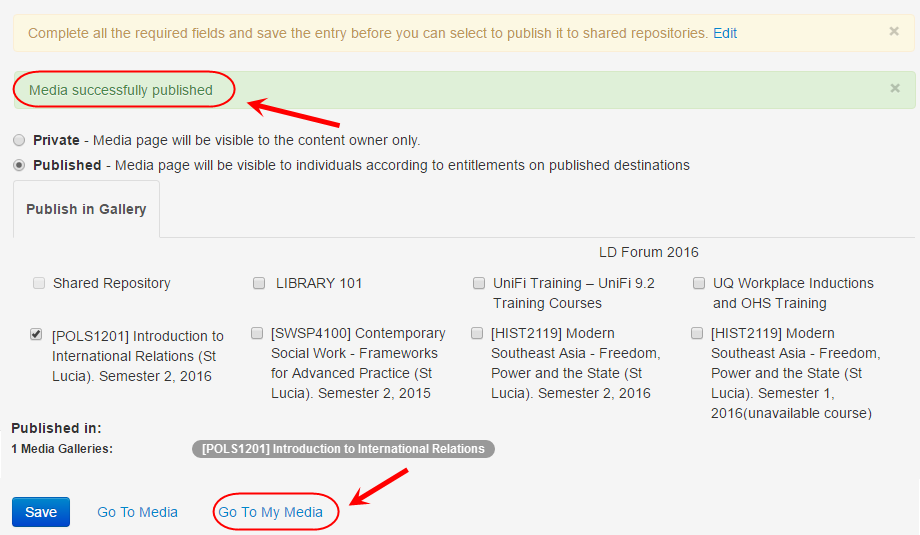 View the video in the Course Gallery
Note: You will need to have added a Media Gallery tool link (named: Course Gallery) to the Course Menu of your course. Refer to the Course Gallery guide.
You will also need to publish your videos to the course site so they can be viewed by students through the Course Gallery. 
From the Course Menu select the Course Gallery link.  Any videos that you have published to the course will be shown within the Media Gallery and are available to students.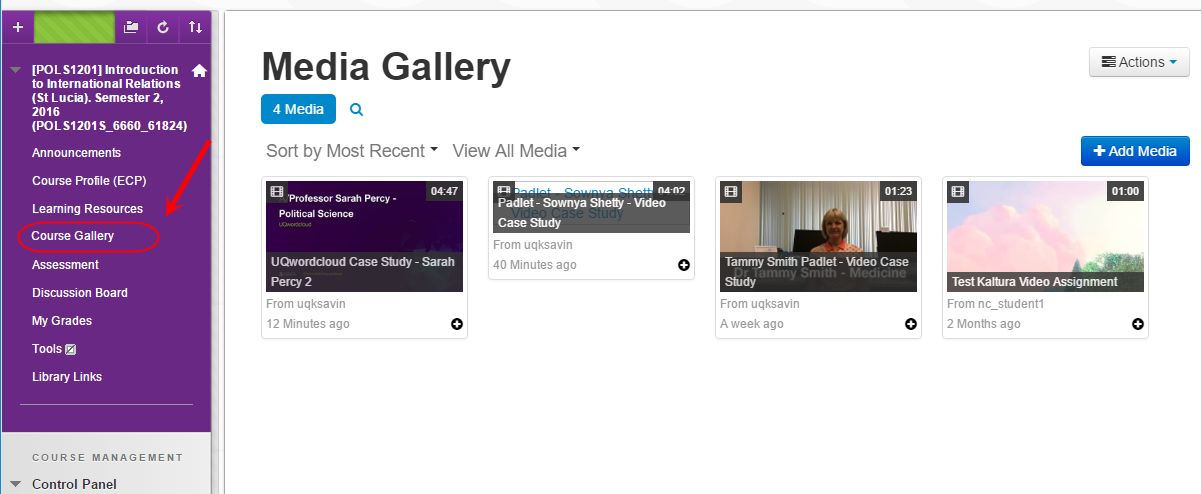 Open a video
Access My Media.
Locate the video that you would like to open, click on the video thumbnail /title.

Edit a video
Access My Media.
Locate the video that you would like to edit, click on the Edit button.

Choose from one of the edit options (i.e. click on the Thumbnails tab to add a thumbnail image for your video).

Delete a video
Access My Media.
Locate the video that you would like to remove, click on the Delete button.
Click on the Delete button to confirm.

Note: Deleting the video from your My Media will also remove the video from any course that you previously published it to.