Ready to Teach Week EOIs
Ready to Teach Week (11–14 July) is a program of activities designed to help you prepare for the upcoming semester. Join your colleagues and support staff to prepare engaging online and on-campus classes, enhance your assessment and get your course site and administration in shape.
Expressions of Interest (EOIs) to present at the event are now open and will close at 11.59pm on Sunday 15 May.
Express your interest to present >>
New booking link for eLearning Adviser consultations
You can now book an eLearning Adviser consultation through Microsoft Bookings. eLearning Advisers have expertise and experience in both teaching and learning technology and can help you select and configure learning technologies for your course(s).
Exam preparation resources
For staff
Resources are available to help you set up and deliver both invigilated (ProctorU) and non-invigilated Learn.UQ exams. You can also request an individual consultation with an eLearning Adviser for personalised advice.
For students
For smoother end-of-semester exams, consider telling your students about the AskUS exam prep webinars on different exam types. The sessions give advice on what to do before their exam and on exam day, with common issues and tips.
UQ HigherEd Debate Series
ITaLI and UQ Union (UQU) are partnering to host a series of debates around controversial topics in higher education. The first debate is 12–2pm on Tuesday 24 May and invites arguments in favour of and against banning final exams. To express your interest in joining one of the debate teams, please email Associate Professor Hassan Khosravi.
Express your interest in joining one of the debate teams >>
Lecture recordings - are students watching?
Analytics on student engagement with lecture recordings are available. Staff now have access to information on the number of views of individual recordings and a breakdown of individual student engagement with all available recordings. 
Podcast – Make yourself uncomfortable: how making the familiar strange helps students learn
In the latest episode of HigherEd Heroes, Al and Seb talk to Dr Rebecca Olive (RMIT Australia) about how students in human movement studies learn by taking on an unfamiliar sport for six weeks. It is about experiencing the strangeness of the familiar, about self-reflection and about developing (self)compassion.
New software ideas?
Introducing new technologies to UQ's virtual learning environment often requires a balance between innovation and compliance. We can support you in this process.
Record reasons for mark changes
A video explaining how to edit a mark and add a comment in the Learn.UQ (Blackboard) Grade Centre is now available (Youtube, 2m 22s). View the comments in the Grade History at the end of the semester to confirm the validity and check for errors before transferring your grades to SI-net.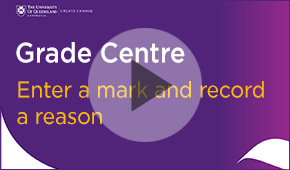 Working with Files module for students – Digital Essentials
The Working with Files module (part of Digital Essentials) introduces students to file storage, file naming, backing up work and metadata. It is designed to be embedded into courses so students can find the information they need, when they need it.
Course Insights – investigate student assessment results
Course Insights is UQ's own course-level learning analytics dashboard, available to all course coordinators via Learn.UQ. The Assessment section provides staff with an overview of student assessment results, as well as an in-depth analysis of each individual assessment task.
Student Services and Amenities Fee (SSAF) survey
The annual Student Services and Amenities Fee (SSAF) survey will open on Tuesday 26 April for three weeks. The results from this survey will be used to inform how funds will be spent next year, including initiatives such as student welfare, O-Week and study support activities. Students will receive a link to the survey via email and those who participate will go into a draw to win prizes. Please encourage all students to participate in this survey.
What's on
eLearning training (self-paced)
View all eLearning workshops and webinars >>
Other workshops and information sessions
Communities of Practice
eaching and learning support
eLearning support
For technical support with central eLearning tools, email eLearning support.
eLearning advisers
For tailored advice by qualified teachers on using eLearning tools, including how to select and configure learning technologies, book a Zoom consultation with an eLearning adviser.
Workshops
Self-paced online workshops are available for a variety of systems and tools. eLearning advisers are available to deliver custom workshops in your school or faculty. Organise a custom workshop. 
Teaching support
ITaLI staff are available to offer pedagogical advice. Please contact itali@uq.edu.au or book a 30-minute Zoom consultation.
Learning designers
For faculty/school level support, please refer to the list of learning designers in your area.