Access student headshots
To facilitate improved student engagement, course coordinators can now download headshot photos for the students enrolled in their course.
New booking link for ITaLI consultations
Staff can now book a range of ITaLI services through Microsoft Bookings.
Teaching and Learning Week EOIs
Expressions of Interest (EOIs) are open for staff interested in conducting a session at Teaching and Learning Week (31 Oct – 4 Nov) within the theme of Learning for life and three sub-themes: respectful learning, partnered learning and personalised learning. We welcome UQ staff to share their knowledge and experiences in line with these sub-themes. EOIs will close at 9am on Monday 20 June.
Exam preparation resources
Promote student exam workshops
Course coordinators are encouraged to promote the Library's exam workshops offered in Weeks 10–13 (Preparing for your online exam and Preparing for your online invigilated exam) to prepare students for their online exams and assist them in avoiding common issues.
Practice online exams
Where a course will require students to sit a Learn.UQ-based online exam at the end of semester, course coordinators are strongly encouraged to provide students with a practice exam. Practice exams set students up for exam success by allowing them to become familiar with the exam process and test the set-up of their device. Course coordinators can either generate a course-specific practice exam, or simply promote the availability of the self-enrol Learn.UQ Practice Exam site.
Online exam resources
Course coordinators are encouraged to share instructional guides with their students on how to complete Learn.UQ exams. Slides are also available on exam timing, tips and technology processes for course coordinators to use in exam information sessions with students.
Check your exam as a student
It is important to check your exam 'as a student' to test it works as expected and to ensure all questions are accessible. View the Learn.UQ Exams and Inspera Observed User Testing guides.
PPL change: maximum of four assessment tasks from Semester 2
From Semester 2 2022, 2-unit courses will have a limit of four assessment tasks (one of which may be a sequence). Details of this change and updated procedures are available on the Academic Board PPL change SharePoint site.
ITaLI is partnering with faculties to offer workshops to support teaching staff in adopting this change.
eLIPSE Learning Tools Showcase
Is it becoming too difficult to organise a site visit? Is it getting tricky to manage learning resources? Does it take time to set up functional student teams? Do your students struggle with difficult concepts? eLIPSE will present solutions to these questions at a showcase for UQ academics and learning designers on 25 May 2022.
UQ Higher Ed Debate Series | That we should ban final exams
ITaLI and UQ Union are partnering to host a new series of debates around controversial topics in higher education. The first session will be held on 24 May (12–2pm) and see students and staff debate whether final exams should be banned…who will win? Registration is free and includes pizza.
Seminar – Exploring the experiences of culturally and linguistically diverse higher education students during COVID-19
COVID-19 magnified existing barriers for educational participation and revealed some unanticipated positive consequences for enhanced flexibility and more engaged learning. Dr Sally Baker (UNSW) will present a seminar on 20 June which will explore the opportunities and challenges of online teaching and learning with equity student cohorts and what challenges need to be overcome moving ahead.
Keeping grades secure
The following video (YouTube, 1m 48s) offers a range of practical strategies for improving grades security.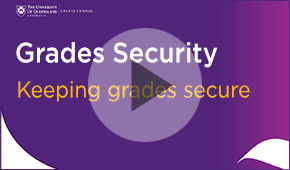 Course Insights – prepare for student consultations
Course Insights is UQ's own course-level learning analytics dashboard, available to all course coordinators via Learn.UQ. The Student section allows staff to view engagement and assessment information about an individual student alongside cohort data.
Embed career development learning
Want to embed career development and employability opportunities in your course? UQ Career Development offer a range of workshops and online modules that can be embedded into courses. Join a virtual drop-in session on 2 June to find out how the team can assist with your course(s). Semester 2 requests close Sunday 19 June 2022.
What's on
eLearning training (self-paced)
eLearning webinars (Zoom)
eLearning workshops (Face-to-face)
View all eLearning workshops and webinars >>
Teaching and learning support
eLearning support
For technical support with central eLearning tools, email eLearning support.
eLearning advisers
For tailored advice by qualified teachers on using eLearning tools, including how to select and configure learning technologies. Book a Zoom consultation with an eLearning adviser.
Workshops
eLearning advisers are available to deliver custom workshops in your school or faculty. Organise a custom workshop.
Teaching support
ITaLI staff are available to offer pedagogical advice. Please contact itali@uq.edu.au or book a 30-min Zoom consultation.
Learning designers
For faculty/school level support, please refer to the list of learning designers in your area.