New advanced discussion board option for Semester 2
During Semester 2 the Ed discussion board is available for use in courses as a pilot. Please refer to the online guide, or consider attending a webinar, or consulting with an elearning Adviser.
Turnitin update
Turnitin has been updated to provide a more intuitive assignment set-up and student submission interface. A key change is using the Build Content menu (rather than the Assessment menu) to create Turnitin assignments. Please note that the Submission ID is no longer emailed to students, however proof of submission is still available from their Assignment Inbox.
Getting started with Learn.UQ 
The Getting started with Learn.UQ guide provides new staff with information about eLearning tools, support, course site requests and adding content. It is recommended that new staff attend a Learn.UQ Basics workshop in-person, or complete the online workshop. 
Request your Semester 2 Echo360 recordings
If you have face-to-face classes that require recording via Echo360 (uploaded to Learn.UQ – Blackboard) please get in touch with your school/faculty timetabling coordinator before semester starts.
OHS Report Update
OHS reports have been relocated and are now available in Course Tools > OHS Status. 
Update your Zoom client for Semester 2
Ensure that you have updated your Zoom client in preparation for Semester 2 classes. The latest update has improved functionality for co-hosts, breakout rooms and reactions. To coincide with the update, the Virtual Classroom PowerPoint template has been updated with the latest instructional slides.
Withdrawn students reinstatement tool
A new tool is now available to make it easier to temporarily reinstate withdrawn students for administrative purposes. Please contact projects@elearning.uq.edu.au for more information.
Top 7 Learn.UQ course site design tips
As we approach Semester 2, check out our Top 7 Learn.UQ course site design tips.
Make your course sites and ECPs available to students this week
As a course coordinator, you need to make your Learn.UQ (Blackboard) course site(s) and Electronic Course Profile(s) (ECPs) available to students at least one week before the first teaching activity, as outlined in the UQ policies on course profiles and minimum course presence. Course sites must contain at least a welcome message. The remaining online course requirements should be met by the first teaching activity..
Course site design 
The online self-assessment tool provides suggestions for improving your particular Learn.UQ (Blackboard) course site as well as guidance on how to implement the changes. The course design exemplar site provides a model for structuring your course for easy navigation for students.
Icebreakers with PadletUQ
Icebreakers are an excellent way to promote student interactions and to develop personal connections early in the semester, which is particularly important in blended and online courses. A range of exemplar icebreakers have been created using PadletUQ. You can 'remake' a blank copy of an exemplar to use in your course.
Course Insights - How well do you know your cohort?
Course Insights, UQ's own course-level learning analytics dashboard, is available to all course coordinators via Learn.UQ. The Enrolment section provides demographic information to inform teaching strategies. 
Interactive online learning experiences with H5P
See how Dr Allison Mandrusiak uses H5P in her physiotherapy courses to convert pre-covid practical experiences into rich, interactive online activities (YouTube, 2m 24s).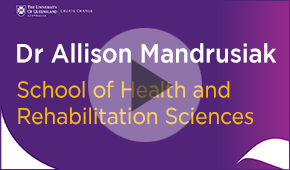 What's on
eLearning webinars (Zoom)
The eLearning team also offers a range of self-paced online workshops available that you can complete at your own pace.
Other events and courses
Communities of Practice
Teaching and learning support
eLearning support
For technical support with central eLearning tools, email eLearning support.
eLearning advisers
For tailored advice by qualified teachers on using eLearning tools, including how to select and configure learning technologies. Book a Zoom consultation with an eLearning adviser.
Workshops
Self-paced online workshops are available for a variety of systems and tools. eLearning advisers are available to deliver custom workshops in your school or faculty. Organise a custom workshop. 
Teaching support
ITaLI staff are available to offer pedagogical advice. Please contact itali@uq.edu.au or book a 30-min Zoom consultation.
Learning designers
For faculty/school level support, please refer to the list of learning designers in your area.