Creating a sense of belonging in your courses
Students who develop a strong sense of belonging at UQ are more likely to enjoy and succeed in their studies. However, as we responded to the pandemic and modified our teaching to new modes, many students did not feel as connected to the UQ community as in previous years. A DVC(A) team has been working with experts across UQ to identify ways to nurture students' sense of belonging. View examples of small but powerful changes you can make within your courses to foster belonging.
Learn.UQ (Blackboard) updates
Undergraduate course sites should now be available to students
All undergraduate Learn.UQ (Blackboard) course sites and Electronic Course Profiles (ECPs) should now be available to students. During Week 1, AskUs received a number of student enquiries related to courses being unavailable. For more information, please refer to the UQ course design and eLearning policies and learn how to make a course available.
Course site design tips - Weekly structure
To provide an overview of the course and reduce the time it takes students to find resources, it is best practice to have only one learning resource folder per week or module, which includes all relevant content. The folder should be titled with the week number and a description of the topic.

Watch the video regarding course guidelines around weekly structure (YouTube, 2m 28s).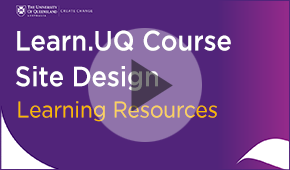 Academic Integrity Modules (AIM)
Please remind students new to UQ or new to a program to complete the compulsory Academic Integrity Modules (AIM), as Part A needs to be completed by 31 August and Part B by 30 October 2021. Students who do not complete the AIM will have their course results withheld and be unable to re-enrol until the modules are completed. Please refer to the AIM regarding the messages students are receiving, as well as the Staff Academic Integrity Modules (SAIM) (UQ staff login required) to learn how you can help make positive changes to the academic integrity culture at UQ.
Turnitin update
Turnitin has recently been updated. Key changes are highlighted in this short video - Turnitin (YouTube, 3m 45s) and include:
Turnitin assignments are now created from the Build Content menu, rather than the Assessment menu.
Similarity reports have been enhanced to identify the use of substituted synonyms.
Evidence of correct submission by students is available from the Assignment Inbox. Submission receipts are no longer sent by email. Student submission guides are available online.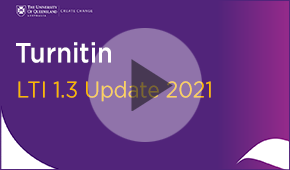 Open Course Scheme (OCS)
The Open Course Scheme (OCS) provides an opportunity for staff to visit classrooms to observe the great teaching happening at UQ. This semester, the scheme will focus on teaching via Zoom, as well as on-campus teaching and there are approximately 20 courses that are 'open' to UQ staff to attend and observe. See the list of courses and book your spot.
Free course to improve students' academic English writing skills
For a limited time only, UQ is offering students a free upgrade to the 'verified learner' status (valued at $133) when they complete the Academic English (ACE101x) online course. This practical course focuses on the processes involved in planning for, producing and self-reviewing a piece of academic writing. If you have students who may benefit from this offer, please direct them to email uqx@uq.edu.au for their voucher.
UQ Teaching Conversations on MS Teams
The new 'UQ Teaching Conversations' Microsoft Teams site is now available. It aims to foster a community of engaged practitioners across UQ to discuss, share ideas and troubleshoot issues related to teaching and learning. A number of channels will be created within this Teams site, with the first one – 'Teaching large classes' – just launched. To access UQ Teaching Conversations, please download the MS Teams desktop app to your computer and complete this form.
Are you making the most of Grade Centre? 
Our Making the most of Grade Centre guide contains ways you can improve the management and security of your grades by eliminating or limiting the use of spreadsheets.
View Grade Centre by tutorial, seminar and practical groups
Smart Views allow you to easily filter your Grade Centre to speed up the entry of marks and checking of student submissions. This video (YouTube, 2m 19s) shows you how to use Smart Views for your contact, tutorial, practical or seminar groups.
Password management – Digital Essentials modules
The Password management module (within the Digital Essentials series) introduces students to privacy issues, managing personal information, password management systems and data breaches. It is designed to be embedded into courses so students are provided with timely information as they need it.
Course Insights – Easily contact groups of students
Course Insights, UQ's own course-level learning analytics dashboard, is available to all course coordinators via Learn.UQ. The Students section allows staff to identify students according to set criteria and contact them via email.
Active learning tools
UQ has active learning tools that can be used to engage students and promote deeper understanding in both online and face-to-face sessions. The centrally supported active learning tools include UQ Active Learn (UQpoll, UQwordcloud and UQwordstream), PadletUQ and Echo360 Active Learning Platform (ALP).
What's on
eLearning online workshops (self-paced)
Other events and courses
Communities of Practice
Teaching and learning support
eLearning support
For technical support with central eLearning tools, email eLearning support.
eLearning advisors
For tailored advice by qualified teachers on using eLearning tools, including how to select and configure learning technologies book a Zoom consultation with an eLearning advisor.
Workshops
Self-paced online workshops are available for a variety of systems and tools. eLearning advisors are available to deliver custom workshops in your school or faculty. Organise a custom workshop. 
Teaching support
ITaLI staff are available to offer pedagogical advice. Please contact itali@uq.edu.au or book a 30-min Zoom consultation.
Learning designers
For faculty/school level support, please refer to the list of learning designers in your area.