Communications to facilitate a sense of belonging
Regular communications can help students develop a sense of belonging in your course. These messages can advise students how to be successful in your course, as well as provide them with encouragement and connection. Learn more and view examples of effective communication in UQ courses.
Blog post – Academic integrity conversations
Many students who breach academic integrity don't deliberately set out to cheat – misconduct often occurs as a result of poor understanding of academic practice or writing conventions. Read the blog written by ITaLI Learning Designer Peter Rutherford, to learn how conversations with students and tutors can help prevent both unintentional breaches and more deliberate misconduct.
National Symposium on the Student Experience
This Symposium on 17 September looks to the future of Australian higher education and the key changes needed to improve the student experience. It asks how we preserve it during periods of disruption like we have experienced in the COVID-19 pandemic, and how we enrich it through better connections with the wider world. View the event website and register.
Add closed captions to your lecture recordings
Staff are encouraged to add closed captions to their Echo360 lecture recordings to assist students with their studies. Learn how to add closed captions based on the auto generated transcripts in Echo360 using the guide.
Creating learning journeys in Learn.UQ
View the new guide on how to create learning journeys in Learn.UQ, combining elements of UQ's virtual learning environment into a sequence. The guide is designed for staff at any skill level and only includes robust supported tools. You can also self-enrol to the exemplar site.
New Turnitin student resources
Please inform your students about the new Turnitin submission process this semester. Consider sharing the video guide and Turnitin changes slide pack to students.
Padlet service disruption
UQ Padlet is currently not accepting new staff or student users through direct sign-in. For a temporary workaround, please refer to the Share a Padlet guide on changing settings to not require sign-in. The matter has been escalated to the Vendor as a matter of urgency.
Digital creativity with Adobe 
A new Lunch & Learn webinar series is being offered by Adobe for UQ staff, including topics on how to create graphics, collages, flyers, videos and animations. Register to attend.
Withdrawn students management tool guide
A new guide is now available for the Withdrawn Students Reinstatement tool. This tool will make it easier to temporarily reinstate withdrawn students for administrative purposes. 
Recording of teaching activities
The Recording of Teaching Activities guide provides advice on recording teaching activities in Zoom and on campus.
Online assignment submission and marking 
Online assignment submission and marking tools facilitate efficient and reliable assignment submission for students and more efficient assignment marking for teaching staff. Assignments are immediately available to teaching staff for marking, and once marked, are quickly available to students for reflection. For more information, refer to the Assessment tools webpage.
Custom workshops for teaching staff, tutors and professional staff
Custom workshops on centrally supported eLearning tools are available by request for faculties, schools and individual courses. Sessions are delivered via Zoom. Contact elearningadvisers@uq.edu.au with details of the preferred date, time and approximate numbers.
Communicate and collaborate online – Digital Essentials module 
The Communicate and collaborate online module introduces students to discussion forums, email etiquette and collaboration tools for group assignments. It is designed to be embedded into courses so students are provided with timely information as they need it. For more information, please refer to the Digital Essentials webpage.
Course site design tips – Assessment 
The Teaching and Learning Committee endorsed course design guidelines recommending that each individual assessment has its own folder in the Assessment area of the course site. The first item in the folder should be the submission link, followed by the relevant student instructions.

View the video regarding course guidelines around assessment (YouTube, 2m 57s).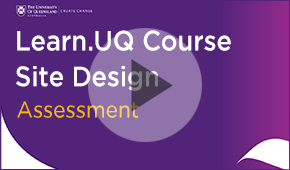 Grades security tip: Secure your computer
Secure student grades by manually locking your UQ computer when you leave your desk or office.
What's on
eLearning training (self-paced)
Other events and courses
Communities of Practice
Teaching and learning support
eLearning support
For technical support with central eLearning tools, email eLearning support.
eLearning advisers
For tailored advice by qualified teachers on using eLearning tools, including how to select and configure learning technologies. Book a Zoom consultation with an eLearning adviser.
Workshops
Self-paced online workshops are available for a variety of systems and tools. eLearning advisers are available to deliver custom workshops in your school or faculty. Organise a custom workshop.
Teaching support
ITaLI staff are available to offer pedagogical advice. Please contact itali@uq.edu.au or book a 30-min Zoom consultation.
Learning designers
For faculty/school level support, please refer to the list of learning designers in your area.