Office hours can enhance a sense of belonging
Office hours can enhance students' sense of belonging, as time to connect staff with students one-on-one or in small groups can allow conversation and connection that are difficult in other contexts. It can also serve as a safety net to reassure students that help is available if they need it. Throughout the pandemic, accessibility to office hours and experiences have changed due to the time and mode, so staff have found new ways to connect with students online.
Enhancing feedback
Enabling students to participate in feedback processes can enhance their development towards becoming self-regulated learners. Dr Leigh Sperka's Ready to Teach Week workshop provided practical strategies to activate the student's role in seeking and generating their own feedback, to working with and actioning feedback.
International Day of Action against Contract Cheating competition
The International Day of Action against Contract Cheating is on 21 October 2021. To raise awareness of the risks of contract cheating and encourage students to take action to prevent it, UQ is hosting a video competition open to students, with the winning entry receiving a $2000 cash prize (2nd prize is $1000 and 3rd prize is $500). The competition closes on Monday 4 October 2021. It would be appreciated if you could promote this competition to your students.
New Zoom features are available for teaching
New Zoom features are available for users running the latest version, including the ability to share a screen to all breakout rooms and a Focus mode which restricts participants' ability to view other participant's screens and webcams.
Learn more in a Zoom online workshop >>
Marking Turnitin Assignments by Group
Turnitin assignments can be filtered by tutorial, seminar and practical groups for marking. Alternative marking allocation groups created manually in Learn.UQ (Blackboard) are also available. For further information, refer to the  Mark Turnitin Assignments by Group guide or watch the video (YouTube, 1m 24s).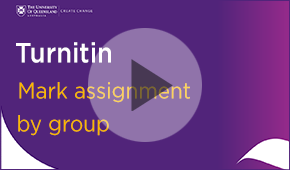 Course Insights - How engaged are your students?
Course Insights is UQ's own course-level learning analytics dashboard, available to all course coordinators via Learn.UQ. The Engagement section provides staff with information about student engagement in Learn.UQ and edX (Edge) and identifies disengaged students to contact prior to the census date.
Learn how to filter data in Course Insights >>
Control the release of results
During marking or moderation, you may not be ready for students to see their results. To control the release of results from Turnitin, Blackboard assignments and Tests you need to carefully set both the individual tool settings and the Grade Centre column settings (Hide from Students on/off). 
Student Academic Integrity module
The University strongly recommends that course coordinators encourage students to complete the compulsory Academic Integrity Modules (AIM) before submitting their first assessment task. The modules explain to students the concept of academic integrity and how to maintain the highest standards in their own work.
Interpreting a Turnitin Similarity Report
The Turnitin Similarity Report compares submissions with web content, previously submitted assignments and journals. Turnitin conducted an Interpreting a Turnitin Similarity Report webcast (42m 28s) with Senior Lecturer Dr Ann Rogerson at the University of Wollongong to assist academics with understanding the reports. 
Choosing the Right Tool - Digital Essentials module
The Choosing the Right Tool module assists students in finding tools for specific tasks and comparing similar tools to find the best match. It is designed to be embedded into courses so students can find the information they need, when they need it.
Learn more about the Digital Essentials series >>
What is the future of the academic role?
Mr Collins Fleischner, a PhD student working with researchers from UNSW, is conducting research into the future of academic roles in Australia. This exploratory study is seeking your perspectives and experiences to better understand the changing nature of the academic role, and in particular the emergence and development of teaching-focused academic roles in Australian universities.

Collins is interested in speaking with UQ academic staff across all faculties and from different academic categories (i.e. teaching-focused, teaching and research, research-focused or clinical academic).
Participate in a confidential 60-minute interview >>
Open Course Scheme (OCS) reminder
The Open Course Scheme (OCS) provides an opportunity for staff to visit classrooms to observe the great teaching happening at UQ. This semester, the scheme will focus on teaching via Zoom, as well as on-campus teaching and there are approximately 20 courses that are 'open' to UQ staff to attend and observe.
See the list of courses and book your spot >>
What's on
eLearning training (self-paced)
Other events and courses
Communities of Practice
Teaching and learning support
eLearning support
For technical support with central eLearning tools, email eLearning support.
eLearning advisors
For tailored advice by qualified teachers on using eLearning tools, including how to select and configure learning technologies. Book a Zoom consultation with an eLearning advisor.
Workshops
Self-paced online workshops are available for a variety of systems and tools. eLearning advisors are available to deliver custom workshops in your school or faculty. Organise a custom workshop. 
Teaching support
ITaLI staff are available to offer pedagogical advice. Please contact itali@uq.edu.au or book a 30-min Zoom consultation.
Learning designers
For faculty/school level support, please refer to the list of learning designers in your area.