Please promote student workshops: Preparing for online exams
Course coordinators are encouraged to promote the Library Week 10-13 workshops Preparing for your online exam and Preparing for your online invigilated exam to students. These workshops will prepare students for and avoid common issues during their online exams.
New Turnitin Online Grading Report
A new Online Grading Report is now available for Turnitin assignments. It provides summary analytics on QuickMarks and Rubric/Forms used to mark the assignment.
Watch the video (YouTube, 1m 57s) >>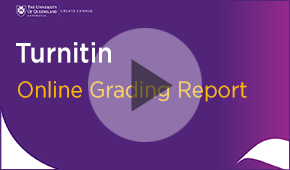 Turnitin Group Assignments - pilot volunteers needed
Turnitin has released new functionalities, including group assignment submission and non-integer grades, which will be piloted in Summer Semester, 2021.
Express your interest in joining the pilot >>
Staff resources and personal consultations for Learn.UQ exams
Resources are available for the preparation and delivery of Learn.UQ exams (both invigilated and non-invigilated). To assist with Learn.UQ exam setup, the eLearning Solutions Service offers personal consultations for course teaching staff, support staff and designers on selecting and configuring technologies.
Book an appointment with an eLearning Adviser >>
Record reasons for mark changes
Learn how to edit a mark and add a comment in the Learn.UQ (Blackboard) Grade Centre. View the comments in the Grade History at the end-of-semester to confirm the validity and check for errors before transferring your grades to SI-net. 
Watch the video (Youtube, 2m 22s) >>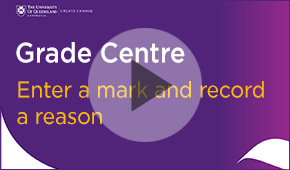 Social Media - Digital Essentials
The Social Media module introduces students to common social media tools and etiquette, social media as a learning tool and online presence. It is designed to be embedded into courses so students can find the information they need, when they need it.
Refer to the Digital Essentials webpage >>
What's on
eLearning training (self-paced)
Teaching and learning support
eLearning support
For technical support with central eLearning tools, email eLearning support.
eLearning advisers
For tailored advice by qualified teachers on using eLearning tools, including how to select and configure learning technologies. Book a Zoom consultation with an eLearning adviser.
Workshops
eLearning advisers are available to deliver custom workshops in your school or faculty. Organise a custom workshop.
Teaching support
ITaLI staff are available to offer pedagogical advice. Please contact itali@uq.edu.au or book a 30-min Zoom consultation.
Learning designers
For faculty/school level support, please refer to the list of learning designers in your area.