Monday 26 August
Video and Audio Feedback for Learn.UQ (Blackboard) Assignments
UQ teaching staff can now provide video and audio feedback for students on their Learn.UQ (Blackboard) assignments. This new capability was released as part of the July Learn.UQ (Blackboard) upgrade and has no effect on the written feedback functionality. For more information, refer to the Video and Audio Feedback guides.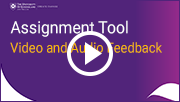 Norman Ng - Padlet
Watch the video case study to see how Dr Norman Ng is using PadletUQ to facilitate collaborative online discussions in tutorials within his large first-year course (YouTube, 2m 23s).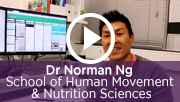 Zoom Screen Sharing in Seminars and Tutorials - Volunteers Needed
Volunteers are needed to pilot training resources and support services for Zoom Screen Sharing. UQ's Zoom web conferencing system provides the ability for staff and students to present on the main screen from any position in a room. This can be particularly useful for student group leaders presenting the results of their group work.
All pilot volunteers will be provided with technical and implementation support from an eLearning Advisor. If you are interested in volunteering for the Zoom Screen Sharing pilot, please email elearningadvisors@uq.edu.au.
eAssessment Consultation
The eAssessment Project Team has shortlisted four potential eAssessment solutions and would like feedback from all academic and professional staff involved in assessment to assist in the selection process. This follows the 2018 requirements gathering where all schools engaged and provided over 300 requirements – these were used to shortlist potential solutions to best meet UQ's end-to-end assessment needs. To attend a presentation, participate in a drop-in session, view the demo videos or provide feedback, go to the eAssessment Consultation website. For additional information, please refer to the eAssessment website. 
Student Academic Integrity Tutorial
The University strongly recommends coordinators encourage students to complete the Student Academic Integrity Tutorial before submitting their first assessment task. The tutorial explains to students the concept of academic integrity and how to maintain the highest standards in their own work.
Online Learn.UQ Workshops
Two self-paced, online versions of the Learn.UQ Basics and Learn.UQ Tests, Quizzes and Exams workshops have been designed to support staff in developing knowledge, skills and confidence in using Learn.UQ (Blackboard). To get started, visit the Learn.UQ Tests, Quizzes and Exams Online Workshop or Learn.UQ Basics Online Workshop webpage.

Interpreting a Turnitin Similarity Report
The Turnitin text-matching report compares submissions with web content, previously submitted assignments and journals. To assist academics with understanding Turnitin Similarity Reports, Turnitin conducted a webcast with Senior Lecturer, Dr Ann Rogerson at the University of Wollongong, who discusses interpreting a Turnitin Similarity Report. If you are unsure about how to interpret a Similarity Report, watch the Interpreting a Turnitin Similarity Report webcast (42m 28s). 
Course Site Design Tips - Assessment 
Each assessment item in a course should have its own folder in the Assessment area of the course site, while the submission link should be the first item in each folder. We recommend a link to the relevant student instructions also be included after the submission link.
View the video regarding course guidelines around assessment (YouTube, 2m 57s).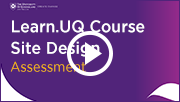 Writing, Citing and Submitting - Digital Essentials Module
The Writing, Citing and Submitting module introduces students to plagiarism, referencing style guides and assignment submission requirements. It is designed to be embedded into courses so students can find the information they need when they need it. For more information, please refer to the Digital Essentials webpage.

Record reasons for mark changes
The Learn.UQ (Blackboard) Grade Centre allows you to add a comment when you change a mark. These comments are then included in the Grade History which you can view at the end of semester to confirm validity and check for errors before transferring your grades to SI-net. 
The following video provides a walkthrough of how to edit a mark and record a reason (YouTube, 2m 22s).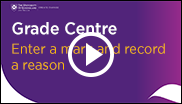 Control the release of results
During marking or moderation, you may not be ready for students to see their results. To control the release of results from Turnitin, Blackboard Assignments and Tests, you need to carefully set both the individual tool settings and the Grade Centre column settings (Hide from Students on/off). For step-by-step instructions, refer to the guides on Turnitin, the Assignment tool (Bb) and Tests.

Echo360 Personal Capture Decommission
Echo360 Personal Capture will be decommissioned by the vendor on 15 January 2020. For more information, refer to the Decommission of Echo360 Personal Capture project page. 

ITaLI eLearning Workshops
The ITaLI eLearning team are offering a range of professional development workshops to support staff in implementing Technology Enhanced Learning during 2019. For a description of each workshop, dates and to register, visit the Staff Development / Teaching and Learning Technologies site. 
Online workshops include:
Upcoming face-to-face workshops include:
Custom eLearning Workshops
Custom workshops on centrally supported eLearning tools are available on request for faculties and schools. Email elearningadvisors@uq.edu.au with the subject line Custom Workshop to schedule one of our teaching and learning workshops at a convenient time.
ITaLI Teaching and Learning Workshops
eLearning Solutions Service
The eLearning Solutions Service offers one-on-one consultations to course teaching staff on the integration of eLearning tools into their courses. The service currently supports a range of eLearning tools, all of which can be found on the eLearning Solutions Service webpage. All eLearning Educational Advisors have either a BEd or GradDipEd. Staff can nominate for the eLearning Solutions Service by booking via the appointments webpage to organise an individual consultation at your office.
Request Support
To receive a quick response to your eLearning support request, log a job with eLearning Support using help@learn.uq.edu.au. Alternatively, you may use the Request Support button available inside Learn.UQ.
To enable a timely response please be sure to include as much information as possible with your request.