Monday 12 August
New Learn.UQ Tests, Quizzes and Exams Online Workshop 
The new online, self-paced version of the Learn.UQ Tests, Quizzes and Exams workshop has been designed to support staff in developing knowledge, skills and confidence in using Learn.UQ (Blackboard) Pools and Tests. The workshop takes approximately 2.5 hours and can be finished over an extended period of time. On completion, the tasks will be assessed and, if successful, it will be recorded on your staff development profile. To get started, visit the Learn.UQ Tests, Quizzes and Exams Online Workshop webpage.
New Active Learning Tools for Zoom
The University's video conferencing system, Zoom, now has new functionality available to support active learning in a virtual classroom environment. Staff can poll students to check their understanding or gather views on a particular topic. Students can also click on 'reactions' to efficiently provide non-verbal feedback to a question posed by their course coordinator. For step-by-step instructions, refer to the Reactions in a Zoom meeting and Polling in a Zoom meeting guides.
Active Learning Tools - PadletUQ
Padlet is an online tool which allows you to create a virtual "walls", where students and staff can collaborate, reflect, share links, pictures and videos in a secure location. Coordinators can ask students to contribute to a Padlet wall as part of an in class or out of class activity. Students can also create their own Padlets as part of a learning activity.
UQ has its own Padlet domain padletuq.padlet.org for staff and students. PadletUQ has more advanced functionality than the free padlet.com, including larger file uploads, extra security, more privacy and no limit on the number of 'Padlets' you can create. For additional information, refer to the In-class Active Learning tools page.
Custom Workshops for Teaching Staff, Tutors and Professional Staff
Custom workshops on centrally supported eLearning tools are available on request for faculties, schools and/or courses. Laptops are provided for the sessions and course coordinators only need to book a meeting room. Contact elearningtraining@uq.edu.au with details of the preferred date, time, room booking and approximate numbers.
ePortfolio External Assessment
Watch the video case study to learn how Dr Natasha Matthews uses specific strategies to assist external assessors in providing feedback to fourth year psychology students on external placements via the ePortfolio system (YouTube, 3m 6s).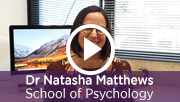 Learning Analytics Dashboard Pilot - Volunteers Needed
Volunteers are needed to pilot training resources and support services for Course Insights. Course Insights is a course-level academic facing learning analytics dashboard that provides information on student cohort demographics, online engagement and assessment results. The ITaLI Learning Analytics team is planning to deploy this tool to all courses in 2020. If you would like to participate this semester, please email learninganalytics@uq.edu.au.

Lecture Recordings - Are students watching?
Analytics on student engagement with lecture recordings are available. Staff now have access to information on the number of views of individual recordings and a breakdown of individual student engagement with all available recordings. For step-by-step instructions, refer to the guide on Lecture Recording Analytics.
Course Site Design Tips - Assessment 
Each assessment item in a course should have its own folder in the Assessment area of the course site, while the submission link should be the first item in each folder. We recommend a link to the relevant student instructions also be included under the submission link.
View the video regarding course guidelines around assessment (YouTube, 2m 57s).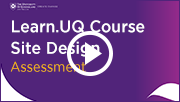 Online assignment submission and marking
Double assignment submission
It is recommended that course coordinators configure online assignment submission so that students only need to submit once; and not to both a Blackboard assignment and Turnitin assignment submission link. The eLearning Helpdesk receives numerous jobs each semester due to difficulties caused by the use of double assignment submission. 
Contact the eLearning Helpdesk for advice or nominate for the eLearning Solutions Service by booking via the appointments webpage to receive individual help to select and implement an online assignment solution for your course.
Turnitin Assignments
At UQ, Turnitin is the most popular choice for individual text-based assignments e.g. Word, PDF and PowerPoint. Turnitin has an online marking and feedback capability which includes a text matching function to help coordinators gauge originality. The text matching report compares submissions with web content, previously submitted assignments and journals. For step-by-step instructions, refer to the guide on Turnitin.
Dr Judith Seaboyer describes how she uses two comment banks, one for general punctuation and the other for longer feedback (YouTube, 2m, 29s).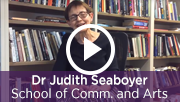 Blackboard Group Assignments 
Using the Groups and Blackboard Assignment tool in combination allows you to set up group project submission links. Any student in the group can submit the assignment and all members automatically receive the assignment results and feedback. The Blackboard online marking function allows you to annotate assignments and provide feedback using a rubric. For step-by-step instructions, refer to the guides on Groups and Assignment tool. 
Note: Turnitin is still the recommended option for group assignments if you require a Similarity Report.
Dr Bryan Morgan shares his views on the benefits of using the Blackboard assignment tool to mark group assignments (YouTube, 2m 28s).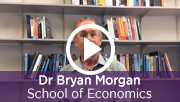 Video Assignments
Kaltura, UQ's video and audio server, can be used by students to submit video assignments via Blackboard. This allows instructors to use the online marking function to provide comments and feedback using a rubric. For step-by-step instructions, refer to the Video and Audio upload and Assignment tool guides.
Susannah Brady shares her views on the benefits of using video journals for students to capture their experiences in an innovative way (YouTube, 5m 25s).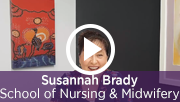 Communicate and Collaborate Online - Digital Essentials Module
The Communicate and Collaborate Online training module introduces students to discussion forums, email etiquette and collaboration tools for group assignments. It is designed to be embedded into courses so students can find the information they need, when they need it. For more information, please refer to the Digital Essentials webpage.

Secure Your Computer
While you are undertaking online marking, ensure that you secure your computer by locking it whenever you leave your desk or office. For more information, refer to the guides on How to lock a PC and How to lock a Mac.

Echo360 Active Learning Platform Deployment
Active Learning Platform (ALP) is new functionality available in UQ's lecture recording system, Echo360. ALP provides a range of functionality to facilitate in-class engagement and participation. Adopter support and resources have been made available to staff interested in implementing this functionality. For more information, please refer to the Echo360 ALP Deployment project page.

ITaLI eLearning Workshops
The ITaLI eLearning team are offering a range of professional development workshops to support staff in implementing Technology Enhanced Learning during 2019. For a description of each workshop, dates and to register, visit the Staff Development / Teaching and Learning Technologies site. 
Online workshops include:
Upcoming face-to-face workshops include:
ITaLI Teaching and Learning Workshops
eLearning Solutions Service
The eLearning Solutions Service offers one-on-one consultations to course teaching staff on the integration of eLearning tools into their courses. The service currently supports a range of eLearning tools, all of which can be found on the eLearning Solutions Service webpage. All eLearning Educational Advisors have either a BEd or GradDipEd. Staff can nominate for the eLearning Solutions Service by booking via the appointments webpage to organise an individual consultation at your office.
Request Support
To receive a quick response to your eLearning support request, log a job with eLearning Support using help@learn.uq.edu.au. Alternatively, you may use the Request Support button available inside Learn.UQ.
To enable a timely response please be sure to include as much information as possible with your request.