Tuesday 2 April
Digital Essentials Online Student Training Modules
The Digital and Assignment Essentials modules are designed to be embedded into courses so students can find the information they need, when they need it. It would be beneficial to direct students to explore the Choosing the right tool (finding tools for specific tasks, comparing similar tools to find the best match) and Writing, citing and submitting (assignment essentials) modules this week. For more information, please refer to the Digital Essentials web page. Library staff are readily available to assist you.
UQ ePortfolio Upgrade Date
The UQ ePortfolio (Chalk & Wire) will undergo a scheduled upgrade and maintenance on Saturday 13 April between 2pm and 8pm. During this time there will be no access to the UQ ePortfolio for students and staff. For further information, refer to the ePortfolio Upgrade April 2019 project page.
Learn.UQ Upgrade Dates
The Learn.UQ (Blackboard) upgrade dates for 2019 have now been confirmed as 6, 7, 8 July (Sat/Sun/Mon) where Monday will hopefully not be required. Upgrades are contractual requirements for supportability and security. Upgrades also provide important new functionality. For further information, refer to the Learn.UQ (Blackboard) Upgrade project page.
eLearning Solutions Service
The eLearning Solutions Service offers free one-on-one consultations to course coordinators on the integration of eLearning tools into their courses. The service currently supports a range of eLearning tools, all of which can be found on the eLearning Solutions Service webpage. All eLearning Educational Advisors have either a BEd or GradDipEd. Staff can nominate for the eLearning Solutions Service by booking via the appointments webpage to organise an individual consultation at your office.

Assessment
Course Site Design Tips - Assessment 
Each assessment item in a course should have its own folder in the Assessment area of the course site, and the submission link should be the first item in each folder. We recommend a link to the relevant student instructions also be included under the submission link.
The video below outlines course guidelines around assessment (YouTube, 2m 57s).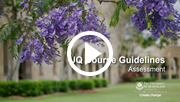 Student Support - Assessment
When new students submit assessment material, there are some issues they can encounter due to being unfamiliar with the software. As UQ teaching staff, it is important to be aware of the resources and services available to students and refer them correctly when required.
UQ Library provides a range of student guides to help them with Turnitin, Blackboard and ePortfolio assignment submissions. All guides can be found on the Learn.UQ help website. 
The UQ Library also provides a range of services that can assist students with assessment such as technical support, computer access, research skills and software training.
Should your students encounter technical problems while completing assessment, please refer them to the AskUs service and the Report Technical Problems with eLearning Systems guide.
Interpreting a Turnitin Similarity Report
The Turnitin Similarity Report compares submissions with web content, previously submitted assignments and journals. To assist academics with understanding Turnitin Similarity Reports, Turnitin conducted a webcast with Senior Lecturer Dr. Ann Rogerson at the University of Wollongong, who discusses interpreting a Turnitin Similarity Report. If you are unsure about how to interpret a Similarity Report, watch the Interpreting a Turnitin Similarity Report webcast (YouTube, 42m 28s). 

Control the release of results
During marking or moderation, you may not be ready for students to see their results. To control the release of results from Turnitin, Blackboard Assignments and Tests you need to carefully set both the individual tool settings and the Grade Centre column settings (Hide from Students on/off). For step-by-step instructions, refer to the guides on Turnitin, Blackboard assignments and Tests.
Record reasons for mark changes
The Learn.UQ (Blackboard) Grade Centre allows you to add a comment when you change a mark. These comments are then included in the Grade History which you can view at the end of semester to confirm validity and check for errors before transferring your grades to SI-net. 
The video below provides a walkthrough of how to edit a mark and record a reason (YouTube, 2m 22s).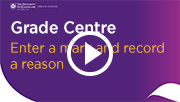 edX (Edge) Support for UQ2U Courses
Coordinators teaching the redeveloped UQ2U courses now have access to technical support for the edX (Edge) platform from the ITaLI eLearning team. Students can contact the Library AskUS team for support. For more information, please refer to the edX (Edge) Support project page. For step-by-step instructions refer to the guide on edX (Edge).

Custom Workshops
Custom workshops on centrally supported eLearning tools are available on request for faculties and schools. Email elearningtraining@uq.edu.au with the subject line Custom Workshop to schedule one of our teaching and learning workshops at a convenient time.
Gatton ITaLI eLearning Workshops
Learn.UQ Basics, 10:00am - 12:30pm, 4 April, Gatton
Learn.UQ Grade Centre, 10:00am - 12:00pm, 5 April, Gatton
Learn.UQ Tests, Quizzes and Exams, 1:00pm - 3:30pm, 5 April, Gatton
ITaLI Teaching and Learning Workshops
Implement Assessment Marking, Moderation & Feedback, 2:00pm - 4:00pm, 2 April, St Lucia
Peer Observation of Teaching, 10:00am - noon, 16 April, St Lucia
Introduction to Curriculum Design, 10:00am - noon, 16 April, St Lucia
Request Support
To receive a quick response to your eLearning support request, log a job with eLearning Support using help@learn.uq.edu.au. Alternatively, you may use the Request Support button available inside Learn.UQ.
To enable a timely response please be sure to include as much information as possible with your request.