Access assignments
From the Control Panel select Grade Centre > Full Grade Centre.
Submitted assignments will be displayed with an explanation mark icon.
Click on the  down arrow button next to the assignment column heading.
Tip: Select Grade anonymously instead if you do not want to view student names.

Select Grade Attempts from the drop down list.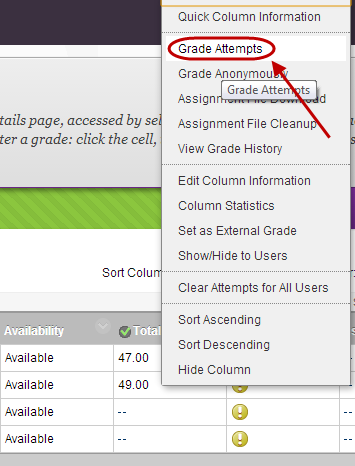 Marking screen

Navigate student submissions
Click on the  arrows to navigate between student submissions OR
Click on the Jump to... button.
Select the required assignment for the Item drop down list.
Select the required student from the User drop down list.
Click on the Go button.

Grading sidebar
You can provide grade and feedback in the right hand panel. This includes feedback, attach files, access the rubric, access attempts (if multiple attempts has been seleted) and add grading notes.