Using AV equipment in lecture theatres
To ensure you are ready for Semester 1 with the knowledge of how to use the AV equipment in lecture theatres, please consider attending a workshop.
Change to Blackboard Interface – New Support Tool
Staff may have noticed inside Learn.UQ (Blackboard) a target symbol with a question mark hovering on their screen. The target is part of the new Impact support tool, which is a new way for staff to register support requests. During the trial of 'Impact' users may notice subtle support advice displayed on the bottom right of their screen.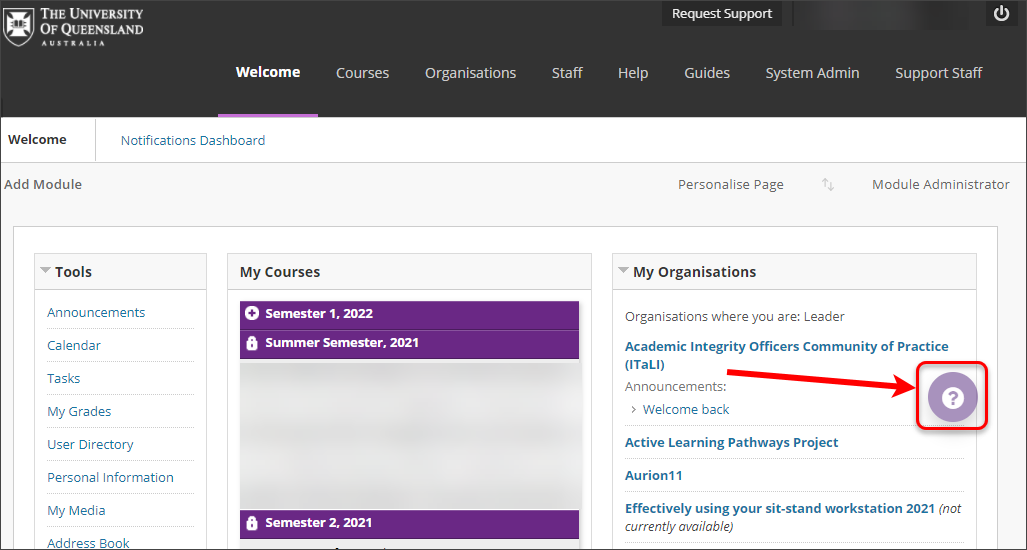 Make your course sites and ECPs available to students this week
Course coordinators need to make Learn.UQ (Blackboard) course site(s) and Electronic Course Profile(s) (ECPs) available to students at least one week before the first teaching activity, as outlined in the UQ policies on course profiles and minimum course presence. Course sites must contain at least a welcome message. The remaining online course requirements should be met by the first teaching activity.
New important capabilities
Following successful pilots, teaching staff are invited to receive training and support for adopting the following new capabilities: 
Contact eLearning to express your interest >>
Ready to Teach Week recordings
Thank you to everyone involved in Ready to Teach Week. The event saw over 500 attendees and included over 35 presenters across 19 online sessions, most of which were recorded and are now available to watch online.
Automatically publish lecture recordings from Zoom to Echo360 
Teaching staff are asked to ensure Zoom recordings are published automatically to Echo360 as Zoom cloud storage of recordings is only a temporary service.
Update your Zoom client
As new features (including advanced polling) have been added to Zoom, staff and students are encouraged to update their Zoom client. The Virtual Classroom PowerPoint template has also been updated to includes a reminder to update Zoom and contains the latest reaction icons. 
Are you using third party teaching and learning tools?
At this time of year, you may be adopting new teaching tools to use throughout the semester. If you're considering new teaching and learning tools, please follow the process as defined in the Software Acquisition and Use Procedure and Purchasing or requesting software web page (these requirements apply even if the software is free or cloud-based). Acquiring software correctly helps protect UQ's community and information assets, and ensures students are supported to use new software.
Find out more about safe software acquisition practices >>
Content creation for equity and diversity 
Remove barriers to learning for your students by following the guidelines of Universal Design for Learning with the help of information on web accessibility and ITaLI's advice on inclusive practice.
Course Insights - How well do you know your cohort?
Course Insights, UQ's own course-level learning analytics dashboard, is available to all course coordinators via Learn.UQ. The Enrolment section provides demographic information to inform teaching strategies. 
Icebreakers with PadletUQ
Icebreakers are an excellent way to promote student interactions and to develop personal connections early in the semester, which is particularly important in blended and online courses.
UQ Systems - Digital Essentials module
The UQ Systems module (within the Digital Essentials series) introduces students to Learn.UQ, SI-net, email, BookIt, Echo360, Turnitin, PaperCut, StudentHub and ePortfolio. It is designed to be embedded into courses so students can find the information they need, when they need it.
What's on
eLearning webinars (Zoom)
eLearning webinars for Tutors (via Zoom)
View all eLearning workshops and webinars >>
Other events and courses
Communities of Practice
Teaching and learning support
eLearning support
For technical support with central eLearning tools, email eLearning support.
eLearning advisers
For tailored advice by qualified teachers on using eLearning tools, including how to select and configure learning technologies. 
Book a Zoom consultation with an eLearning adviser >>
Workshops
eLearning advisers are available to deliver custom workshops in your school or faculty. 
Teaching support
ITaLI staff are available to offer pedagogical advice. Please contact itali@uq.edu.au or book a 30-min Zoom consultation.
Learning designers
For faculty/school level support, please refer to the list of learning designers in your area.