New Turnitin functionality
Turnitin now allows you to exclude the wording of an uploaded assignment template from the text matching process. This feature means template wording will no longer show as a match in the Similarity Report.
See the Create a Turnitin Assignment guide >>
What's new in eLearning?
The What's new in eLearning? session (part of Ready to Teach Week) provided an overview of new functions and capabilities within a range of eLearning systems, including GradeScope, Ed Discussion Board, H5P, Zoom and Course Insights. You can also access the recordings from other Ready to Teach Week sessions.
Open Course Scheme
Each semester, the Open Course Scheme provides opportunities to attend and observe a class from a selection of courses that are made 'open' to UQ staff.
Tools for engaging students
UQ supports a range of technologies to facilitate active learning and collaboration in classes, seminars and tutorials. Our experienced eLearning Advisers offer personalised advice on integrating a range of eLearning tools into your courses.
Group Peer Assessment
The Learn.UQ Group Peer Assessment tool allows students to evaluate individual contributions of group members to a group project. This tool can be used formatively to identify dysfunctional groups early in a project and to trigger appropriate support strategies.
Course Insights – Easily contact groups of students
Course Insights, UQ's own course-level learning analytics dashboard, is available to all course coordinators via Learn.UQ. The Students section allows staff to identify students according to set criteria such as those who have not engaged and contact them via email.
Are you making the most of Grade Centre? 
Grade Centre can be used to efficiently record assessment results and calculate final grades. By eliminating or limiting the use of spreadsheets, you can also improve the management and security of your grades. 
View Grade Centre by tutorial, seminar and practical groups
Smart Views allow you to easily filter your Grade Centre to speed up the entry of marks and checking of student submissions. This video (YouTube, 2m 19s) shows you how to use Smart Views for your contact, tutorial, practical or seminar groups.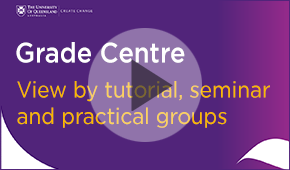 Podcast – Entering the lecture room for the first time
In the latest episode of HigherEd Heroes, Al and Seb talk to Kiri Ingram and Dr Andrew Dougall (both at UQ School of Political Science and International Studies) about starting out as lecturers – the nerves, challenges, imposter syndrome, and 'do's and don'ts'.
What's on
eLearning training (self-paced)
eLearning webinars (Zoom)
View all eLearning workshops and webinars >>
Other workshops and information sessions
Teaching and learning support
eLearning support
For technical support with central eLearning tools, email eLearning support.
eLearning advisers
For tailored advice by qualified teachers on using eLearning tools, including how to select and configure learning technologies. Book a Zoom consultation with an eLearning adviser.
Workshops
Self-paced online workshops are available for a variety of systems and tools. eLearning advisers are available to deliver custom workshops in your school or faculty. Organise a custom workshop.
Teaching support
ITaLI staff are available to offer pedagogical advice. Please contact itali@uq.edu.au or book a 30-min Zoom consultation.
Learning designers
For faculty/school level support, please refer to the list of learning designers in your area.