"The Chase" pilot volunteers needed
The eLearning Team are seeking Course Coordinators wanting to trial H5P's "The Chase" into their teaching for Semester 2, 2021. "The Chase" allows students to answer a series of formative questions in an engaging format. If you would like to apply for the pilot, please email elearningadvisors@uq.edu.au where we will make contact with you on how to best implement it into your teaching.
Transform your course into an active, social and personalised experience
RiPPLE is a UQ developed and supported educational tool that leverages learning science and Artificial Intelligence (AI) to transform learning into an immersive experience. It is already used across more than 50 courses.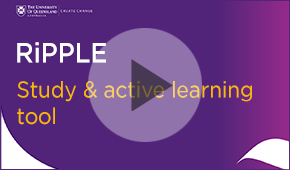 Customised waiting rooms for Zoom
Customised waiting rooms are available for scheduled Zoom meetings. A message can be provided to those waiting to enter your meetings and is useful for exams conducted via Zoom.
Order your Semester 2 site(s) now
This can be done by either:

1. Using the Site Request Form located under the 'Staff' tab in Learn.UQ. This form also allows staff to request a copy of content from a previous semester.

or

2. Publishing the Electronic Course Profile (ECP) for a blank course template to be created automatically within 48 hours. For content to be copied, request a 'copy' also located under the Staff tab.
See the Course requests guide >>
Recording exam results in Grade Centre
Using Grade Centre is an opportunity to enhance grade management and security compared to use of spreadsheets. This is outlined in the UQ Policy and Procedures Library on Assessment. Grade Centre has built-in logging and monitoring of data which has been an important part of resolving mistakes in the past. The guide contains tips for efficiently recording your exam results in Grade Centre.
Check the history of mark changes
Grade Centre logs a record of all changes made to marks during the semester. At the end of the semester, use the View Grade History tool to produce a report showing all changes and comments, to confirm validity and check for errors.
Top 5 tips for finalising grades
Reminder: check out our Top 5 tips for finalising grades. 
Approaching the second half of a year-long course?
If you are approaching the second half of a year-long course, you may have to submit a new course site request and ask for a merge to avoid your lecture recordings automatically being moved into a new Learn.UQ course site.
Accessibility and Study Hacks
The Accessibility and Study Hacks module (part of Digital Essentials) introduces students to creating accessible content and productivity tools for study and life. It is designed to be embedded into courses so students can find the information they need, when they need it.
What's on
Ready to Teach Week Semester 2, 2021
Registrations are open for Ready to Teach Week (28 June – 2 July 2021). Join ITaLI for a week of online and in-person activities dedicated to developing and preparing course materials.
Building ships of community to create belonging in your course (14 June 2021)
In this seminar, UNSW Professor Chris Tisdell will share ideas to build a community in your class through practical strategies. Participants will learn how to create more interactive and engaging moments with your students online and on-campus.
Teaching and Learning Week
If you are interested in conducting a workshop, seminar, roundtable or showcase around this year's theme of Inclusion, please submit an EOI by Thursday 15 July. T&L Week (1–5 November 2021) will offer staff an opportunity to share their experience in incorporating inclusive teaching approaches that facilitate belonging at UQ.
eLearning webinars (Zoom)
eLearning workshops (face-to-face)
Other events and courses
Teaching and learning support
eLearning support
For technical support with central eLearning tools, email eLearning support.
eLearning advisors
For tailored advice by qualified teachers on using eLearning tools, including how to select and configure learning technologies. Book a Zoom consultation with an eLearning advisor.
Workshops
Self-paced online workshops are available for a variety of systems and tools. eLearning advisors are available to deliver custom workshops in your school or faculty. Organise a custom workshop. 
Teaching support
ITaLI staff are available to offer pedagogical advice. Please contact itali@uq.edu.au or book a 30-min Zoom consultation.
Learning designers
For faculty/school level support, please refer to the list of learning designers in your area.