UQ Awards for Excellence in Teaching and Learning – EOIs open
Expressions of interest (EOIs) for the current round of UQ Awards for Excellence in Teaching and Learning are now open until Friday 23 April. The awards acknowledge excellence in learning and teaching by recognising staff through three award programs (self-nomination is permitted).
How engaged are your students?
Course Insights is UQ's own course-level learning analytics dashboard available to all Course Coordinators via Learn.UQ. The Engagement section provides staff with information about student engagement in Learn.UQ and edX (Edge). The tool identifies disengaged students to contact prior to census date.
Control the release of results
During marking or moderation, you may not be ready for students to see their results. To control the release of results from Turnitin, Blackboard assignments and Tests you need to carefully set both the individual tool settings and the Grade Centre column settings (Hide from Students on/off).
Interpreting a Turnitin Similarity Report
The Turnitin Similarity Report compares submissions with web content, previously submitted assignments and journals. Turnitin conducted an Interpreting a Similarity Report webcast to assist academics with understanding the reports.
Turnitin comment banks
Turnitin QuickMarks are comment banks that can be created, saved and re-used on any assignment. QuickMarks can reduce the time required to provide feedback on common mistakes and can also be shared with tutors to improve the marking consistency.
Microsoft Teams
In this video (YouTube, 3m 8s) watch how Dr Frederik Von Briel uses Microsoft Teams in the PBEL3000 work integrated learning capstone unit to promote communication and collaboration.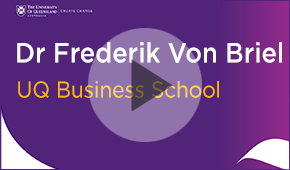 Write, Cite and Submit - Digital Essentials module
The Write, Cite and Submit module (part of Digital Essentials) is designed to be embedded into courses and introduces students to plagiarism, referencing style guides and assignment submission requirements.
What's on
UQ Learning and Teaching Focused Network
This session will focus on academic wellbeing, informed by research from Dr Marissa Edwards (Faculty of Business, Economics and Law). Staff are invited to discuss the stressors experienced in the workplace and share ideas about promoting and supporting wellbeing in the future.
eLearning training (self-paced)
Webinars and workshops
Communities of Practice
Teaching and learning support
eLearning support
For technical support with central eLearning tools, email eLearning support.
eLearning advisors
For tailored advice by qualified teachers on using eLearning tools, including how to select and configure learning technologies. Book a Zoom consultation with an eLearning advisor.
Workshops
eLearning advisors are available to deliver custom workshops in your school or faculty. Organise a custom workshop.
Teaching support
ITaLI staff are available to offer pedagogical advice. Please contact itali@uq.edu.au or book a 30-min Zoom consultation.
Learning designers
For faculty/school level support, please refer to the list of learning designers in your area.