Lecture recordings
Automatically publish lecture recordings from Zoom to Echo360 
Teaching staff can now configure Zoom to publish recordings automatically to Echo360. Staff are strongly encouraged to use this method of publishing recordings and to avoid uploading large video as files in Blackboard.
Videos in Echo360 – are students watching?
Staff can view analytics on student engagement for any videos uploaded to Echo360, including recordings transferred from Zoom. This includes information on the number of views of individual videos and a breakdown of individual student engagement.
Professional development
Custom workshops
Custom workshops on centrally supported eLearning tools are available by request for faculties, schools and individual courses. Contact elearningadvisors@uq.edu.au with details of the preferred date, time and approximate numbers.
Online exams tips
Watch how Dr Jacqueline Bond (YouTube, 4m 7s) uses question pools to group topics by difficulty, tests students on definitions and improves the academic integrity of online exams.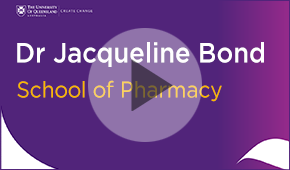 TeachingPlus@UQ
Expressions of interest (EOIs) for the TeachingPlus@UQ program are now open until Friday 16 April. The program is designed for experienced academic and professional staff who are interested in becoming educational leaders and building their leadership capabilities.
Can you see the Spotlight module?
Drag the Spotlight module to the top of your Welcome page on Learn.UQ (Blackboard) so you don't miss important updates from UQ's eLearning systems.
Course site design tips - Assessment 
The Teaching and Learning Committee endorsed course design guidelines recommending that all individual assessments have their own folder in the Assessment area of the course site. The first item in the folder should be the submission link followed by the relevant student instructions. 

Watch this video (YouTube, 1m 57s) for course guidelines regarding assessment.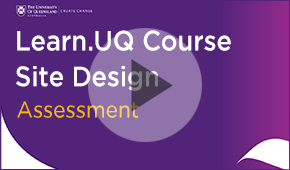 Online assignment submission and marking
Online assignment submission and marking tools facilitate efficient and reliable assignment submission for students, and more efficient assignment marking for teaching staff. Assignments are immediately available to teaching staff for marking, and once marked, are quickly available to students for reflection.
Visit the Assessment tools web page >>
Turnitin - Roster Sync for late enrolments
Turnitin assignments only contain students who were enrolled in a course when the assignment was created. To allow students to submit assignments where they have enrolled course in after you have created the assignment, you will need to update the class list using the Roster Sync function.
Grades security tip: secure your computer
Secure student grades by manually locking your UQ computer when you leave your desk or office.
Information Essentials - Digital Essentials module
The Information essentials module (part of Digital Essentials) introduces students to different types of information and strategies for evaluating information. The module is designed to be embedded into courses so students can find the information they need, when they need it.
What's on
eLearning training (self-paced)
Webinars and workshops
Communities of Practice
Teaching and learning support
eLearning support
For technical support with central eLearning tools, email eLearning support.
eLearning advice
For tailored advice by qualified teachers on using eLearning tools, including how to select and configure learning technologies. Book a Zoom consultation with an eLearning advisor.
Workshops
eLearning advisors are available to deliver custom workshops in your school or faculty. Organise a custom workshop.
Teaching support
TaLI staff are available to offer pedagogical advice. Please contact itali@uq.edu.au or book a 30-min Zoom consultation.
Learning design
For faculty/school level support, please refer to the list of learning designers in your area.