UQ Awards for Excellence in Teaching and Learning – EOIs closing
Expressions of interest (EOIs) for the current round of UQ Awards for Excellence in Teaching and Learning close this Friday (23 April). The awards acknowledge excellence in learning and teaching by recognising staff through three award programs (self-nomination is permitted).
Creating Learning Journeys in Learn.UQ
Consider creating a learning journey for your students by combining different elements of our virtual learning environment into a sequence. Within Learning Resources, you can:
Updated resources and personal consultations for Learn.UQ exams available
Updated resources are now available for the preparation and delivery of Learn.UQ exams (both invigilated and non-invigilated). To assist with Learn.UQ exam setup, the eLearning Solutions Service offers personal consultations for course teaching staff, support staff and designers on selecting and configuring technologies.
Book an appointment with an eLearning Adviser >>
Create interactive learning objects with H5P
H5P provides an easy way to create small Interactive Learning Objects that can be inserted into courses. There are many different H5P content types that can be used to test knowledge retrieval, comprehension and analysis and to create rich content that can be sequenced. To request a H5P license, please email help@elearning.uq.edu.au.
See the H5P content types guide >>
Do not use Delegated Grading on Blackboard assignments
Due to known issues with the Delegated Grading feature, it is not a recommended setting for Learn.UQ (Blackboard) assignments. For step-by-step instructions, refer to the Create an Assignment - Individual and Create an Assignment – Group guides.
Find out more about the assignment tool >>
Turnitin - Roster Sync for late enrolments
Turnitin assignments only contain students who were enrolled in a course when the assignment was created. To allow students to submit assignments where they have enrolled in the course after you have created the assignment, you will need to update the class list using the Roster Sync function.
Course Insights – investigate student assessment results
Course Insights is UQ's own course-level learning analytics dashboard, available to all course coordinators via Learn.UQ. The Assessment section provides staff with an overview of student assessment results, as well as an in-depth analysis of each individual assessment task.
Record reasons for mark changes
Watch this video to learn how to edit a mark and add a comment in the Learn.UQ (Blackboard) Grade Centre is now available. View the comments in the Grade History at the end-of-semester to confirm the validity and check for errors before transferring your grades to SI-net.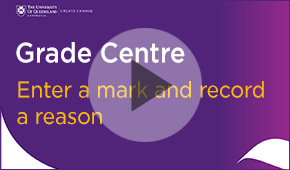 Working with Files – Digital Essentials module
The Working with Files module (part of Digital Essentials) introduces students to file storage, file naming, backing up work and metadata. It is designed to be embedded into courses so students can find the information they need, when they need it.
What's on
ProctorU mock exam for staff
A mock exam with invigilation by ProctorU will run from 4–7 May to provide staff the opportunity to experience an online invigilated exam from the student perspective. Register to participate by 27 April as places are limited.
Ready to Teach Week Semester 2, 2021
Following the success of the first Ready to Teach Week in February, the event will come back from 28 June – 2 July 2021 with a week of online and in-person activities dedicated to developing and preparing course materials. For staff interested in helping shape the event or simply attending, please complete an expression of interest (EOI).
eLearning training (self-paced)
Webinars and workshops
Communities of Practice
Teaching and learning support
eLearning support
For technical support with central eLearning tools, email eLearning support.
eLearning advisers
For tailored advice by qualified teachers on using eLearning tools, including how to select and configure learning technologies. Book a Zoom consultation with an eLearning adviser.
Workshops
eLearning advisers are available to deliver custom workshops in your school or faculty. Organise a custom workshop.
Teaching support
ITaLI staff are available to offer pedagogical advice. Please contact itali@uq.edu.au or book a 30-min Zoom consultation.
Learning designers
For faculty/school level support, please refer to the list of learning designers in your area.