Create a Turnitin Assignment
This guide will walk you through the process of setting up a Turnitin Assignment for the submission of text based assignments (i.e. PDF, Word and PowerPoint files).
Video Guide
Create a Turnitin assignment (YouTube, 3m 20s)
Similarity Report
A Similarity Report can be produced and highlights any text in a student's assignment that matches sources in the Turnitin database, including web content, previously submitted assignment and subscription-based journals and publications.
Multiple file submissions and group assignments
Turnitin only allows the submission of one file. Turnitin also does not allow the submission of group assignments, consider using the Blackboard Assignment tool for group assignments that do not require a Similarity Report.
Draft submissions
It is recommended that students be permitted to submit at least one draft of their assessment for checking before the final submission. If you only allow one draft to be submitted, you will need to set up a separate Turnitin Assignment submission link for the final submission.
5. Submit the Turnitin assignment
Optionally, check the Yes radio button for Would you like to save these options as your defaults for future assignments? to save these settings as the default for all assignment you set up in Turnitin in the future.
Click on the Submit button.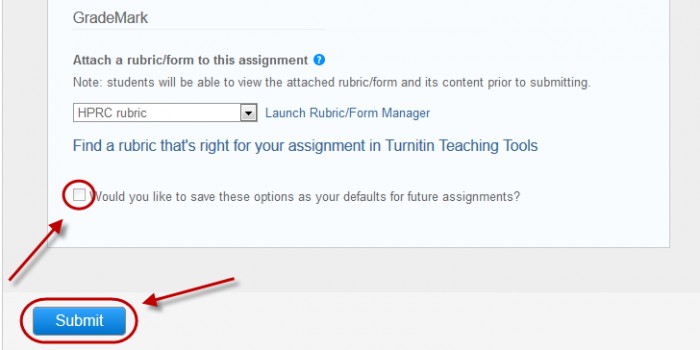 Click the OK button to close the warning about the post date.

Click the OK button to return to the Assessment page.

The Turnitin assignment submission link will then appear in the assessment folder.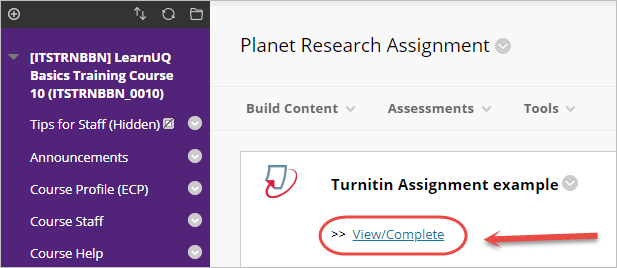 Note: Turnitin assignments only contain the list of students who were in your course when the assignment was created. If more students have enrolled after you create your assignment you will need to update the class list so those students can submit their assignments (refer Roster sync).