Turnitin Generative AI writing indicator
Turnitin has released a preview version of its Generative AI writing indicator which is available for staff only. 
It is recommended by UQ Senior Leadership that staff use the indicator as an educative tool.
When marking student assignments, staff will see the indicator in the same area they see the Similarity Report.
The Similarity Report and the AI indicator should be viewed in tandem to provide a fuller understanding of student submissions. Refer to the usage tips at the end of the guide.
Note: There is currently an access issue with Safari which has been reported to the vendor. If you are using a Mac device, please try Chrome or other browsers.
Access the AI writing indicator
Navigate to the relevant assessment folder in your Learn.UQ course.
Click on the assessment Turnitin submission link.

In the Assignment inbox click either on the submission title or the % number in the Similarity column to access and view the student submission.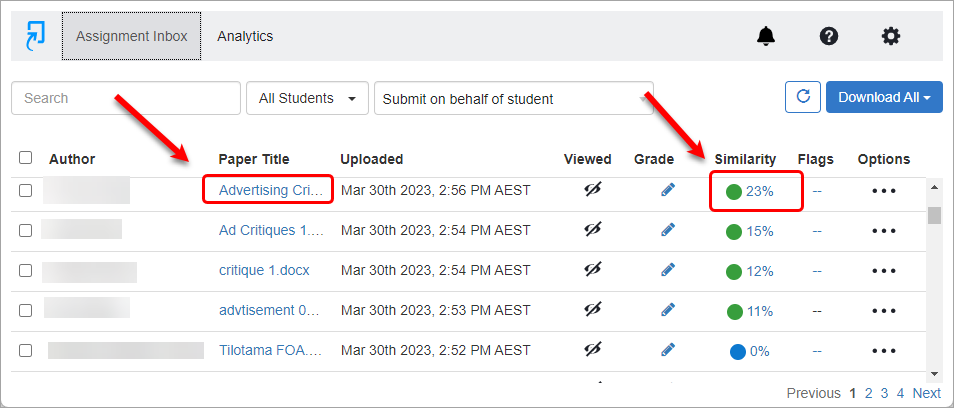 The Generative AI indicator will be displayed in the same area of the Similarity Report.
Click on the Similarity Report number to view the matches in the student's submission.
Tips:
Staff should check the Similarity Report as usual and pay close attention to the reference list.
Turnitin should be able to match most of the reference list.
For the unmatch references, please check if they are the true ones (ChatGPT is known to make up fictitious references based on the data it has).

Click on the AI indicator (AI 75%) to view the report.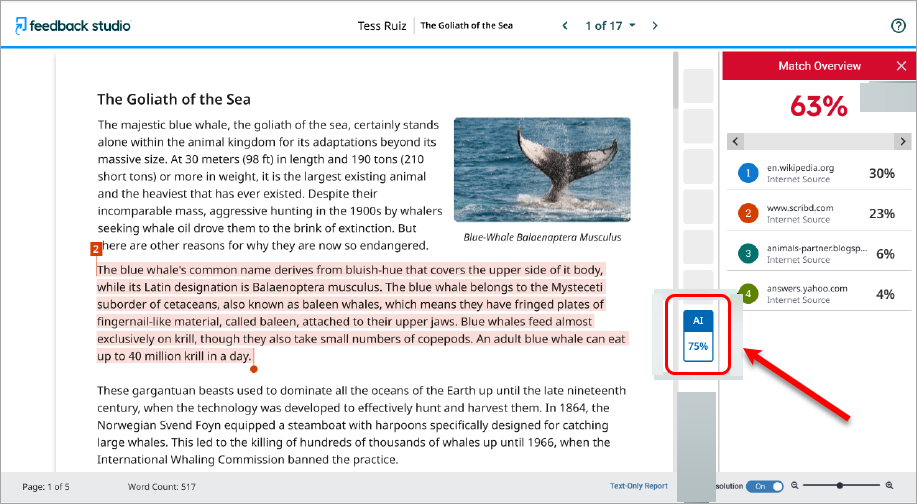 AI report highlights the text segments that are predicted to have been written by generative AI.
Tip: The AI detection report will be opened in a new window. You can have both the AI report and the Similarity Report views.
Note: This report cannot be printed so staff can take screenshots if required.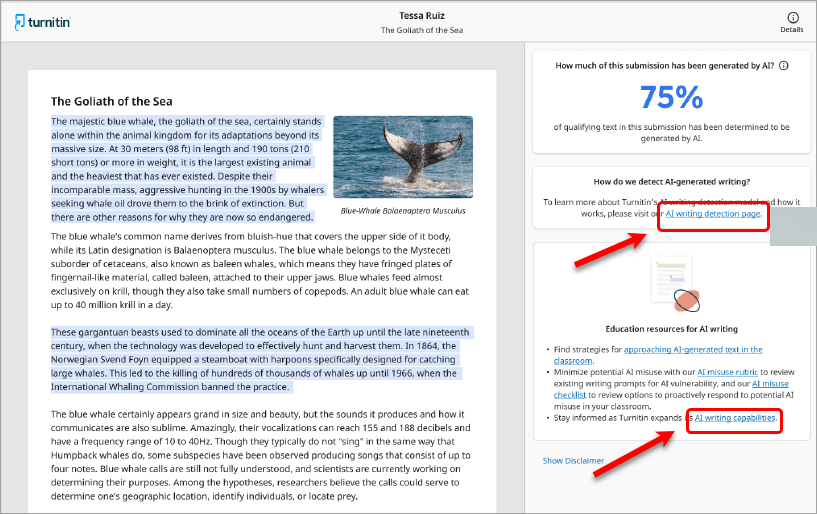 Note that you can click on:
the link to a Turnitin FAQ page for additional information.
the link to Turnitin pedagogical resources for educators.
For more information on UQ's position on AI, refer to the ITaLI Teaching and assessment updates page.
Usage tips
When creating an assignment submission link, DO NOT exclude any bibliography, quoted materials, or small sources in the Similarity Report settings under Optional Settings (Step 14 in the Optional Settings guide)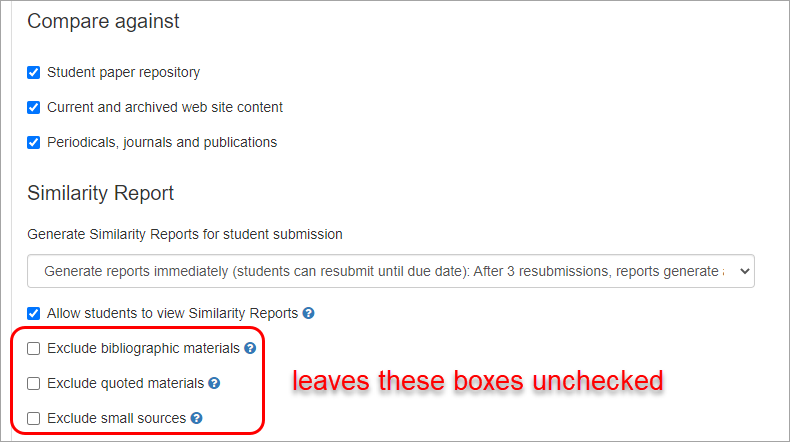 When viewing the Similarity Report, you can use the Exclude Sources function to exclude any sources that you do not want to include in the similarity report
Usually, all references in the reference list should be matched when viewing the Similarity Report. You can check the unmatch entries for any false sources.
AI indicator in Inspera
This function is also available in the Similarity report in the Inspera platform.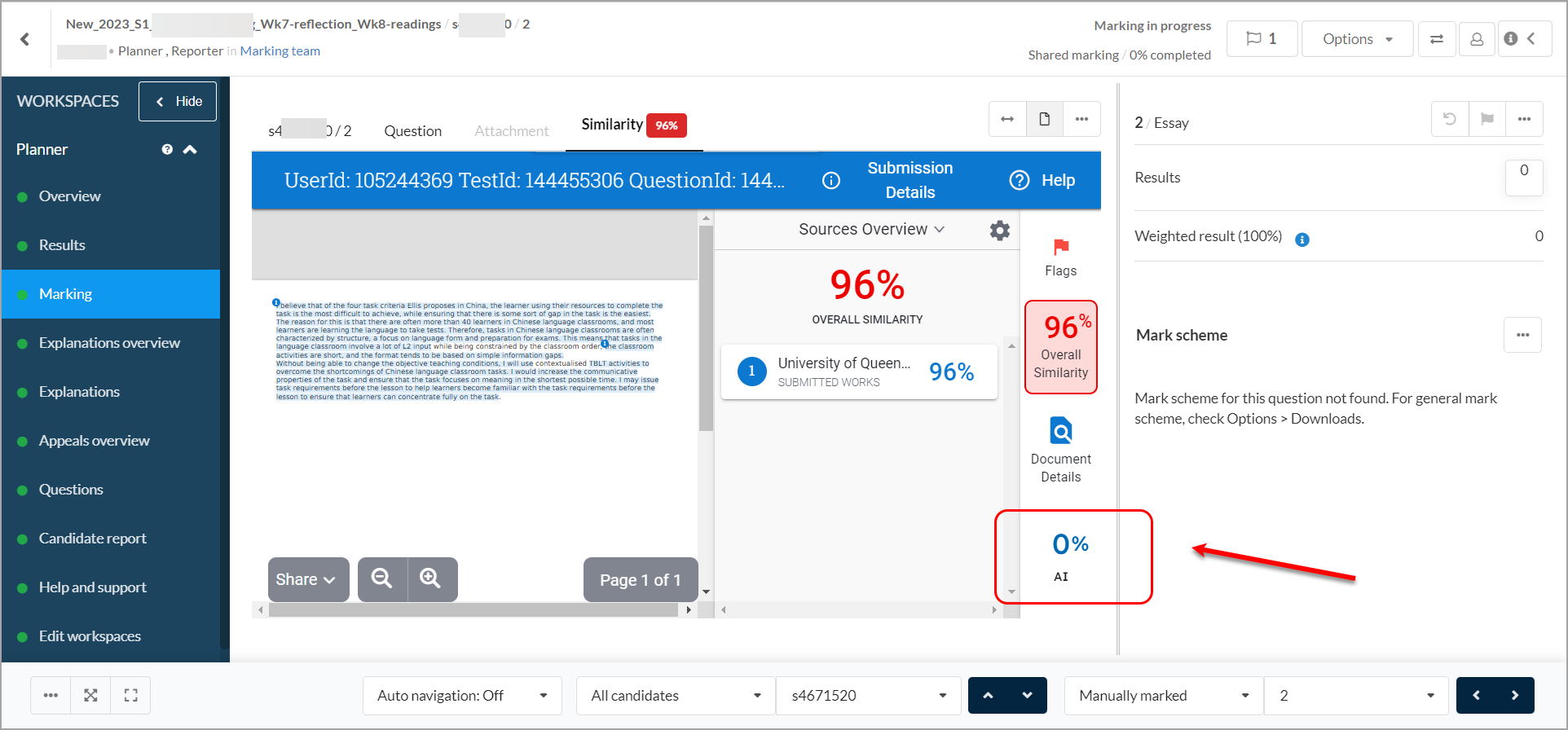 AI indicator in ePortfolio
The functionality is not available in the ePortfolio system.