Add a Course Lecture Recording Link
A lecture recordings link will be automatically be added to the Learning Resources content area. If the link has been accidently deleted it can be replaced by following the below steps.
The below steps will also need to be be followed if you wish to link to and Adhoc recording, PCAP recording, a recording of an additional scheduleed activity (i.e. Seminars) or link to a recordings from another course.
Add a Lecture Recording link 
In your Learn.UQ course click on the Learning Resources link.
Hover over the Tools link. 
Select Lecture_Recordings. 
Put in Lecture_Recordings under the Name field. 
Click on the Submit button. 
Access Recordings - Lecture recordings
The first time you click on a link the below screen will be displayed.
Course Coordinators should accept the default.
Click on the LINK CONTENT button.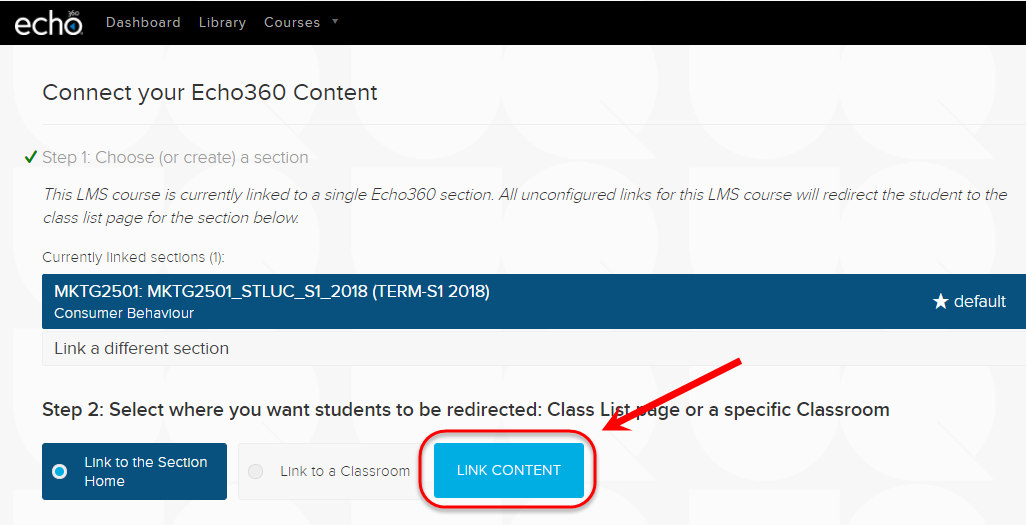 Access Recordings - Adhoc, PCAP, Seminars, Other course
Optionally, to link to a different course click on Link a different section.
Select the required Course / Terms (Semester) / Section (Course) from the drop down lists.
Course link
Click on the Link to the Section Home button.
Click on the LINK CONTENT button.
Individual recording link
Click on the Link to a Classroom button.
Select the required recording.
Move a lecture recording link
New lecture recordings links created will be placed at the bottom of the page.
Tip: Move the lecture recording link to the top of the Learning Resource folder so students can access the link easily. 
Hover towards the left of the Lecture_Recordings link.
Single left click and drag the folder to the top of the page. 
The Lecture_Recordings folder will now be at the top of the page Learning Resources folder.