Thursday 1 February
New eLearning website
The eLearning support website has been updated with the latest UQ look and a search tool for guides. eLearning tool guides have a new format for improved accessibility. More improvements in the pipeline are available on the eLearning Website Migration project page. 
New Course template
The standard Learn.UQ course template has a new layout with embedded help prompts. The video below provides a walkthrough of the features in the new template. (11:42mins)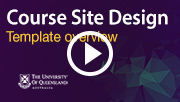 Order your Semester 1 courses
You can request your Learn.UQ course for Semester 1, 2018 now!

1. Use the online Site Request form located on the Staff tab in Learn.UQ. This form also allows you to request a copy of course content from a previous semester.

OR
2. Publish your Electronic Course Profile (ECP) for a blank course template to be created automatically within 48 hours. For content to be copied, request a 'copy' through the Staff tab mentioned above.
For step-by-step instructions refer to the guide on Course Requests.
Office Mix retirement
Microsoft is retiring Office Mix on 1 M‍ay, 2‍018. Staff with Mix presentations are advised to download them from the Office Mix website and transfer them to Kaltura. For step by step instructions refer to the Office Mix Migration Procedure. For additional information, view the Office Mix Migration project page. 
Kaltura Content management
The Kaltura video system has proven extremely popular for instructional videos and student video assignments over the last five years. In order to manage storage costs owners of videos which have not been viewed recently will be contacted about their possible removal. Targeted videos include:
published content older than four years that which has not been viewed in the last four years;
unpublished content older than a year.
For additional information, view the Kaltura Video Storage project page.

eLearning Systems and Support
The eLearning Systems and Support team is responsible for running UQ's central eLearning services and for providing technical training and support.
Explore:
ITaLI
The Institute for Teaching and Learning Innovation (ITaLI) provides leadership, engagement and advocacy in educational innovation, teaching excellence and learning analytics.
Explore:
eLearning Educational Design and Support
eLearning Educational Designers are based in schools and faculties. While their focus areas of support vary, they can generally assist you with:
Developing online resources to support your face-to-face teaching,
Transforming course content into active learning experiences,
Bringing together instructional strategies, tools and technology for best performance,
Advice on efficient and sustainable approaches to online learning,
Best practice design balancing aesthetic quality, usability and technical requirements.
Library Services: Support for Staff
The Library offers a number of services that can make your life easier and improve the student experience by working with you to support your students. If you would like more details about the services available, visit the Library website or contact your Liaison Librarian.
Library Services: Support for Students
Library Services provides an Information Technology Helpdesk for students. They also offer face-to-face help, provide online Learn.UQ student guides and run workshops for students.

The eLearning team are offering a range of practical workshops on eLearning tools during 2018.  For a description of each workshop, dates and to register, visit the Staff Development / Teaching and Learning Technologies site. Upcoming workshops include:
ITaLI Workshops
Request Support
If you are having an eLearning technical problem, you can log a job with the UQ Staff eLearning Helpdesk at the address above. To enable a timely response please be sure to include as much data as possible with your request.