Monday 7 October
Register now for Teaching and Learning Week
Teaching and Learning Week 2019 (28 October to 1 November) provides an opportunity for the UQ community to learn from one another and celebrate creative and innovative teaching and learning practices designed to enhance student learning.
This year's workshops, panels and other interactive sessions will highlight our excellent teachers and tutors, initiatives and T&L leaders around the theme of 'Creativity'.
View the program and register for events on the Teaching and Learning Week webpage.
Learning Analytics Dashboard - Available Summer Semester
Course Insights, UQ's learning analytics dashboard will be made available for all courses via a Blackboard menu link from Summer Semester 2019. The course-level academic facing dashboard provides information on student cohort demographics, online engagement, assessment results and basic email intervention functionality that can filter and identify groups of students. 
For additional information, refer to the Course Insights tool page. You can also access Course Insights Playground course which includes a link to a demonstration dashboard. ITaLI Learning Analytics team will continue to develop this dashboard and you can request new features and provide feedback by emailing learninganalytics@uq.edu.au.
Turnitin - Roster Sync
Turnitin assignments only contain the students who were in your course when the assignment was created. If more students have enrolled since you created the assignment, you will need to update the class list via the Roster Sync function so those students can submit their assignments. For more information, please refer to the Roster Sync guide for step-by-step instructions.  
Custom workshops for teaching staff, tutors and professional staff
Custom workshops on centrally supported eLearning tools are available on request for faculties, schools and/or courses. Laptops are provided for the sessions and course coordinators only need to book a meeting room. Contact elearningadvisors@uq.edu.au with details of the preferred date, time, room booking and approximate numbers.
Learn.UQ Attendance tool - Volunteers Needed
Volunteers are needed to pilot training resources and support services for the new Learn.UQ (Blackboard) Attendance tool. This tool supports staff to record students as Present, Late, Absent or Excused in class. This can be particularly useful to increase awareness of attendance patterns within your course, which may provide insights into cohort interest, activity and relationships between attendance and performance. 
All pilot volunteers will be provided with technical and implementation support from an eLearning Advisor. If you are interested in volunteering for the Learn.UQ (Blackboard) Attendance tool pilot support, please email elearningadvisors@uq.edu.au
Virtual Reality Community of Practice
The Virtual Reality Community of Practice (CoP) will be launching soon. The CoP will be a place to share examples of practice and support teaching and research at UQ in any area related to emerging immersive technologies including Virtual Reality (VR), Augmented Reality (AR) and Mixed Reality (MR).
If you are interested in joining the Virtual Reality Community of Practice email list, please contact elearningadvisors@uq.edu.au. 
How do students submit a Video Assignment?
Kaltura media makes video assignments easy for both staff and students. This short video (YouTube 1m 48s) will guide students through the process of uploading their video to My Media and submitting the assignment. Step-by-step instructions on how students can submit their video assignments using Kaltura media are available on the student website.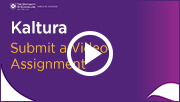 Video Case Study
Watch the video case study to see how Debbie Jeffery uses PadletUQ to engage students in her lectures (YouTube, 1m 59s).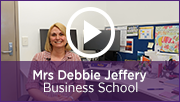 Working with Data - Digital Essentials Module
The Working with Data module introduces students to data sources, cleaning data, data analysis and presenting data. It is designed to be embedded into courses so students can find the information they need, when they need it. For more information, please refer to the Digital Essentials webpage.

Record reasons for mark changes
The Learn.UQ (Blackboard) Grade Centre allows you to add a comment when you change a mark. These comments are then included in the Grade History which you can view at the end of semester to confirm validity and check for errors before transferring your grades to SI-net. 
The video below provides a walkthrough of how to edit a mark and record a reason (YouTube, 2m 22s).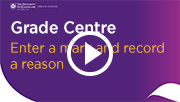 Keeping Grades Secure
Watch the following video to view a range of practical strategies for improving grades security (YouTube, 1m 48s).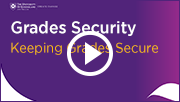 ePortfolio Enhancement Investigation
The eLearning Team is reviewing emerging requirements for the ePortfolio system over the coming months. Please take note when the short initial survey is sent out, your input will be crucial to the outcome.  

ITaLI eLearning Workshops
The ITaLI eLearning team are offering a range of professional development workshops to support staff in implementing Technology Enhanced Learning during 2019. For a description of each workshop, dates and to register, visit the Staff Development / Teaching and Learning Technologies site. 
Online workshops include:
Upcoming face-to-face workshops include:
ITaLI Teaching and Learning Workshops
eLearning Solutions Service
The eLearning Solutions Service offers one-on-one consultations to course teaching staff on the integration of eLearning tools into their courses. The service currently supports a range of eLearning tools, all of which can be found on the eLearning Solutions Service webpage. All eLearning Educational Advisors have either a BEd or GradDipEd. Staff can nominate for the eLearning Solutions Service by booking via the appointments webpage to organise an individual consultation at your office.
Request Support
To receive a quick response to your eLearning support request, log a job with eLearning Support using help@learn.uq.edu.au. Alternatively, you may use the Request Support button available inside Learn.UQ.
To enable a timely response please be sure to include as much information as possible with your request.