Exam preparation resources
For staff
Resources are available to help prepare and deliver invigilated (ProctorU) and non-invigilated Learn.UQ exams. For tailored advice, book a consultation with an eLearning Adviser.
For students
For smoother end-of-semester exams, tell your students about the AskUs exam prep webinars that provide tips and advice on common issues faced by students on exam day.
Practice online exams
Where a course requires students to sit an online exam at the end of the semester, Course Coordinators are strongly encouraged to provide students with a practice exam, allowing students to become familiar with the exam process and test their device setup. Course Coordinators can either generate a course-specific practice exam or simply promote the availability of self-enrol using the Learn.UQ Practice Exam site and Inspera Practice Exam.
Check your exam as a student
It is important to check your exam 'as a student' to test if it works as expected and to ensure all questions are accessible. View the Learn.UQ Exams and Inspera Peer Review and Testing guides. 
SECaTs open next week
SECaTs will be live from Monday 15 May. To maximise your response rates, set aside time in class for students to complete their surveys. Students will receive an email with a link to the survey portal once the surveys are live, or they can visit eval.uq.edu.au.
Course Insights access
Access to Course Insights – UQ's own course-level learning analytics dashboard – has been extended to include all teaching staff in a course.
Course Insights - investigate student assessment results
Course Insights is UQ's own course-level learning analytics dashboard and is available to all Course Coordinators via Learn.UQ. The Assessment section provides staff with an overview of student assessment results, as well as an in-depth analysis of each individual assessment task.
Visit the Assessment section >>
UQ Awards for Excellence in Teaching and Learning - EOIs open
A reminder that EOIs for the UQ Awards for Excellence in Teaching and Learning are open until Friday 19 May. Please encourage an outstanding teaching and/or team to apply! 
ITaLI Seminar: Assessment redesign for Generative AI 
Associate Professor Jason Lodge will host a seminar on assessment redesign for Generative AI.  Participants will explore the short, medium, and long-term implications of Generative AI for how we assess students at UQ. The seminar will take place on Tuesday 16 May, 12-1pm.
What's Working? - Generative AI and assessment
Our What's Working? webinar will feature academics working with Generative AI to enhance assessment and feedback practices. There will be opportunities to discuss how to use the Turnitin Generative AI tool to help students further understand the ethical and effective use of Generative AI. The webinar will take place on Monday 29 May, 1-2pm. 
Working with Data - Digital Essentials module
The Working with Data module (within the Digital Essentials series) introduces students to data sources, cleaning data, data analysis and presenting data. The module is embedded into courses to make it more accessible for students.
Effective Thinking and Writing Masterclass
Dr Yael Leibovitch shows how to build students' writing capabilities through dialogic teaching methods and instruction in standard form arguments. The masterclass will take place on Friday 26 May, 8:30am–4pm. Email laura.pham@uq.edu.au to register.
Keeping grades secure
The following video offers a range of practical strategies for improving grade security.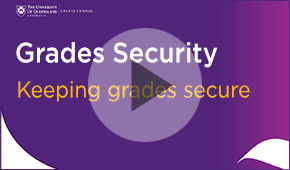 What's on
eLearning webinars (Zoom)
eLearning workshops (self-paced)
Communities of Practice
Teaching and learning support
eLearning support
For technical support with central eLearning tools, email eLearning support.
eLearning Advisers
For tailored advice by qualified teachers on using eLearning tools, including how to select and configure learning technologies. Book a Zoom consultation with an eLearning adviser.
Workshops
Self-paced online workshops are available for a variety of systems and tools. eLearning advisers are available to deliver custom workshops in your school or faculty. Organise a custom workshop.
Inspera assessment design support
For 2023 Semester 1 approved courses, eAssessment Learning Designers can help with assessment design, advice on question and assessment task creation, optimising the student experience, and providing feedback in Inspera. Book an online consultation. 
Teaching support
ITaLI staff are available to offer pedagogical advice. Please contact itali@uq.edu.au or book a 30-min Zoom consultation.
Learning designers
For faculty/school-level support, please refer to the list of learning designers in your area.