Immersive Reality Community of Practice
General information
This is a community of practice (CoP) for immersive technologies including Virtual Reality (VR), Augmented Reality (AR) and Mixed Reality (MR). The primary goal of this CoP is to support teaching, learning and research at UQ related to immersive technologies. The CoP is open to all course coordinators, professional staff and researchers and is intended to enable participants to:
Share examples of current practice.
Understand how immersive technologies can be applied to teaching and learning.
Share and learn about the latest developments in this discipline.
Advise the Digital Learning Sub Committee of initiatives that might help the university take appropriate advantage of this emerging field.
Network with other practitioners and researchers at UQ.
Administrative Arrangements
This community of practice is led by Dr Jurij Karlovsek from the School of Civil Engineering.
For further information regarding the CoP or to join the email list to hear about upcoming events, please email elearningadvisors@uq.edu.au.
To contact members of the CoP, please email ITaLI_Immersive_Reality_Community_of_Practice@exchange.uq.edu.au.  
Benefits of AR, VR and XR in Education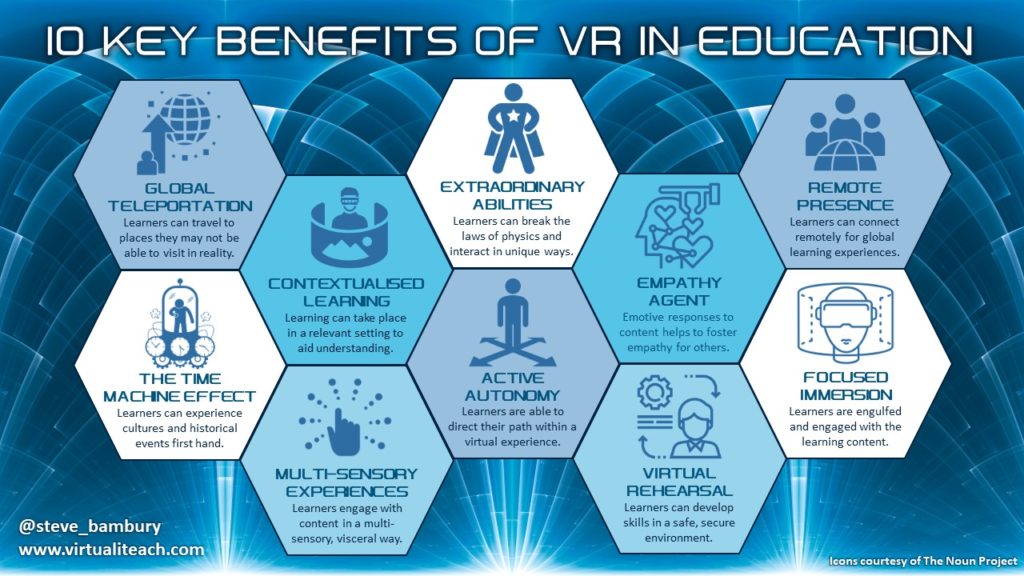 Bambury, S. (2019). 10 Key Benefits of VR in Education. Retrieved from https://www.vrfocus.com/2019/03/10-key-benefits-of-vr-in-education/
29 Oct 2019: Sharing insights and experiences of Virtual, Mixed and Augmented Reality across UQ
View the PowerPoint Presentation
Bernadette Watson, School of Nursing, Midwifery and Social Work
Jessica Tsai, Faculty of Health and Behavioural Sciences
Bernadette Watson and Jessica Tsai presented on their use of the Microsoft Hololens in combination with the Pearson HoloPatient and HoloHuman applications across Nursing and Dentistry courses.
Associate Professor Mehmet Kizil, School of Mechanical and Mining Engineering
Associate Professor Mehmet Kizil presented on his use of the Virtual Risk Management Training Module that has been developed to assist first-year engineering students in recognising hazards, evaluating risks and implementing appropriate health and safety controls.
Associate Professor Italo Onederra, School of Mechanical and Mining Engineering
Pablo Riveros, Faculty of Engineering, Architecture and Information Technology
Associate Professor Italo Onederra and Pablo Riveros presented on their creation of a virtual open pit mine using the 3D Sketchfab platform to assist with student engagement and to help students develop an understanding of complex engineering and mining concepts prior to in-class activities.
Dr Arindam Dey, School of Information Technology and Electrical Engineering
Dr Arindam Dey presented on his research into teaching students with English as a second language and special needs using extended reality. He also shared his research into how a user's cognitive and emotional state might affect teaching and learning with extended reality.
Dr Fred Fialho Leandro Alves Teixeira, School of Architecture
Dr Fred Fialho presented on his use of virtual reality in architecture courses to prepare students for the workplace where these technologies have real-world applications.
Dr Jurij Karlovsek, School of Civil Engineering
Dr Jurij Karlovsek presented on digital teaching work conducted in Semester 2, 2019, by various Civil Engineering Academics. Jurij outlined the use of photogrammetry to facilitate virtual site visits for his students in situations where the actual site may be too dangerous to visit, with restricted access and or no actual access possibilities. In addition, he outlined available 2D and 3D self-assessment tools through ArchiStar Academy that has been used for a conceptual design in a master course to form found canopy for Pinjarra Hills, using point cloud and ground mesh data to avoid trees, existing structures, etc.
Nicholas Wiggins, UQ Library
Nicholas Wiggins presented on the low-cost and practical applications of 3D modelling, 3D printing, and photogrammetry, as well as a range of online resources available which can be used as a starting point.