Activate Group Peer Assessment tool (GPAT)
Starting Semester 1 2024, Group Peer Assessment tool (GPAT) will be decommissioned by the vendor (Blackboard) and will no longer be available. A new tool - Buddycheck - is now available to all UQ courses. We strongly recommend you to transition to Buddycheck in semester 2 2023. Buddycheck is a user-friendly platform, covers all the functionality of GPAT and offers more features:
a library of ready questions to choose from,
student report - each student will be able view their peer marks (sample student report),
peer messages (optional) - peer feedback will be released to the students,
open questions - students are provided with the opportunity to share their feedback about the group project/their team in general.
If you still wish to use GPAT, please re-activate it in your course:
In your course in Learn.UQ, navigate to Course Management.
Click on Customisation and select Tool Availability.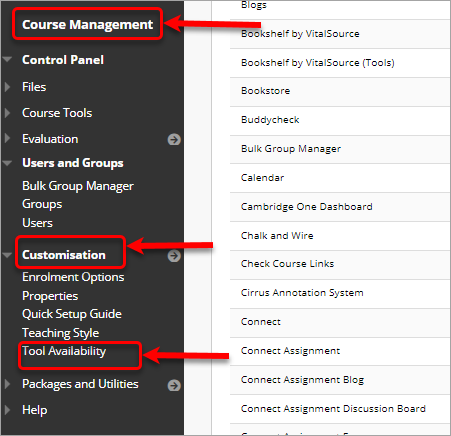 Search for Group Peer Assessment and check the checkbox next to it.
Click on the Submit button.